Beatriz Chadour-Sampson on Judging the Susan Beech Mid-Career Grant
THE DEADLINE TO APPLY IS THIS SUNDAY, JANUARY 8, 2023.
The $20,000 Susan Beech Mid-Career Grant offers prestige, recognition, and funding to the winner. 
Recognizes a mid-career artist who has made a substantial contribution to the field of art jewelry
Open to makers aged 35–55 on the day of the deadline
Proposal should be about jewelry, loosely defined
Additional info here
The other distinguished jurors for this grant cycle are AJF founder and collector Susan Cummins (US), who was interviewed here; and LaMar Gayles (US), interviewed here.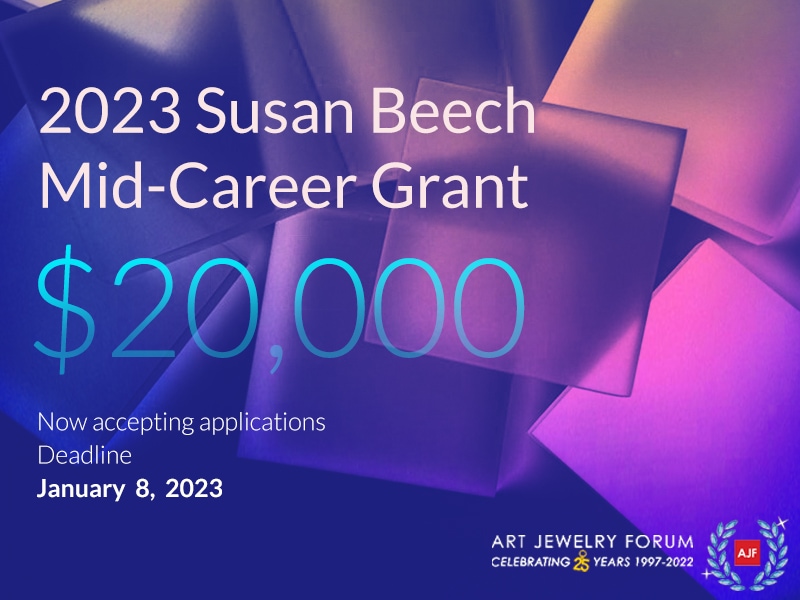 Marta Costa-Reis: How were you introduced to contemporary jewelry? What you are doing now in relationship to it?
Beatriz Chadour-Sampson: First, a little background. The story goes back many years. As a child I grew up in the jewelry trade. I decided to move away from jewelry and studied art history and classical archaeology at the Westfälische Wilhelms Universität, in Münster, Germany. Due to my background, I wrote a thesis on a Renaissance goldsmith in Italy.
This was followed by a Thyssen scholarship to catalogue the vast jewelry collection in the Museum of Applied Arts in Cologne, which covers 5,000 years of jewelry history. There I made my first encounters with contemporary jewelry. I became friends with Friedrich Becker and Fritz Falk, from the Schmuckmuseum, and took part in events with the Forum für Schmuck und Design in Cologne under Wilhelm Mattar. From this time onward, I became ever more fascinated by contemporary jewelry.
In 1985 I was appointed as director of the Gesellschaft für Goldschmiedekunst (Association of Goldsmiths Art), located in Hanau's Goldsmiths House, where I organized exhibitions, competitions, and catalogs on contemporary jewelry. It was an exciting period in art jewelry. I feel honored that through my work I met many outstanding artist jewelers of the time—Hermann Jünger, Max Fröhlich, Bruno Martinazzi, Wendy Ramshaw, to name but a few of those who laid the path for so many today. In those early years I am also indebted to the late Inge Asenbaum (from Galerie am Graben, in Vienna), who guided me along that path.
After moving to England, I was a visiting tutor for 13 years at the Royal College of Art, London, under David Watkins. I wrote his retrospective book, which published in 2008. I thoroughly enjoyed working with budding artists and experiencing how they developed after their studies.
In 1988 I was commissioned to catalogue the Alice and Louis Koch Collection, in its fourth generation with nearly 2,000 historic rings. Today it is on permanent display at the Swiss National Museum, Zurich. From about 1993 onward, I was invited by the family to build a collection of rings from the 20th and 21st centuries. The original collection closed with René Lalique in 1900. Today, this new collection, assembled over 25 years, includes more than 600 rings created by generations of innovative artist jewelers from all over the world. It was published in a comprehensive book in 2019. It is exciting to see the display of the rings today in an amazing ring-shaped showcase.
This year continues to see a lot of disruption and uncertainty—epidemics, war, political unrest, and economic stress—but we are also seeing enormous changes to way people work and interact.
Beatriz Chadour-Sampson: It is amazing how in times of adversity the mind becomes ever more creative. During the lockdowns, the isolation has given artists and us alike time to reflect on all aspects of life, maybe even sparked new ways of expressing oneself through artwork and thinking even more about the meanings and messages.
Do you expect to see different kinds of proposals given the changes we are experiencing?
Beatriz Chadour-Sampson: It will be interesting to observe whether current concerns in the world and our daily lives, such as climate change, sustainability, political turmoil, or personal anxiety, are echoed in the work.
What do you think is the single most important conversation for artists to be having today?
Beatriz Chadour-Sampson: As a jewelry historian, I find it fascinating to observe how jewelry has never been so diverse in its history as in the final decades of the 20th century until today. There is no "single most important conversation." Ideas and inspirations are limitless, individual to the artists, and in many instances biographical reflections of the world we live in.
Besides grants such as this one, what other ways do you think that artists can be encouraged and supported?
Beatriz Chadour-Sampson: The Susan Beech Mid-Career Grant is very special and hopefully will encourage more such philanthropic work, which is very much needed, especially in these difficult times. Financial support, new venues for giving artists possibilities to exhibit their work, and platforms to talk about their creations to encourage more collectors and most importantly wearers—I hope these will not be wishful thinking, but reality.