Dior unveils new Rose des Vents and Colour Dior collections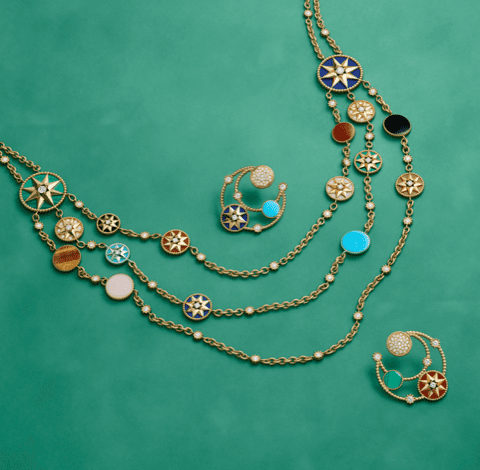 Dior has launched its new Rose des Vents and Colour Dior collections for the summer.
The Rose des Vents collection features new models, reinterpreting the emblematic Dior Tribales earrings.
The Rose des Vents range has been designed by Victoire de Castellane, artistic director of Dior Joaillerie.
The pieces in the new range includes a disc adorned with a compass rose and a reversible motif composed of ornamental stones or pavé diamonds.
In a choice of yellow or rose gold, they can be worn alone or as a duo, matched or asymmetrical.
The Colour Dior collection features two new double rings that are inspired by the graphic lines of Christian Dior's initials.
The rings can also be turned into a tiny pendant by adding a chain to it.
The rings are now available in two new variations and are embellished with gold, diamonds, and lacquer finishes.
The rose gold version features black and white accents, while the yellow gold version is adorned with hues of turquoise and navy blue.