Hancocks London selects Victorian brooch as jewel for January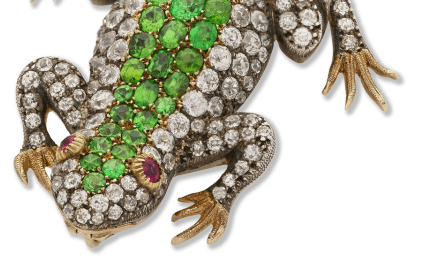 Hancocks London has revealed that a Victorian frog brooch made around 1890 has been selected as its jewel of the month for January.
The frog brooch is made of silver with gold feet and is covered in old cut diamonds.
The central panel down its back is set with green demantoid garnets, the eyes are highlighted with rubies and it has both a single pin brooch fitting on the reverse.
Guy Burton, director, said: "Frogs have been used as a decorative symbol throughout history and across many cultures, symbolising a variety of meanings from good luck to new life and fertility, wealth and abundance or power and knowledge.
"During the 19th century, and in particular the mid-late Victorian era, a love of and fascination with the natural world was widespread. In a period now renowned for its sentimentalism, it is unsurprising that symbolism and meaning was attached to flora and fauna great and small."
Hancocks stated that the brooch would cost around £65,000.