House of Meraki x Gemfields launches new emerald pieces on Net-a-Porter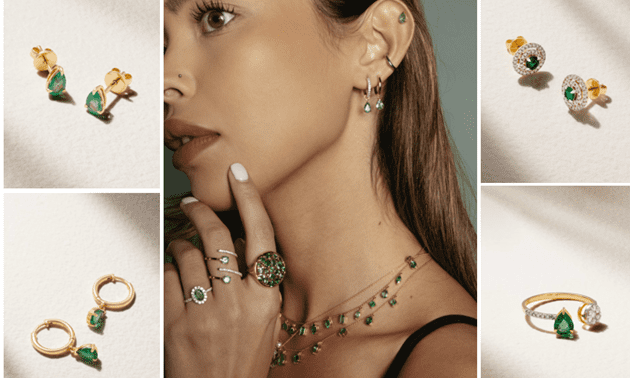 The House of Meraki has collaborated with Gemfields and has extended its J'aime collection with new emerald jewellery pieces.
Emerald-focused fine jewellery brand House of Meraki is the brainchild of Gargi Rathi and at the centre of all of Rathi's designs, in this and previous collections, are emeralds, which also take centre stage this month as the birthstone of May.
The new range features colourless diamonds, 18k gold and Gemfields' responsibly mined Zambian emeralds.
The range includes necklaces, rings, earrings, studs and bracelets that have all been handcrafted by skilled artisans.
The new collection will be exclusively sold on Net-a-Porter and is a continuation of J'aime.
Rathi said: "The timing of the launch is no coincidence, with emerald month providing the perfect backdrop to celebrate the exquisite beauty and rarity of emeralds – which are rarer and often dearer than colourless diamonds. Gemfields has unearthed some of the world's finest emeralds from its Kagem mine in Zambia and is something of an expert on these beguiling and coveted gemstones.
"Following on from House of Meraki's popular J'aime collection, it embodies the spirit of empowerment, resilience and grace that defines the women we admire and aspire to be. The emeralds found in each piece in this collection have been carefully chosen, their captivating allure and radiance mirroring the inner strength and beauty of the wearer. With its timeless elegance and modern sophistication, Meraki Emeralds serve as a symbol of empowerment, inspiring women to embrace their unique qualities, conquer challenges and shine brightly in every aspect of their lives."