OMG, Have You Heard – Art Jewelry Forum
June 2023, Part 1
Art Jewelry Forum is pleased to share the news that members of our community find noteworthy. Is something missing? The success of this compilation of compelling events, news, and items of interest to the jewelry community depends on YOUR participation. If you're a member of AJF at the Silver level or above, you can add news and ideas to this bi-monthly report by going here. If you aren't a member, but would like to become one, join AJF here.
Listings gathered with assistance from Carrie Yodanis.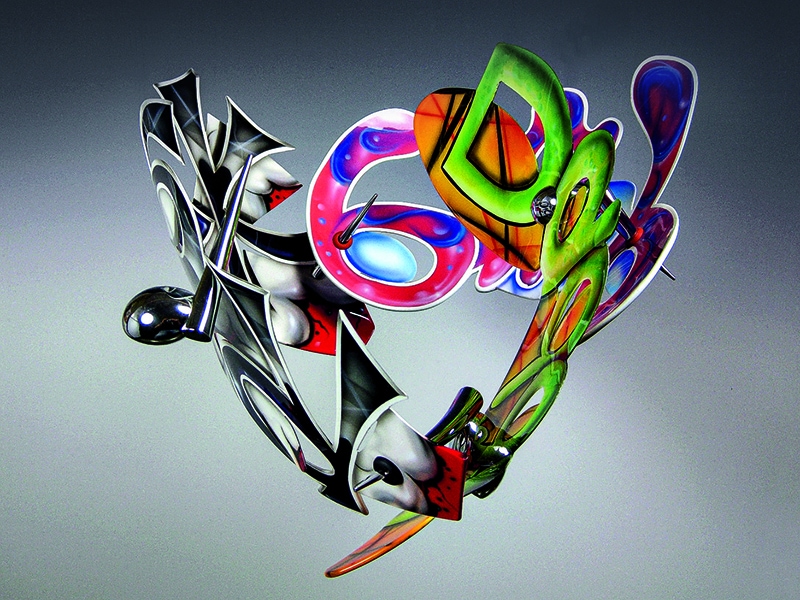 AJF LIVE WITH DANIEL JOCZ: JUNE 7, 2023
Known as a "trickster" and an "outsider," Daniel Jocz has frequently reinvented his aesthetic, inverting traditional rules. "I tend to stuff big ideas into small packages," says the maker, "and then the jewelry almost seems as if it's bursting out." Although Jocz's work defies neat categorization, some ideas surface repeatedly, drawing seemingly disparate pieces together. All his work has an autobiographical aspect, with clever and subtle visual jokes that are entirely Jocz. He has created outrageous, oversized flocked Candy Wear pieces and necklaces composed of enameled cherries and smoked cigarettes. His oversized aluminum bracelets and collars explode the structural limitations of traditional materials. Register here.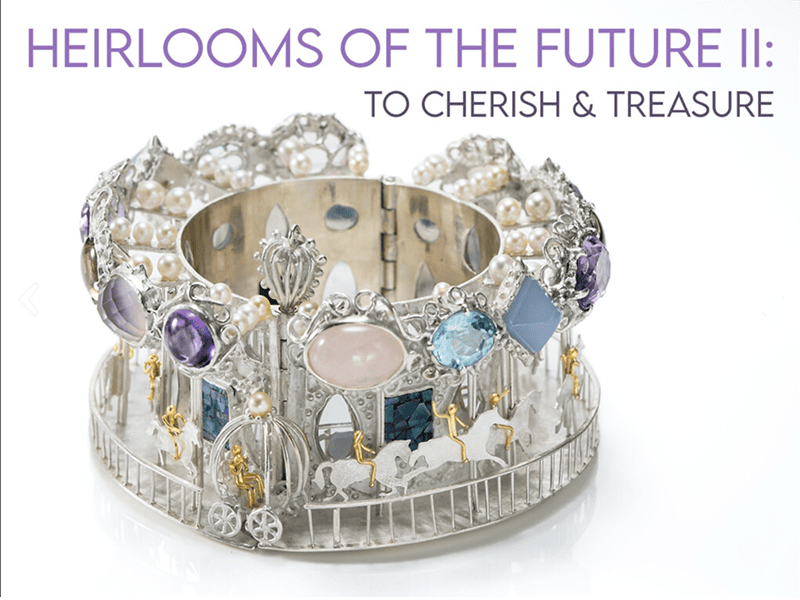 FEEL LIKE SEEING A JEWELRY SHOW IN THE US?
Find these listings and many, many more on our dedicated exhibition page:
Timothy Veske-McMahon | Vanillaroma, at Gallery Loupe through June 10
Hanna Hedman, at Ornamentum through June 11
Leslie Shershow, at Sienna Patti through June 11
Heirlooms of the Future II, at Mobilia Gallery through June 29
Karen Seufert + Tore Svensson, at Jewelers'Werk June 10–June 30
Marianne Anselin & Ambroise Degenève, at Galerie Noel Guyomarc'h through June 30
Women, I Know, at Baltimore Jewelry Center through July 7
Something Old, Something New: Märtta Mattsson and Carina Shoshtary, at Sienna Patti June 17–July 16
Between Realms: Jessica Calderwood, Seth Michael Carson, Melinda Risk, at Pistachios Contemporary Art Jewelry through July 23
Terhi Tolvanen, at Ornamentum through August 26
FEEL LIKE SEEING A JEWELRY SHOW OUTSIDE THE US?
Find these listings and many, many more on our dedicated exhibition page:
Aaron Decker, at Galeria Reverso through June 24
Was Kommt Noch? Esther Brinkmann, at Galerie Rosemarie Jäger June 11–25
Wild Grasses, Chance and Seeds of Desire: 12 Artists, at Galerie Viceversa starting at the end of June
Jour de Fête: Typhaine le Monnier | Lydia Reinhold, Galeria Tereza Seabra, June 1–July 7
Linking Tale: Veronika Fabian, at ATTA June 7–July 8
NEW ORLEANS MEDIA COVER RING REDUX
WGNO News reported on the exhibition, which features some of collector Susan Grant Lewin's rings; watch the segment here, on YouTube. New Orleans magazine also published an article, here.
YOU'RE INVITED TO THE MASieraad GRADUATION EXHIBITION
Nine students from all corners of the world present graduation work June 15–18, 2023, at Looiersgracht 60, in Amsterdam. See objects, installations, and performance, in addition to jewelry. The sudents' diverse backgrounds and identities led to a creative melting pot in which ideas and concepts were explored. Questioning and exploring identity, as well as geopolitical and ecological issues, played a role. The relationship with the body and the human being is central to all the work.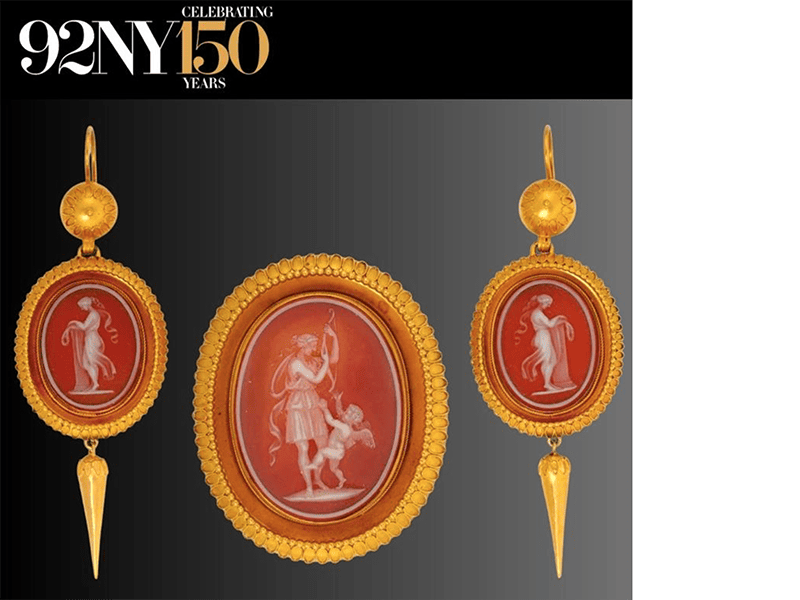 EVENT—NEW YORK IN 1874: JEWELRY IN THE GILDED AGE, SOCIAL SIGNIFIER IN A TIME OF TRANSITION
In this roundtable from the 92nd Street Y, jewelry historian Beth Bernstein and vintage jewelry expert Elizabeth Doyle explore how jewelry became an important social signifier as new money and new styles emerged in New York City's Gilded Age. Live/virtual, June 15, 2023. Info.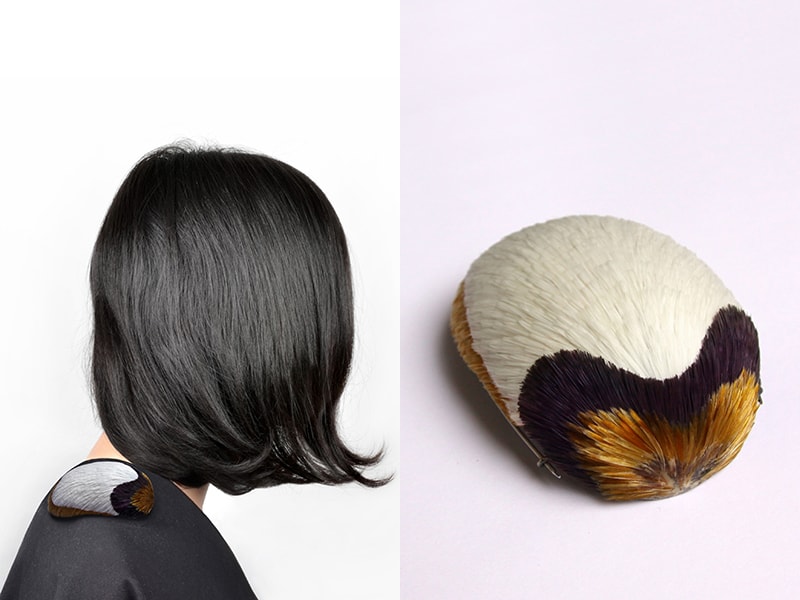 MARION DELARUE IS ARTIST-IN-RESIDENCE AT FRANÇOISE VAN DEN BOSCH FOUNDATION
Delarue began working on a project in May and will continue through July 30, 2023, when she presents her work "Behind the Windows" at Studio Rian de Jong. Delarue was a finalist for the 2022 Young Artist Award.
A TRUE-LIFE JEWEL HEIST THAT SOUNDS LIKE A MOVIE PLOT
In November 2019, thieves stole a hundred-million dollar royal jewelry collection from Dresden's historic Green Vault, in a castle turned museum. Last month, five men from a notorious Berlin crime family were found guilty. Despite a long history of crimes, the men had been free to execute their biggest heist, even though two of them were previously found guilty of stealing a coin worth $4 million from a Berlin museum and were in court—but not in custody— for that crime when they carried out the Green Vault caper. Read how the heist went down in the New York Times—it's fascinating!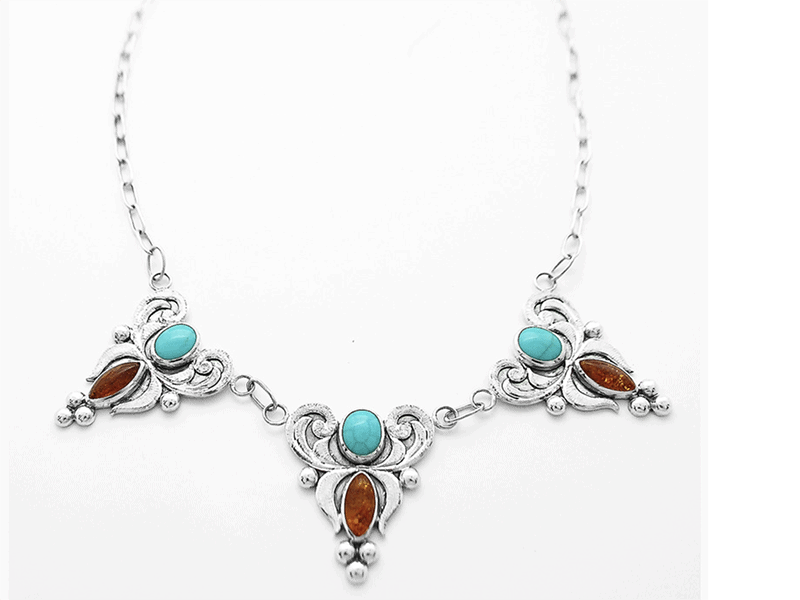 NEW MEXICO JEWELER RECEIVES $100,000 AWARD
The Maxwell/Hanrahan Foundation honored five craftspeople and artists with $100,000 in unrestricted funding. One of the winners, Shane R. Hendren, is a multidisciplinary artist recognized for his intricate jewelry and metal work which honors the culture and traditions of his Navajo and European ancestors. Understanding his work as vessels for knowledge and histories, his practice has recently incorporated new mediums and techniques such as film and 3D printing. Hendren is the first jewelry artist to receive the award. Info about the Maxwell/Hanrahan Foundation Awards in Craft.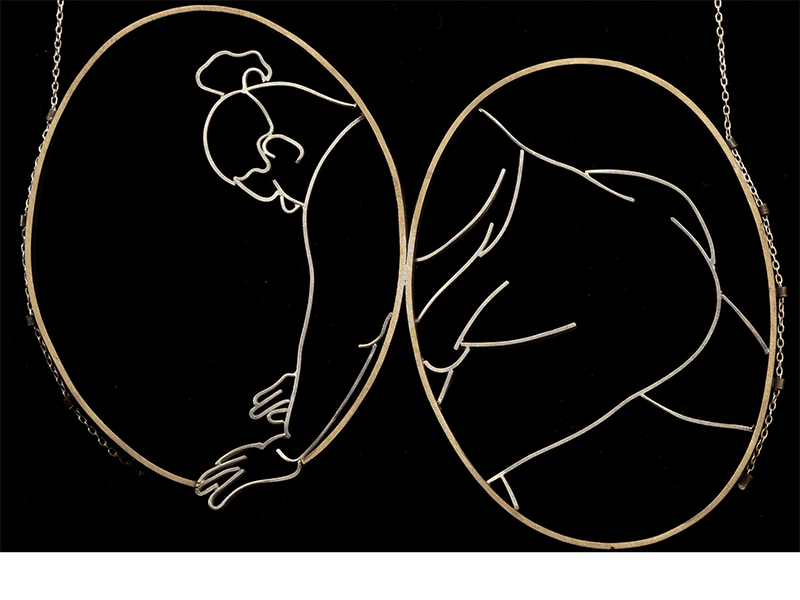 WE ARE HERE, ON VIEW AT THE METAL MUSEUM
For centuries, explicitly queer voices have been excluded from conversations surrounding culture, politics, and art despite their physical presence in these different spheres. Although progress has been made, LGBTQIA+ individuals struggle to have their identities and experiences acknowledged. We Are Here seeks to correct this disparity by elevating and celebrating contemporary LGBTQIA+ voices working in the metal arts community today. June 6–September 10, 2023.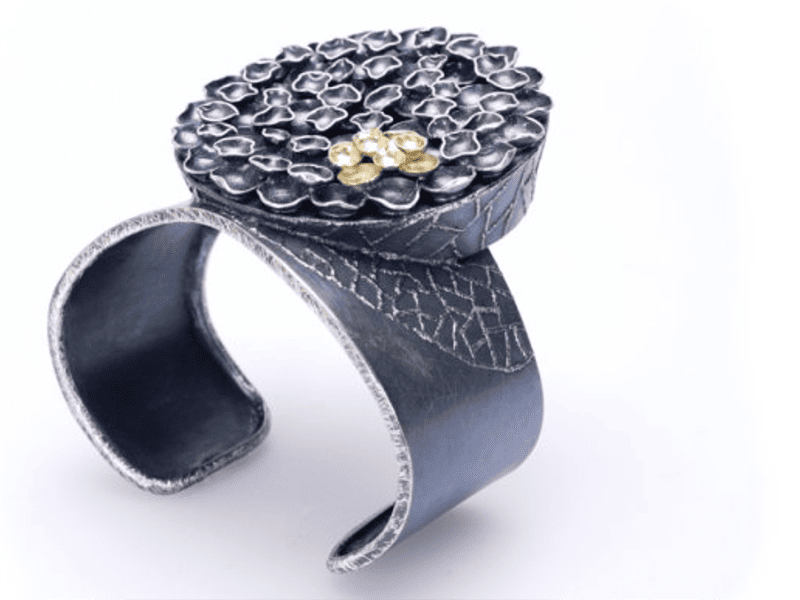 AMERICAN CRAFT INTERVIEWED SO YOUNG PARK 
When asked whose jewelry she'd like to own, Park replied, "I want to decorate my living room wall full of Mariko Kusumoto jewelry." What a lovely idea! Read the full interview here.
NOT A HAIR OUT OF PLACE: CONTEMPORARY JEWELRY IN DES CHEVEUX ET DES POILS EXHIBITION
In its show about tresses and body hair, the Museum of Decorative Arts (Paris) includes hair jewelry, past and present. How do artists and creators of today revisit the know-how that disappeared at the beginning of the 20th century? Read a review. Website for the exhibition.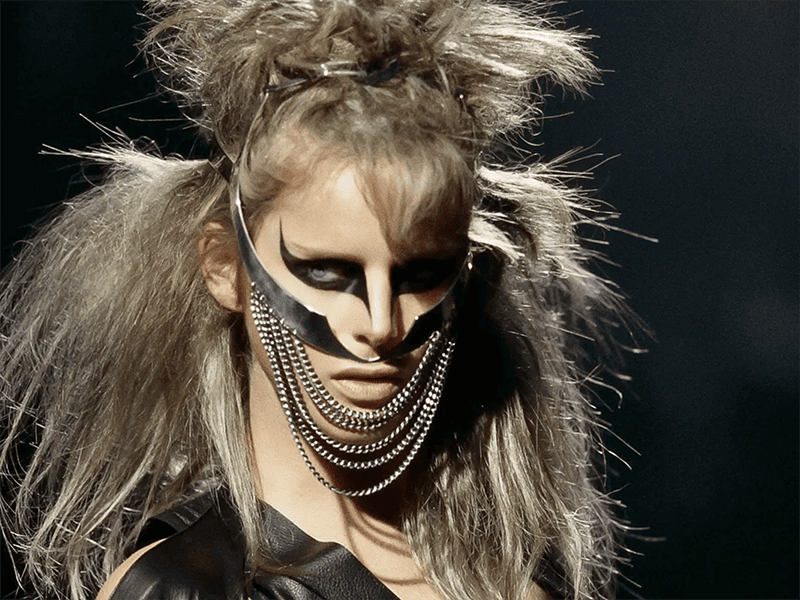 THE EXTREME JEWELRY THAT CREATED REMARKABLE FASHION MOMENTS
Sarah Harmarnee's haute couture jewelry work with Alexander McQueen pushed the limits of both their crafts. Think of model Stella Tennant, mini scimitars skimming her cheekbones, chains draped below her jawline. Harmarnee cast a protective spell around McQueen and his clothing; her designs acted as de facto talismans, warding off the evil eye of the money men who, as the pair saw it, were there to suck the creativity out of them and syphon it for shareholder profit. Read more.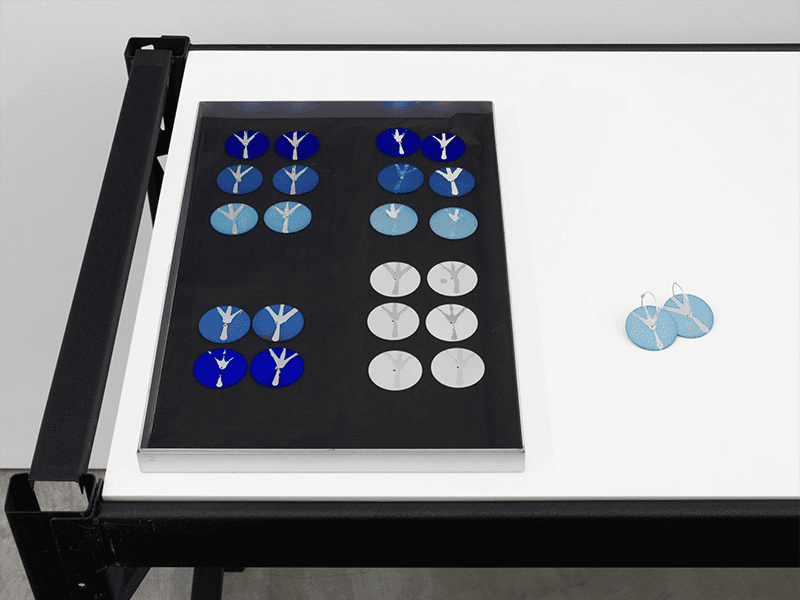 SU SAN COHN NOW ON EXHIBIT IN MELBOURNE
Pieces of Peace interrogates the broad potential of adornment as a peace tool while examining the impact of industrial production on hand making in the age of automation. Cohn, who served as a juror for the 2018 AJF Artist Award, posits that adornments can serve as a means of communication and solidarity between people during difficult times. Learn more.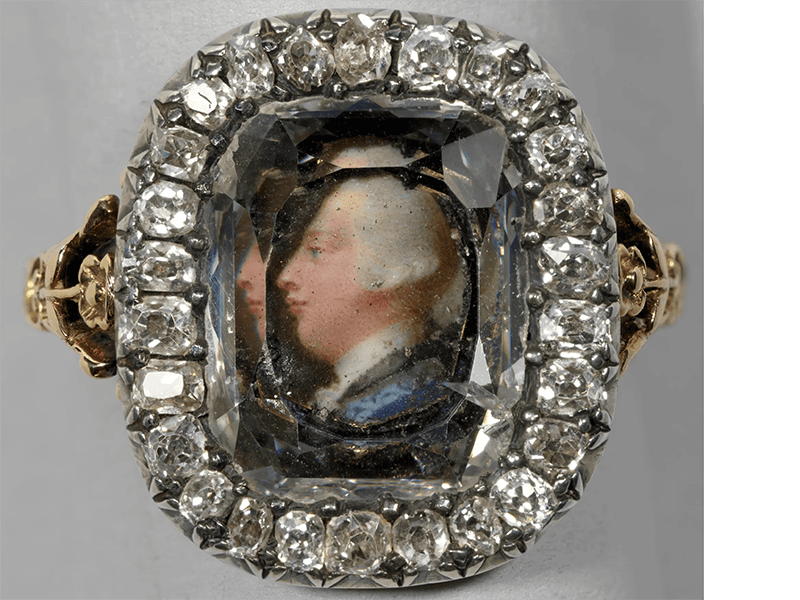 GEORGIAN JEWELRY INDICATED MORE THAN WEALTH
Although the focus of Style & Society: Dressing the Georgians is clothing, "jewelry could be used to convey messages about the wearer's power and influence," said Anna Reynolds, the exhibition's curator. "Jewels might be used to indicate dynastic connections—a bride might mark her marriage by appearing at court in the heirloom jewels of her new family—or loaned to friends to demonstrate shifting allegiances." Find out more.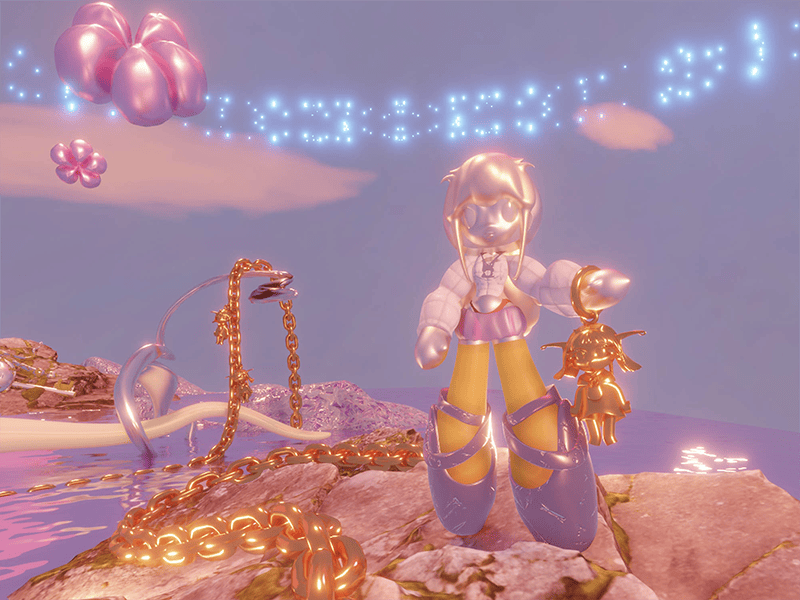 GABRIELLE ROSENSTEIN LAUNCHES CHARM
With the digital tide inching ever closer with AI and NFTs, Rosenstein offers a digital approach to world building that's as slick as it is benevolent. 3D rendered characters called Key and Lil star as key charms and charm bracelets. They embody Rosenstein's focus on otherworldly sci-femininity and queer artistry. Read an interview.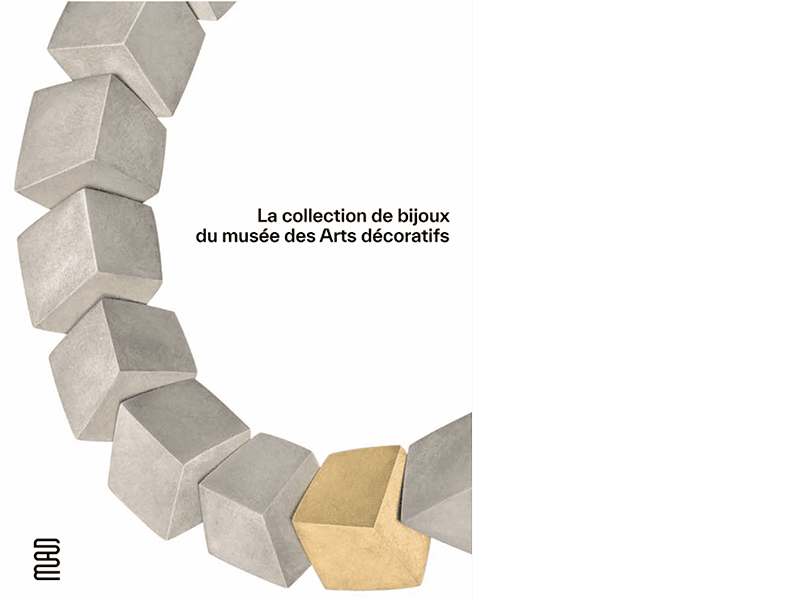 BOOK—THE JEWELRY COLLECTION OF THE MUSEUM OF DECORATIVE ARTS
The jewelry collection of the Museum of Decorative Arts, rich in 3,500 pieces, is unique among French national collections: from the Middle Ages to the contemporary period, with the highlight being the 18th century and the Art Nouveau and post-war periods, and even contemporary designers. Info.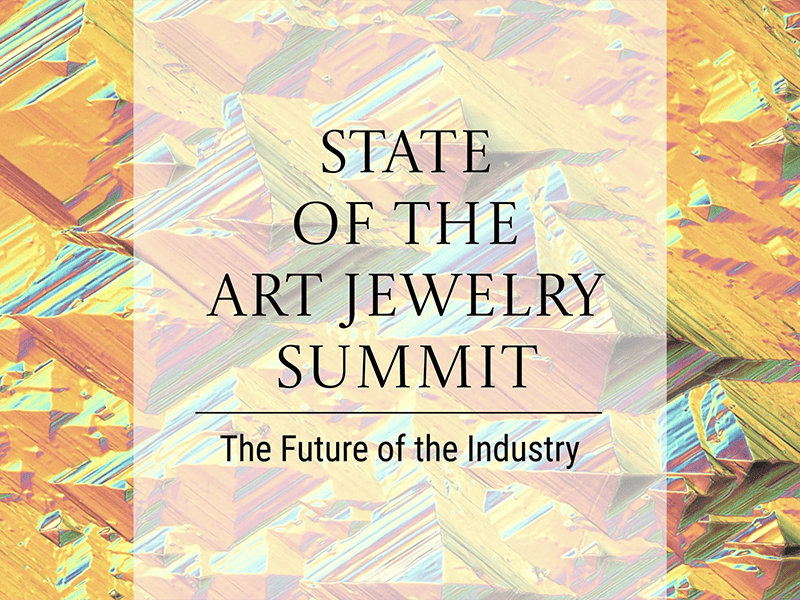 STATE OF THE ART JEWELRY SUMMIT
To discuss current developments in research, technology, business, and art in jewelry, and to create, develop, and guide the future of the industry so it thrives and remains relevant, the Responsible Jewelry Council, the Gemological Institute of America, and the Mineralogical and Geological Museum at Harvard University present this summit in-person and by invitation at Harvard on June 23, 2023. Info.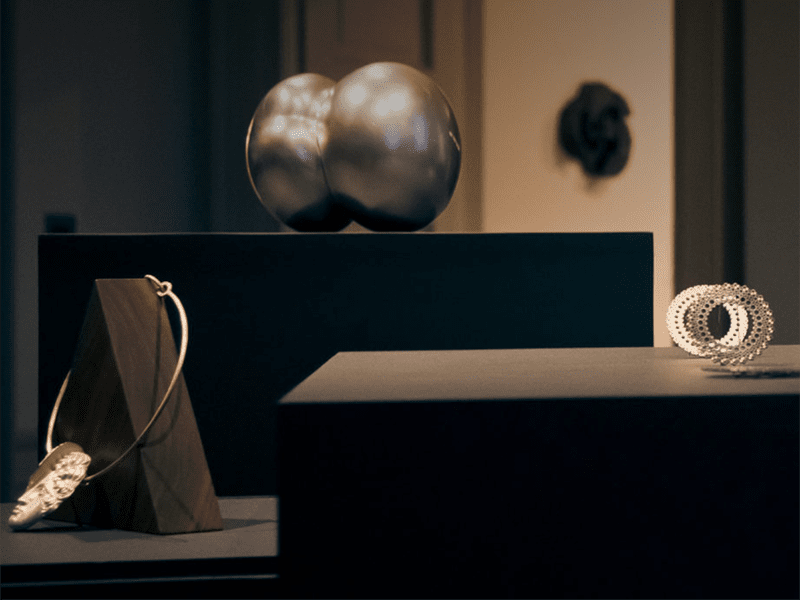 GOLDSMITHS' FAIR, LONDON: SEPTEMBER 26–OCTOBER 8, 2023
Bringing together 136 of the UK's most extraordinary silversmiths and goldsmiths working with numerous techniques, from wire work to 3D printing, traditional goldsmithing to intricate engraving. The exhibitors combine ancient techniques with modern-day technologies, ensuring there's something for everyone with a passion for fine jewelry and contemporary silver. Info.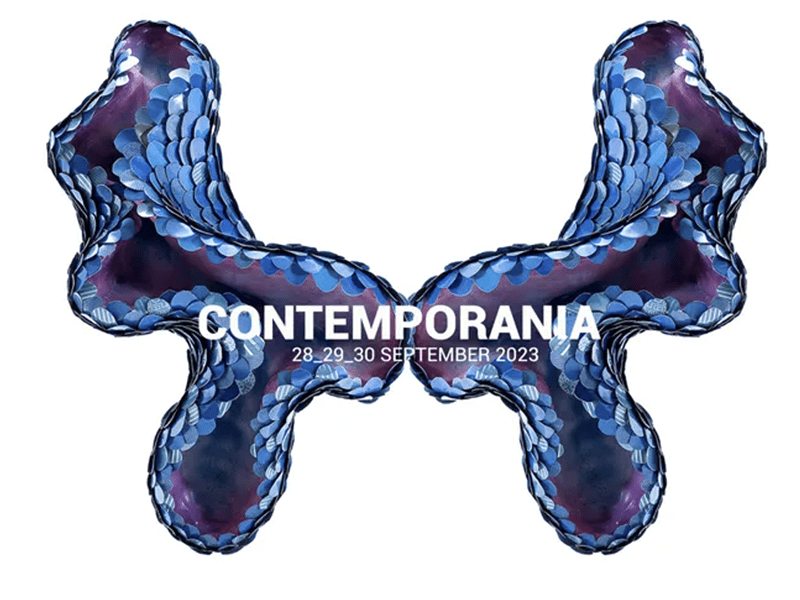 CONTEMPORANIA HIGH CRAFTSMANSHIP BARCELONA: SEPTEMBER 28­–30, 2023
Formerly Joya, this will be a space for national and international contemporary crafts, and a trade fair for artists, institutions, galleries and collectives to present and promote their creativity in applied arts such as ceramics, art jewelry, lacquer, metal, textiles, glass, paper and wood. Info.
PARCOURS BIJOUX: OCTOBER 2–29, 2023
Held in Paris every three years, with more than 50 jewelry events planned. Info.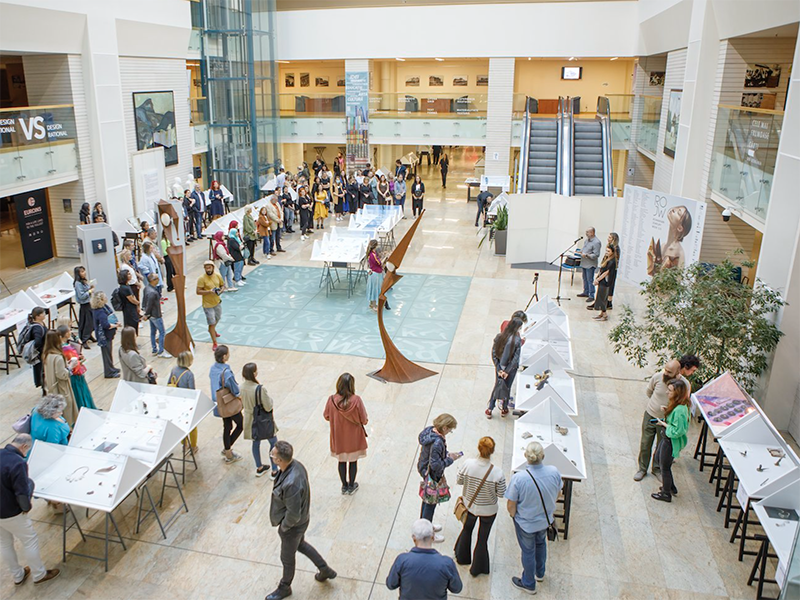 ROMANIAN JEWELRY WEEK: OCTOBER 4–8, 2023
Takes place at The National Library of Romania, as well as in multiple museums and galleries across Bucharest. Info.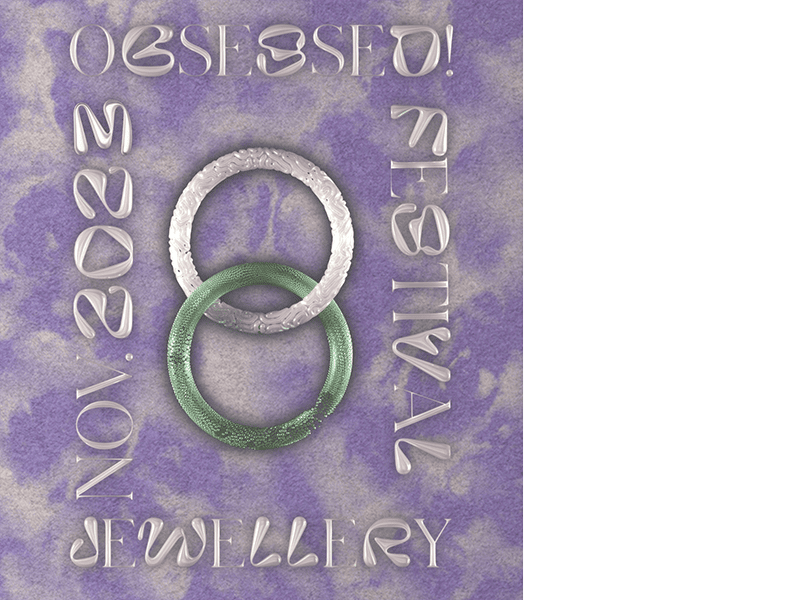 OBSESSED JEWELLERY FESTIVAL: NOVEMBER 1–30, 2023
It will take place across the Netherlands—Amsterdam, Arnhem, Apeldoorn, Den Bosch, Den Haag, Maastricht, Rotterdam, and Utrecht—and Antwerp, Belgium. Info.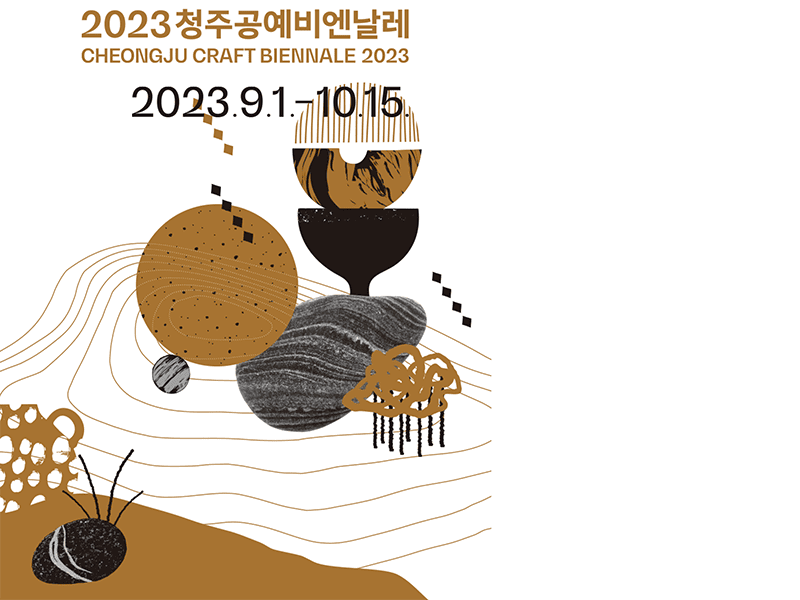 CHEONGJU CRAFT BIENNIALE: SEPTEMBER 1–OCTOBER 15, 2023
The theme is The Geography of Objects: Living in the Net of Biophilia. Info.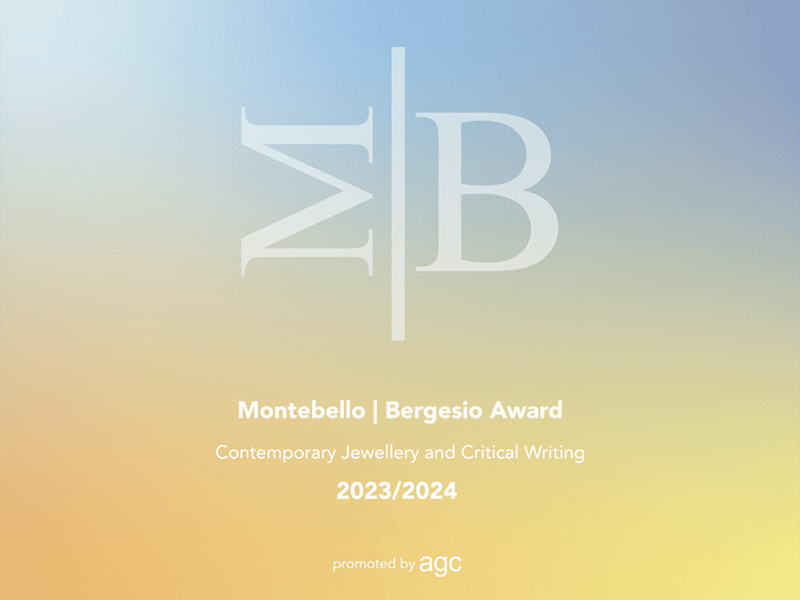 OPEN CALL­— TWO RESEARCH GRANTS FROM AGC
From the Association of Contemporary Jewellery: the Giancarlo Montebello Prize is for students who have created a jewel capsule collection with innovative conceptual, formal, technological, and material characteristics (1st place: €1,500; 2nd place: €1,000). The Maria Cristina Bergesio Prize is for a critical essay dealing with the most current issues in contemporary jewelry; theorists and critics of art and jewelry design, teachers and scholars, and doctoral and independent researchers may apply (€800 + publication). Deadline: July 10, 2023. Info.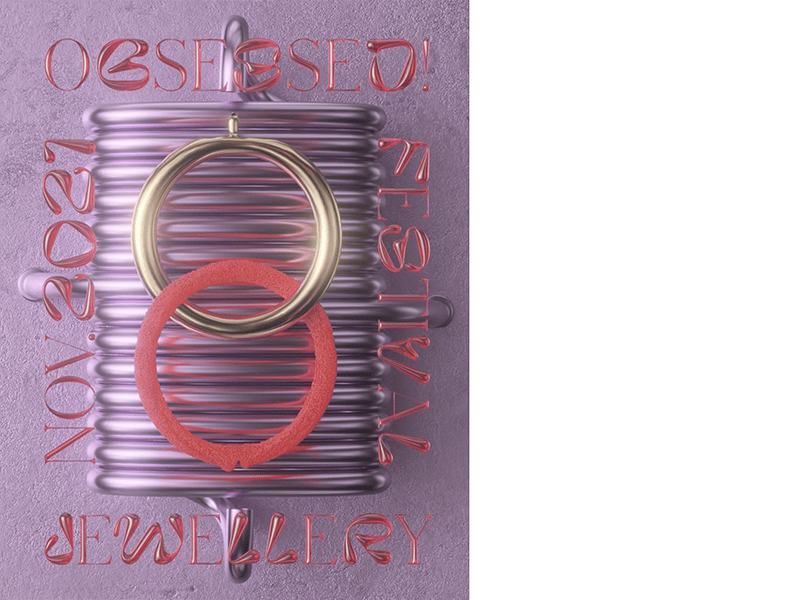 OPEN CALL—OBSESSED
Early bird entries have already been juried, but "late bird" submissions are being accepted through June 30, 2023. Apply here.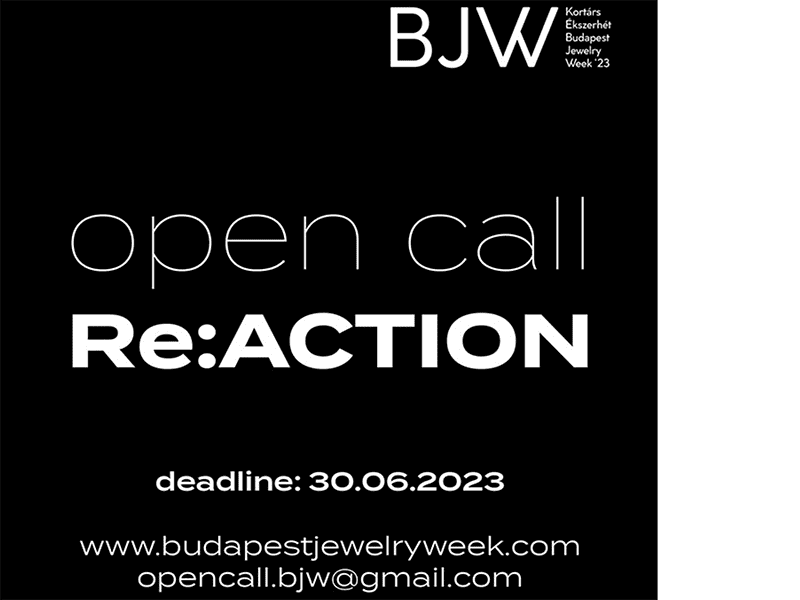 OPEN CALL—BUDAPEST JEWELRY WEEK
The field of jewelry design is inseparable from the concept of reaction. The jewel's relationship with its wearer; its physical, cultural, psychological impact on the surroundings; and the chemical reactions during the process of making, are all inalienable parts of knowledge about jewelry. What unusual reactions can you provoke with a jewel? What responses do you expect from viewers? Deadline: June 30, 2023. Info.
OPEN CALL—ARROWMONT NATIONAL JURIED EXHIBITION
Theme: Degrees of Commitment: Climate, Ecosystems, and Society. For centuries, artists have put their vision and skill to work for the betterment of society to effect change and expand our understanding of complex issues. Information based solely on data can often leave people feeling overwhelmed, disempowered, disconnected, and sometimes hopeless in the face of daunting odds. As the earth continues to warm, the hazards we face increase; weather extremes, food and water insecurities, pandemics, even allergy season is lengthened and intensified. How can art make a difference with such a monumental undertaking? Deadline: June 23, 2023. Info.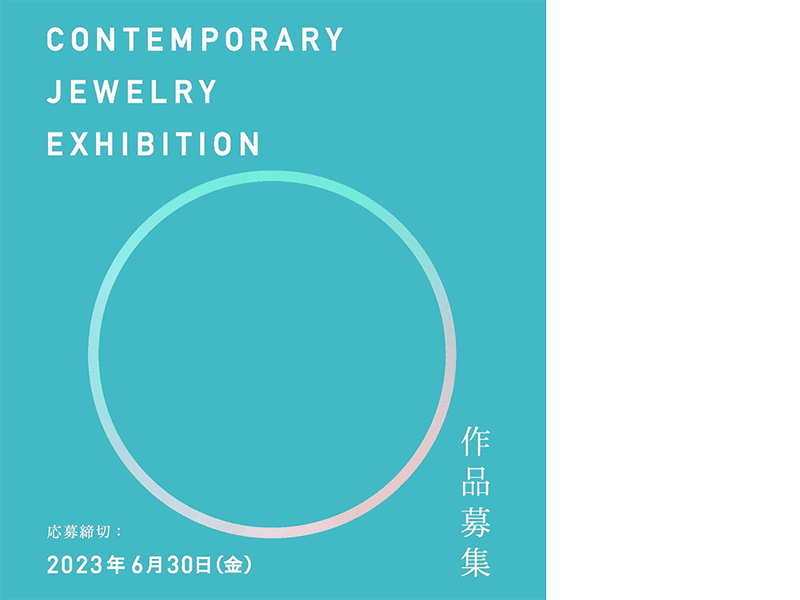 OPEN CALL—CONTEMPORARY JEWELRY EXHIBITION IN TOKYO
Following the "Contemporary Jewelry Exhibition 'Pendants'" in 2021, this year's theme is Rings. The organizers seek works that destroy the usual concept of jewelry, and aim to support artists' activities, acquire new collectors, continuously disseminate information on jewelry works to the domestic market, and connect with society. Deadline: June 30, 2023. Info.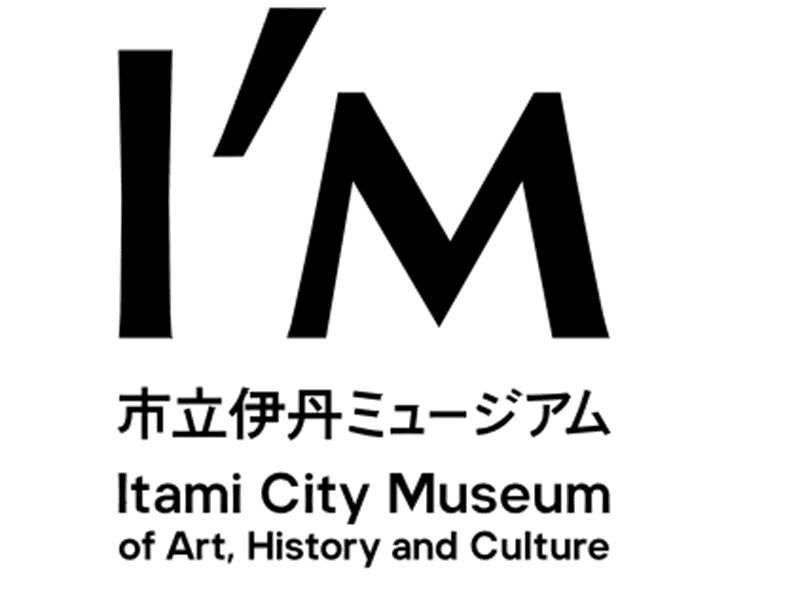 OPEN CALL—ITAMI INTERNATIONAL CRAFT EXHIBITION 2023
The competition marks its 12th time under the theme of jewelry. Jewelry is strongly connected to the human body and soul, and has been nurtured, loved, and developed together with people in diverse cultures, climates, and societies. Itami City Museum of Art, History and Culture, Japan, hopes to discover works by artists who live in the future, works that evoke a new era, and works that show a gentle gaze toward people. Deadline: July 24, 2023. Info.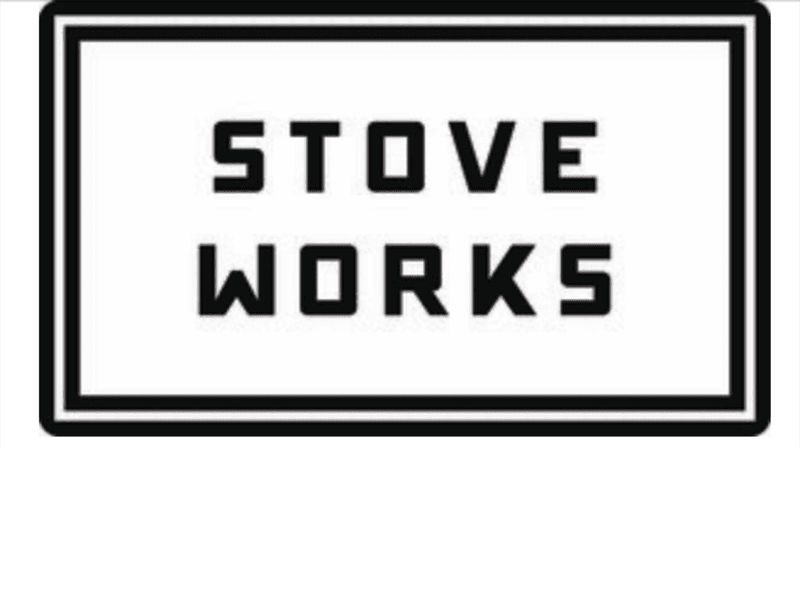 RESIDENCY—STOVE WORKS
From February through November of each year, Stove Works' Artist Residency invites eight artists to live/work for one to three months at a time. The residency serves as a moment away from the rigamarole of life and an opportunity for artists to take advantage of the dedicated time, space, resources, and community Stove Works has to offer in Chattanooga, TN, US. Deadline: June 15, 2023. Info.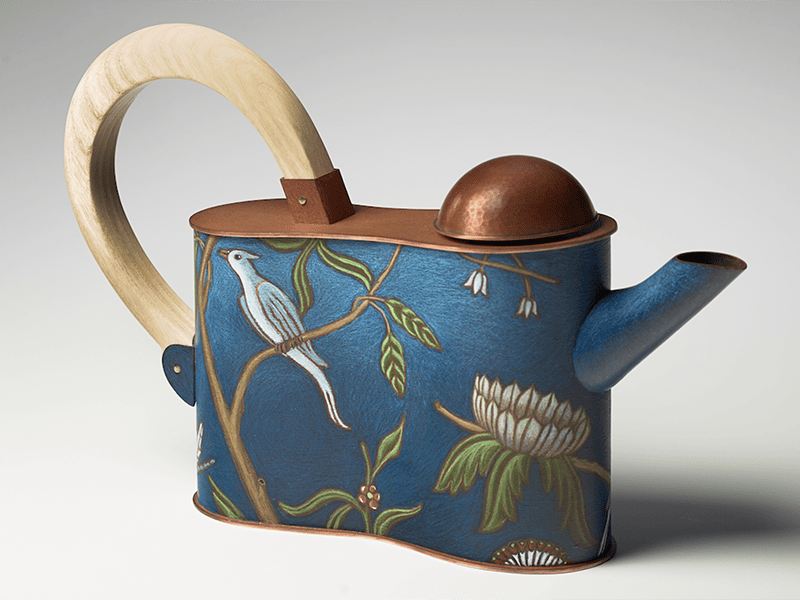 ICING ON THE CAKE: EXPLORING COLOR ON METAL
Marilyn da Silva's workshop at Pocosin Arts June 23 and 30, 2023, will explore the use of gesso and colored pencils on metal as a method for applying color. Numerous examples will ignite your imagination. Info.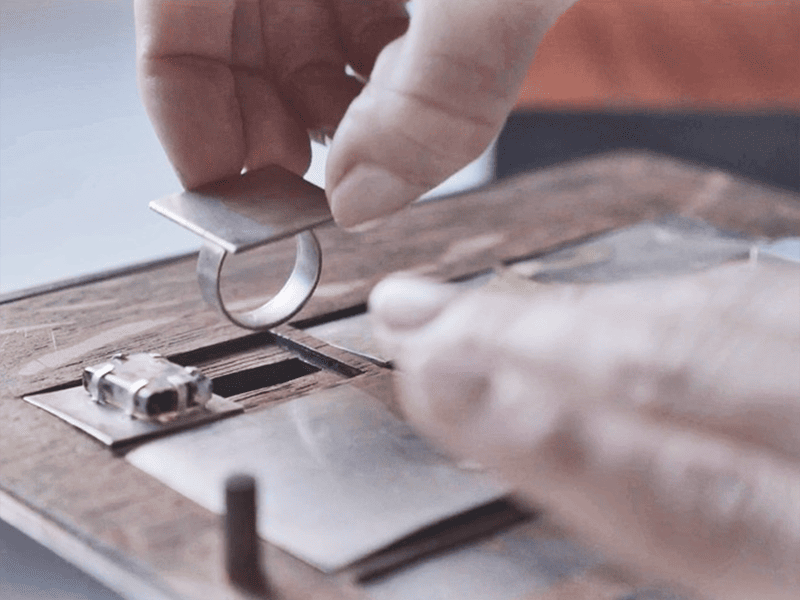 TWO OPPORTUNITIES FROM SMCK
You can apply to participate in SMCK on Reel's triple edition, at Romanian Jewelry Week 2023. The deadline to submit your video is June 18, 2923. Info. You can also apply for summer Athens summer studio offers for artists, jewelry designers, curators, writers, researchers, art historians, and art theorists. Get info here for the studios.