OMG, Have You Heard – Art Jewelry Forum
March 2023, Part 2
Art Jewelry Forum is pleased to share the news that members of our community find noteworthy. Is something missing? The success of this compilation of compelling events, news, and items of interest to the jewelry community depends on YOUR participation. If you're a member of AJF at the Silver level or above, you can add news and ideas to this bi-monthly report by going here. If you aren't a member, but would like to become one, join AJF here.
Listings gathered with assistance from Carrie Yodanis.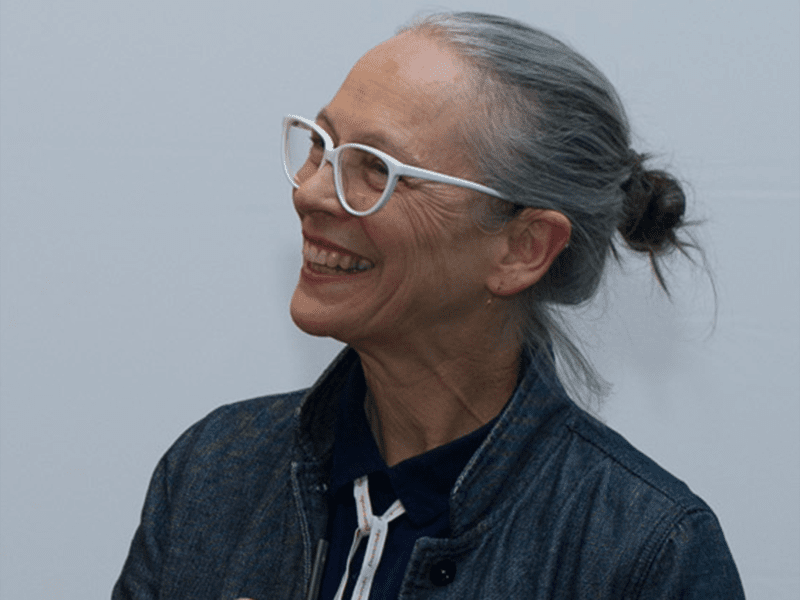 AJF LIVE WITH CAROLINE BROADHEAD, MARCH 22, 2023, 12 P.M. EST
Whether you saw this year's Schmuck special exhibition or not, you'll learn more about it straight from its curator! Register here. Unsure what 12 p.m. EST means in your time zone? Go here, then scroll to the bottom.
AJF LIVE GOES TO MEXICO, APRIL 26, 2023, 12 P.M EST
We will meet with Lorena Lazard, who will introduce us to her own work and that of three other important contemporary jewelry makers in Mexico: Cristina Celis, Martacarmela Sotelo, and Raquel Bessudo. More info. Register here.
FEEL LIKE SEEING A JEWELRY SHOW?
Find these listings and many, many more on our dedicated exhibition page:
Meet Me, at Baltimore Jewelry Center through March 31, 2023
Pistachios Artist Series III, at Pistachios through April 2, 2023
Margit Jäschke, at Galerie Biró through April 15, 2023
Teresa Milheiro and Tanel Veenre, at Galeria Reverso March 25–April 21, 2023
Janne Peltokangas, at Four Gallery, March 31–April 29, 2023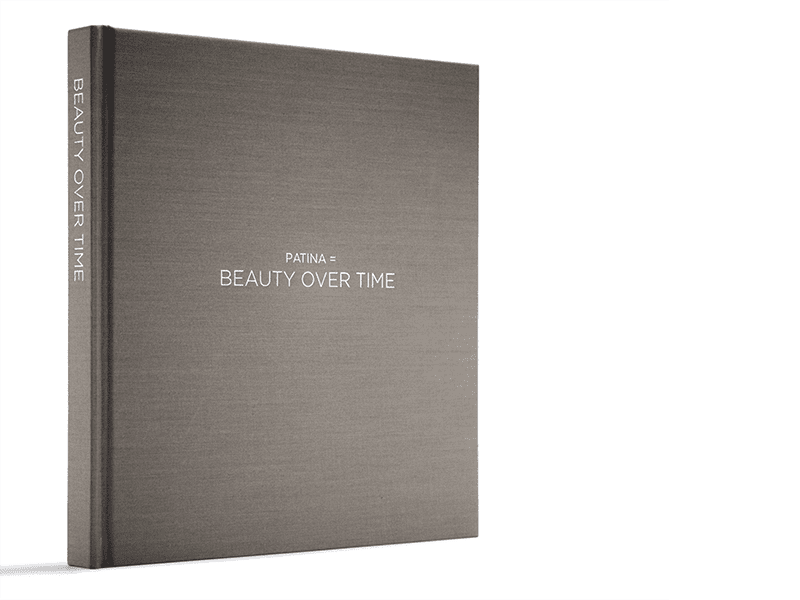 PATINA PUBLISHES BEAUTY OVER TIME
The book is an extension of the gallery's mission to sustain the souls and lives of its artists, friends, and patrons with soul-stirring beauty. Seven years in the making, this compilation contains 152 pages of stunning imagery featuring the talented artists who have exhibited at Patina Gallery over the last 23 years. With every turn of the page, you're taken on a journey from the makers' hands to your heart, evoking the rich experience felt if you were stepping into the gallery. Learn more. Order the book.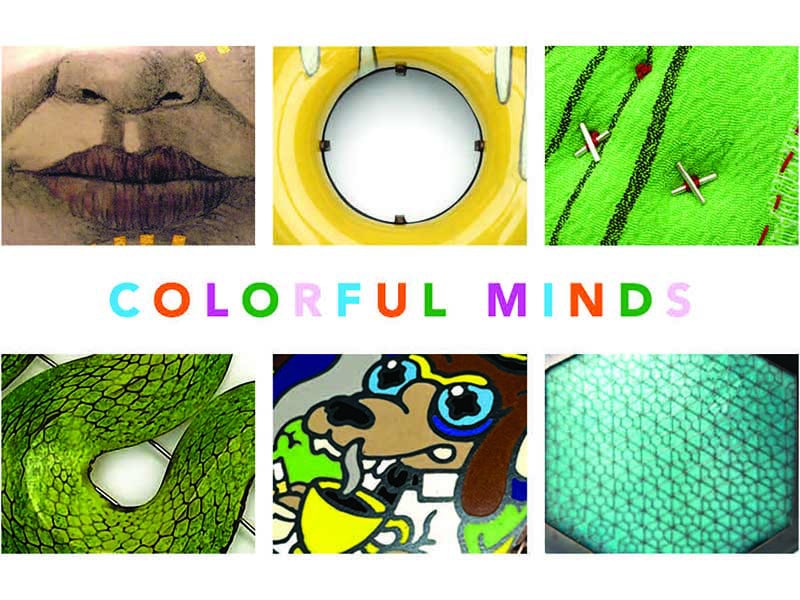 COLORFUL MINDS EXHIBITION AT THE BJC
Colorful Minds represents contemporary jewelry artists in the United States who use enameling as their primary medium. These artists explore enameling techniques by introducing contemporary interpretations to the historical medium. Started in 2022 in response to the COVID-19 pandemic, Colorful Minds is an international curatorial project dedicated to contemporary enameling, jewelry, and objects. Featuring bold, whimsical, and colorful enamel hopefully conveys positive energy to everyone who endured the trials of the pandemic. Featured artists: Jessica Calderwood, Sunyoung Cheong, Zachery Lechtenberg, Sharon Massey, Marissa Saneholtz, and Jina Seo. On view at the Baltimore Jewelry Center, April 7–May 19, 2023.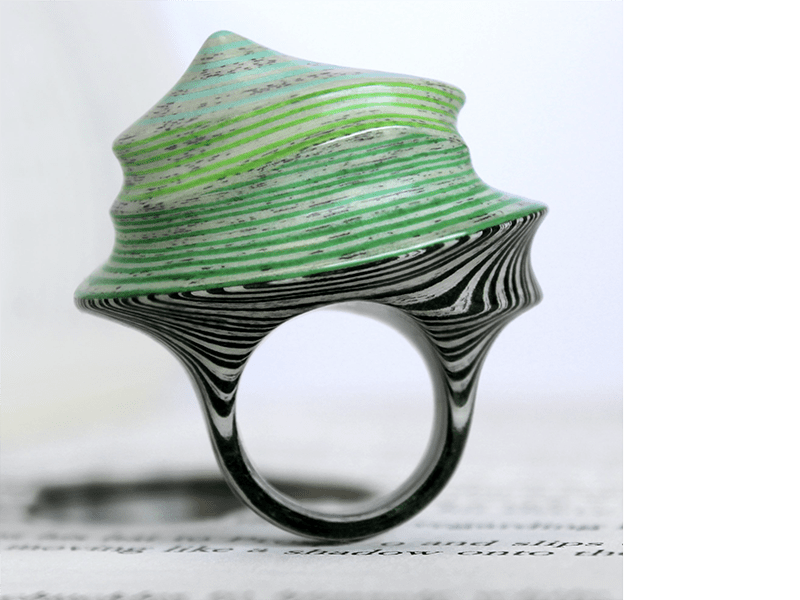 SO MANY BOOKS, SO LITTLE TIME!
Jeremy May creates jewelry out of vintage books. He talks about his work in The Jewelry Journey's latest podcast. Listen here.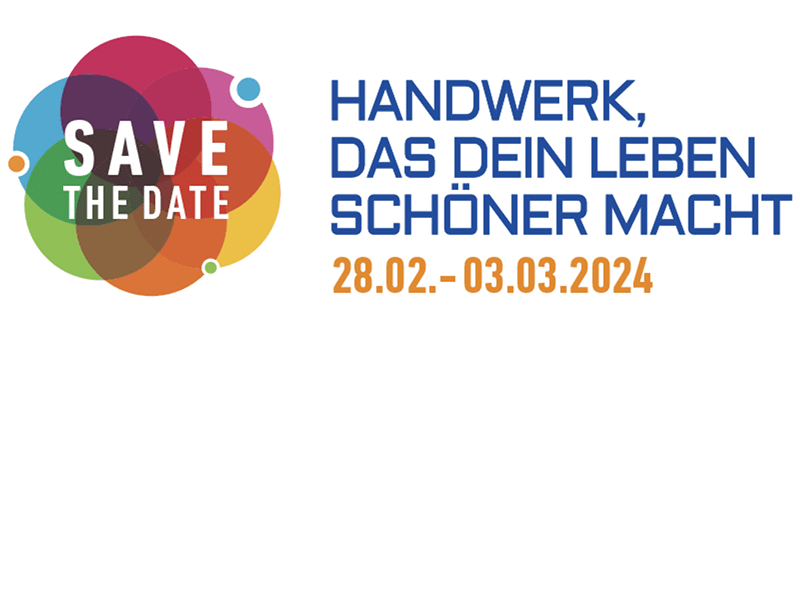 THE NEXT SCHMUCK WILL TAKE PLACE FEBRUARY 28–MARCH 3, 2024
This is a little earlier than usual and coincides with the dates for Collect. Just a heads up if you like making plans ahead of time. Info.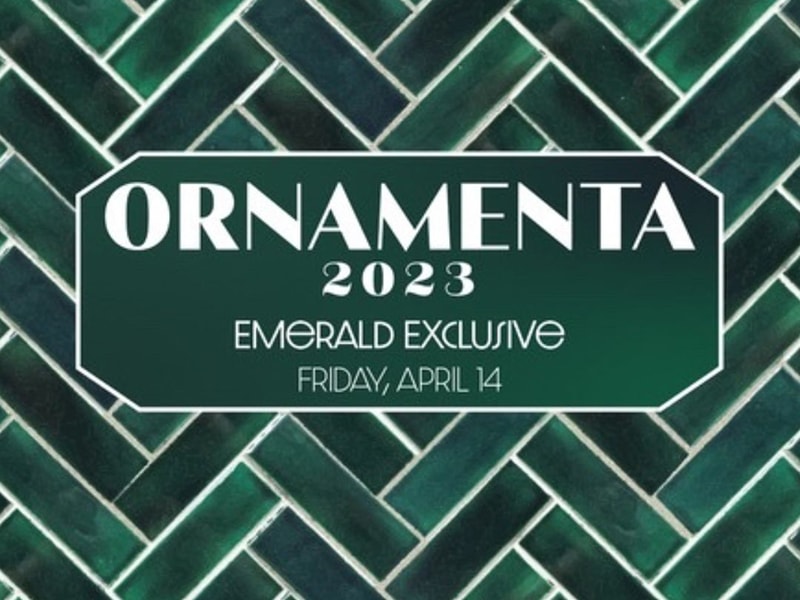 ORNAMENTA: EMERALD EXCLUSIVE, FRIDAY, APRIL 14, 7–10 P.M. EST
Join the Baltimore Jewelry Center for an exclusive fundraising event. Limited to only 35 tickets, this intimate evening will feature a custom meal and open bar along with captivating demonstrations and special guests that highlight the artistry and magic of jewelry and metalsmithing. This special evening will provide crucial funds to sustain the BJC's many programs! Buy your ticket.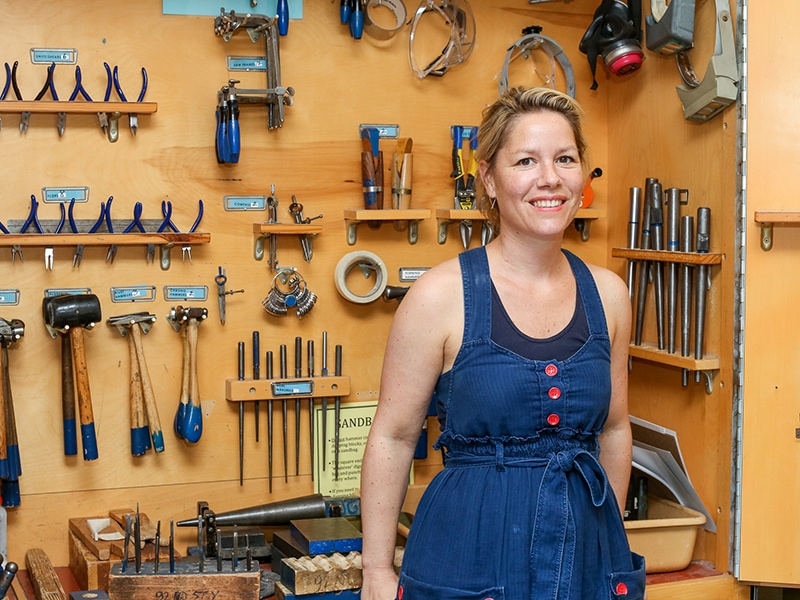 APPLICATIONS FOR @92NDSTREETY JEWELRY RESIDENCY CLOSE MARCH 31, 2023 
Final days to apply! The International Jewelry Artist Residency is a juried residency for cutting-edge, emerging, and established jewelry artists to develop their work in the multifaceted New York City art scene. This residency gives artists the opportunity to create new work in one of the most esteemed jewelry centers across the nation. Artists can explore a new body of work or complete research while engaging with New York City's cultural community. The International Jewelry Residency includes access to 92NY Residence, 24-hour private studio working space, and travel expenses to and from New York City. More information.
BALTIMORE JEWELRY CENTER IS HIRING A TEACHING FELLOW
Location: Baltimore, MD, US. Deadline: April 23, 2023 (decision by May 31). Job start date: late August 2023. The BJC is offering one three-year teaching fellowship. In addition to gaining teaching experience, the selected fellow will develop pedagogical skills, build leadership experience, receive mentorship from experienced educators, and play an influential part of a vibrant educational community. The ideal candidate is passionate about metalsmithing and art jewelry as well as teaching and learning. They should be eager to engage with students in a variety of settings, from the studio to community events. Info.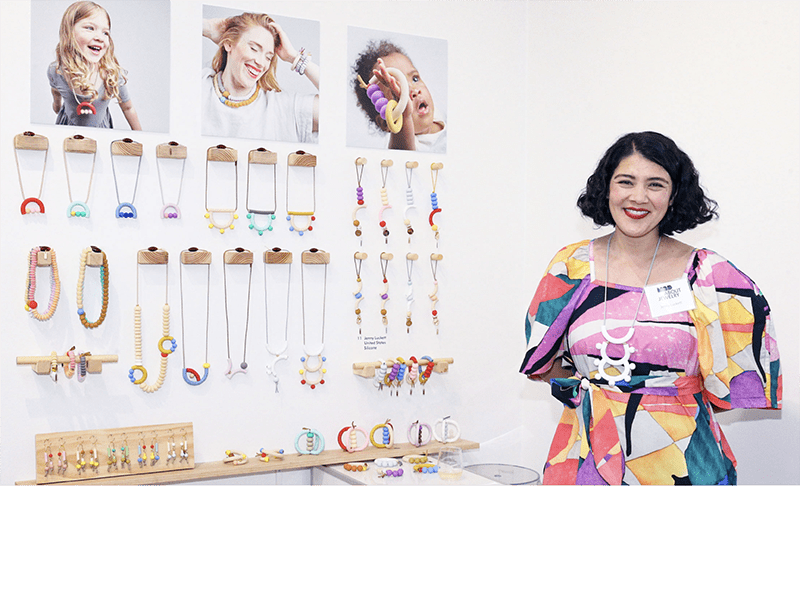 MAD ABOUT JEWELRY RETURNS
The annual benefit sale of contemporary jewelry will take place April 25–29, 2023. Info.
TAMARA MARBL JOKA, JUTTA KALLFELZ, AND NEKE MOA WIN THE HERBERT HOFMANN PRIZE
This prize is the "Oscar of jewelry awards." Joka won for her brooch Mirror of the Past. She is a student at the National Academy of the Arts in Oslo, Norway. Germany's Kallfelz won for three brooches carved from birch, ebony, and meerschaum. Moa won for the pendant Ngati Pukana, made of driftwood, jaden and shell, linking it to the cultural history of her country, New Zealand. Press release.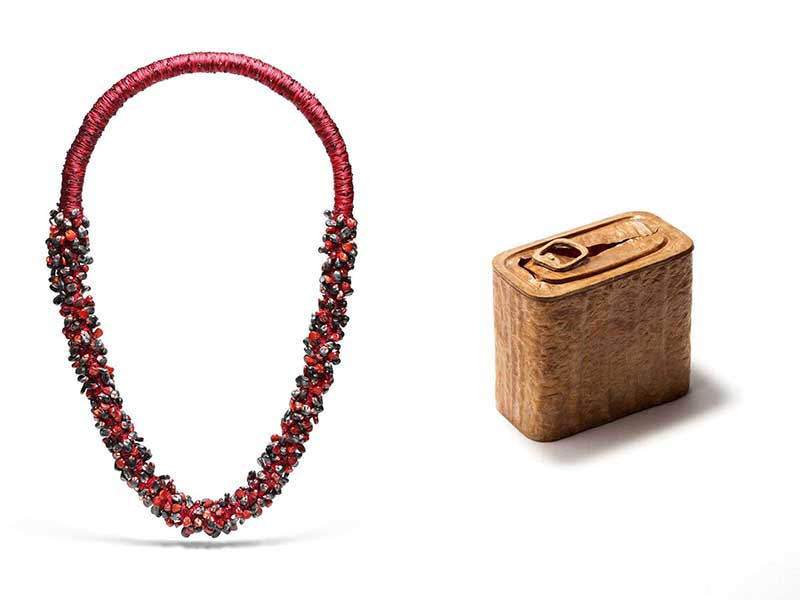 TALENTE WINNERS ANNOUNCED AT MUNICH
Eight Talente prizes for design and technology were awarded. In jewelry, Susie Heuberger (Mexico/Germany) won for a necklace made of corn kernels, garnet stones, cotton and poly silk. Its shape and material refer to Mexico and allude to political, social, and ecological aspects of the country. Haisheng Liu (China/South Korea) won for brooches in the form of cans, made of Scoby leather, a plant-based, decomposable material. The artist plays with the contrast between the solid form of a metal can and the flexible material of lthe eather substitute, and on a second level with the contrast between an ephemeral material like decomposable leather and the lasting value of jewelry. Press release.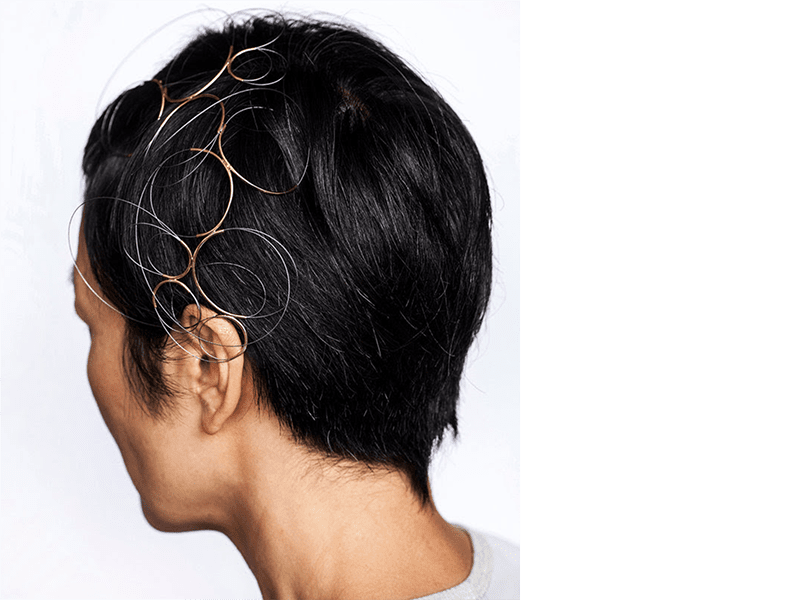 FIO WINNERS ANNOUNCED
Mayumi Okuyama got the blue ribbon, Kika Rufino won second place, and Renata Meirelles took third in the International Professional category in this edition of FIO. Interestingly, both Okuyama and Meirelles create work for the body and the head. See all the winning work here.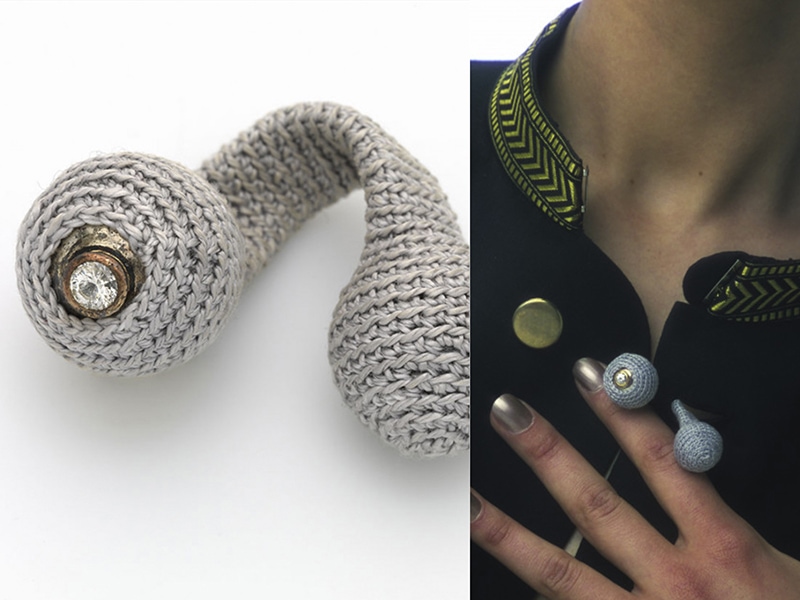 DIVA REOPENS MARCH 24, 2023
Diamonds, jewelry, and silversmithing become one at DIVA, in Antwerp, Belgium. Go for the festive opening weekend, see their extensive collection, or take one of the many workshops planned for the rest of the year.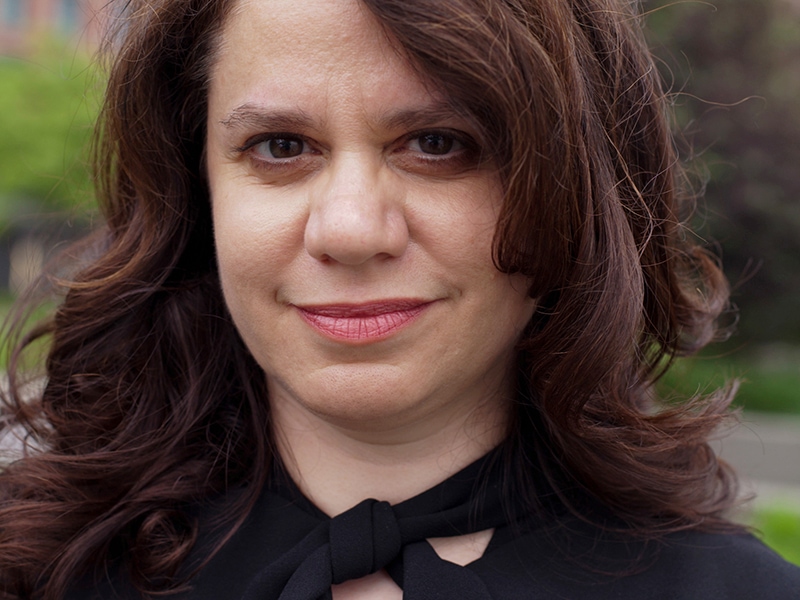 MUSEUM OF ARTS AND DESIGN APPOINTS NEW CURATOR OF CRAFT
Alexandra Schwartz, PhD, will serve as Curator of Modern and Contemporary Art, Craft, and Design effective immediately. Press release.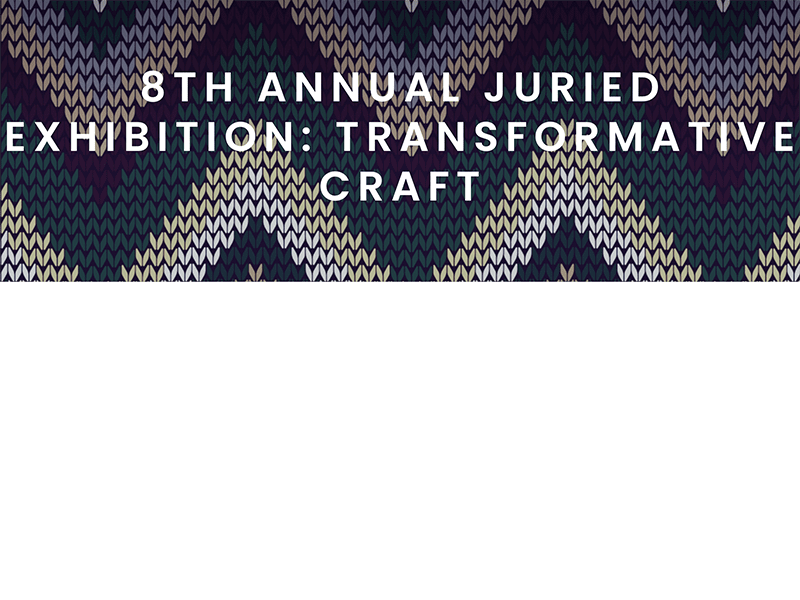 CALL FOR EXHIBITION: TRANSFORMATIVE CRAFT
Susquehanna Art Museum's eighth annual juried exhibition invites artists to submit transformative works that highlight the considerable attention to detail, process-based skill, and inventiveness that exemplify contemporary craft. Contemporary craft artists create masterful objects that transcend hierarchical categorization. Work in all media is welcome. Deadline: May 1, 2023. Info.
CALL FOR ENTRY: BATTLE OF THE RINGS
Danaca Design Gallery Showroom's Battle of the Rings, a.k.a. the Ring Smackdown, is a head-to-head, tournament style, single-elimination juried competition and virtual event with a prize of $500. Two jurors will select 64 rings. These will be paired into matches for competition. Matches will be posted daily to Instagram for exactly 24 hours for public vote. All selected rings will be posted to the gallery's Instagram feed and available for purchase online gallery. Deadline: March 24, 2023. Info.
In this annual award for emerging silver jewelry artists, applicants submit answers to 15 business questions and their design portfolios. The experience is designed to help jewelry entrepreneurs create a strategy to kick-start their careers. The grand prize is a $7,500 cash grant plus other benefits. Deadline: May 1, 2023. Info.
FREE ISSUE OF SMCK MAGAZINE
In celebration of Munich, Smck is giving away issue number 8 in digital form. Read it here.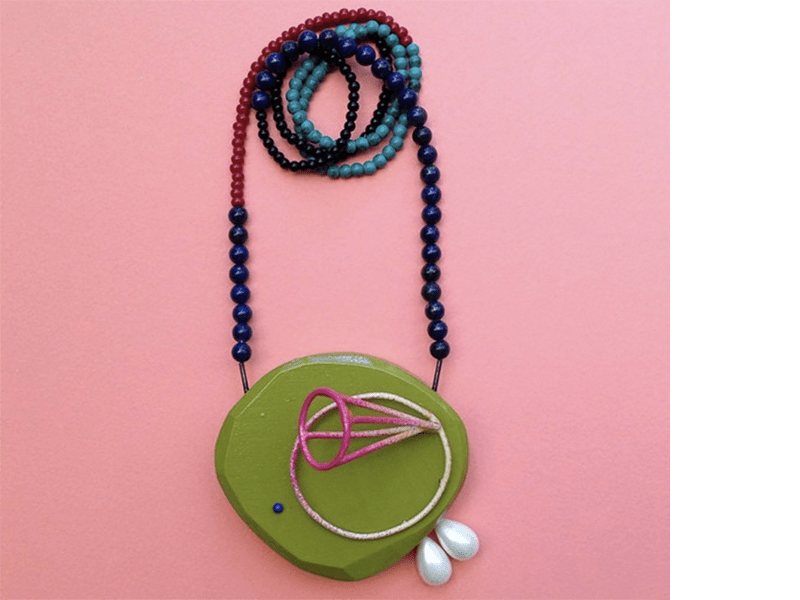 A TRIBUTE TO AUSTRALIAN JEWELER ALICE POTTER
Mel Young wrote about the maker, whose colorful ornaments brought joy to so many. Read it in Garland.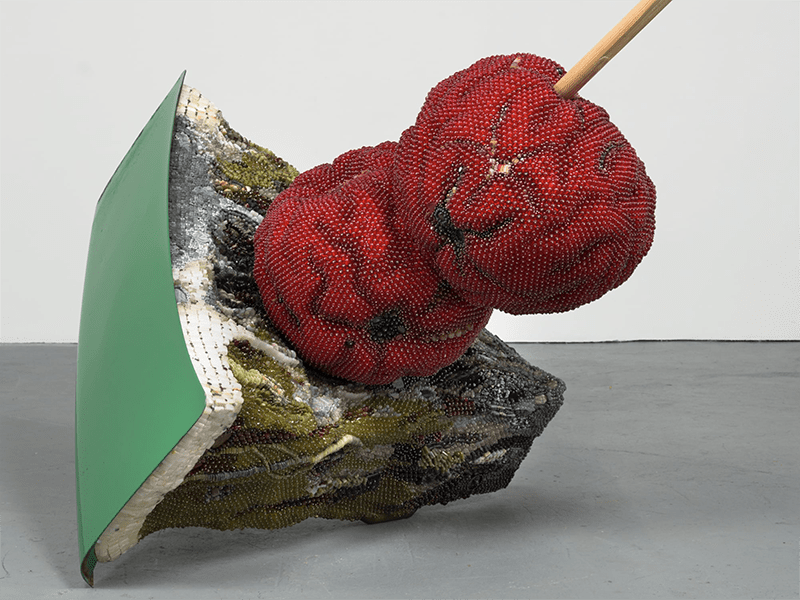 PRECIOUS MATERIALS QUESTION RAMPANT CONSUMERISM
In Beachcomber, Kathleen Ryan continues her inquiries into consumption and the unsightly remnants of American life. The artist's latest works explores the tension between revulsion and delight through the artist's signature gemstone treatment. You won't believe the size of the work! More.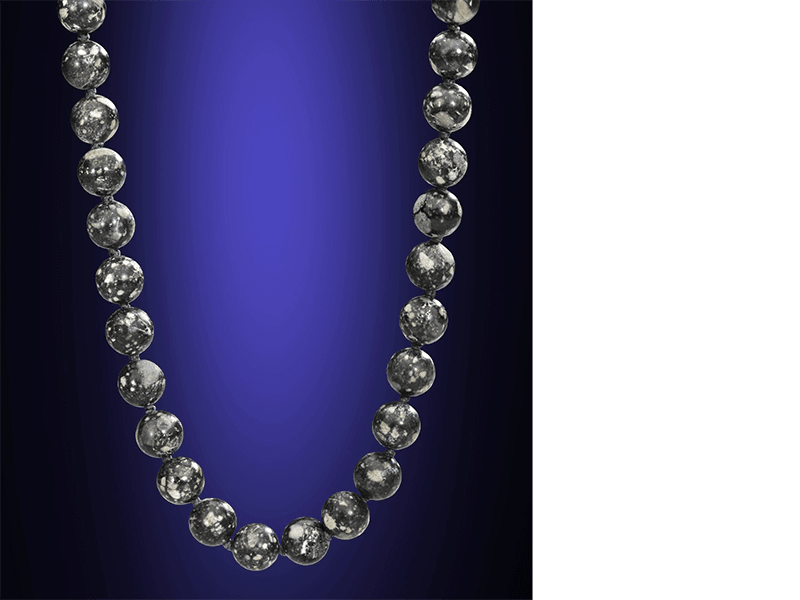 LUNAR BEAD NECKLACE ON AUCTION BLOCK
A single-strand necklace of matched "lunar beads" is for sale in Christie's "Deep Impact" auction. Made from Moon meteorites—bits of matter ejected from the Earth's satellite due to asteroid strikes—the Lunar Necklace has an estimate of $140,000–$200,000. Read about it.
ALSO ON AUCTION: MIKIMOTO x HELLO KITTY NECKLACE
Pop culture meets pearl culture—cultured pearls, that is. Weighing in at 700 grams (1.5 lbs.)—wow!—this Akoya pearl necklace consists of 12 strands of pearls in graduating sizes and features a panel with the face of Hello Kitty framed in round diamonds, with a yellow diamond nose, onyx eyes, and a bow made of 30 cabochon rubies. Christie's Hong Kong is selling it in its "Jewels Online: The Hong Kong Edit" sale. It's estimated at $30,600–$44,600. Dearest reports.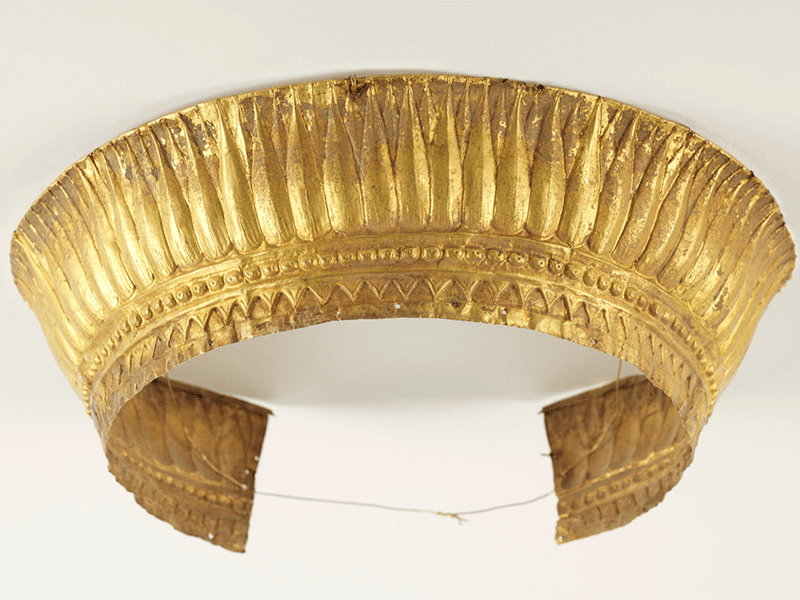 LOOTED JEWELRY RETURNED TO CAMBODIA
Nearly 80 pieces of gold jewelry, some as old as the ninth century, looted from ancient temples and burial grounds between the 1970s and early 2000s, have been returned to Cambodia. Read about it.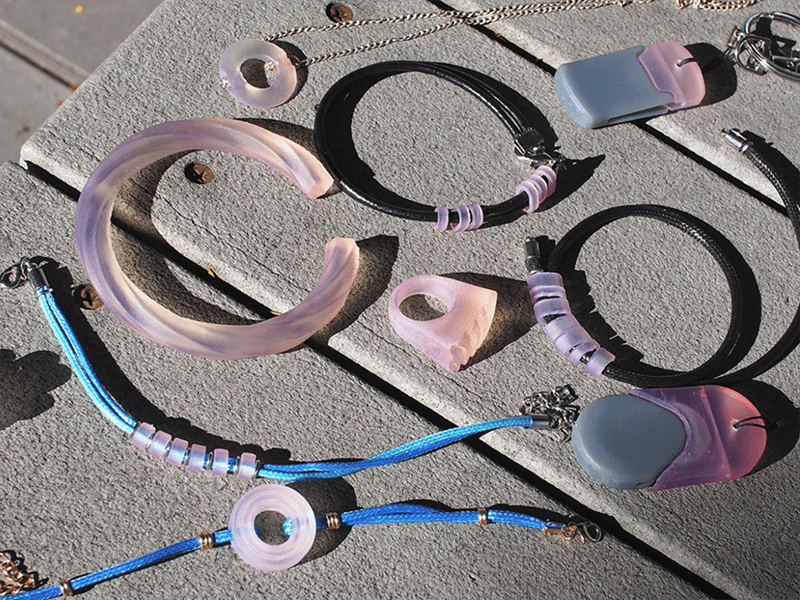 JEWELRY THAT WARNS ABOUT HIGH SUN EXPOSURE
Queensland University of Technology is designing jewelry with dye technology that lets wearers know they're getting too much sun exposure. Listen to the news story and hear how it works—fascinating!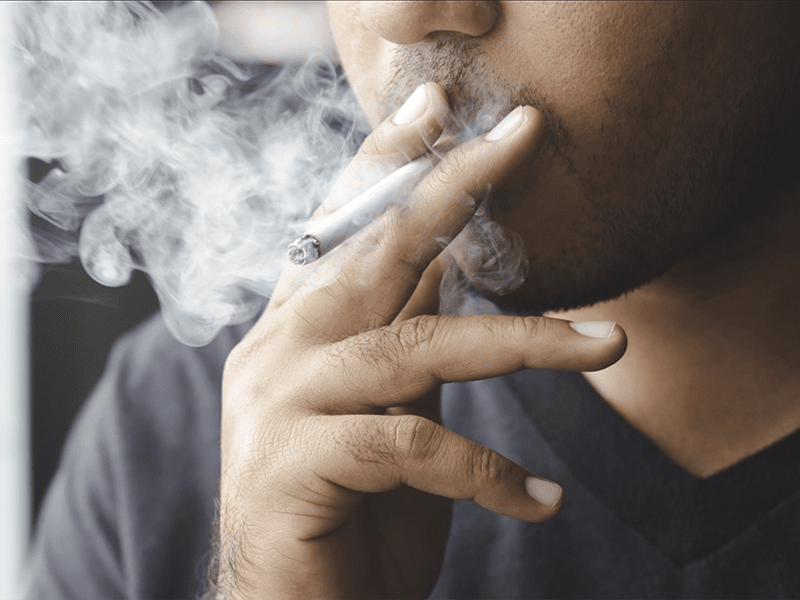 JEWELRY THAT HELPS PEOPLE STOP SMOKING
Northwestern University Medicine researchers have developed a smart necklace resembling a lapis blue pendant that detects a user's smoking, including how much they inhale and time between puffs, to help smokers who are trying to quit. Photos aren't yet available. Learn more.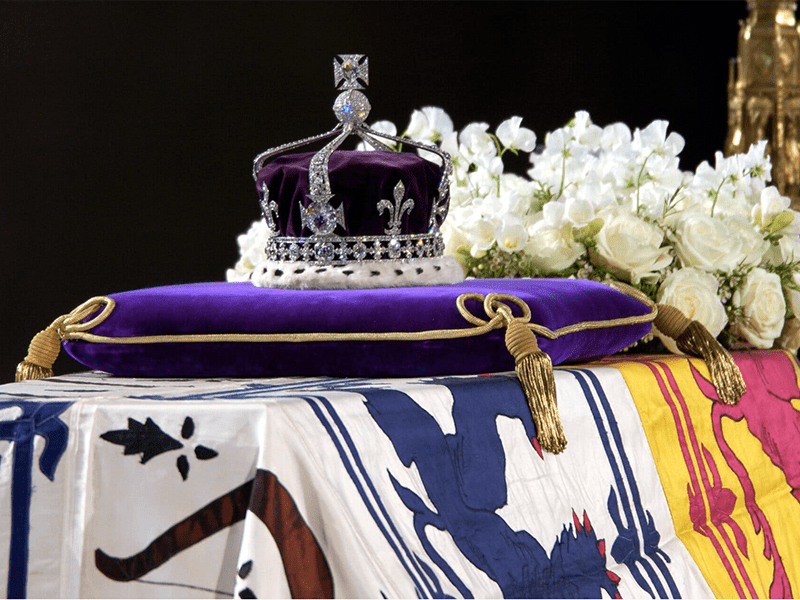 WERE YOU WONDERING ABOUT THE KOH-I-NOOR DIAMOND?
The diamond was on Queen Elizabeth's crown during her coronation and funeral, but it won't be on Camilla's crown for the coronation of King Charles. There's no sign the UK will return the 105.6 carat diamond to India. Read more.