On Offer – Art Jewelry Forum
April 2023, Part 1
You have so many reasons to purchase art jewelry…
Celebrate that hard-earned promotion
Honor a once-in-a-lifetime occasion
Pay tribute to a major accomplishment
Commemorate the beginning of a new relationship or the end of one
Pounce on the perfect piece to round out an aspect of your collection
Or invest in a treat for yourself—you deserve it!
Art Jewelry Forum's international gallery supporters celebrate and exhibit art jewelry. Our monthly On Offer series lets this extensive network of international galleries showcase extraordinary pieces personally selected to tempt and inspire you. Take a look. You're bound to find a fantastic piece you simply can't live without! (Please contact the gallery directly for inquiries.)
Gallery: Galeria Reverso
Contact: Paula Crespo
Artist: Teresa Milheiro
Retail price: €6,600
"The tension between opposing materials, as well as their material and aesthetic characteristics, takes us to the tension between life-death, between the individual being and society, the tension of being ourselves and being what society expects of us," explains the artist Teresa Milheiro.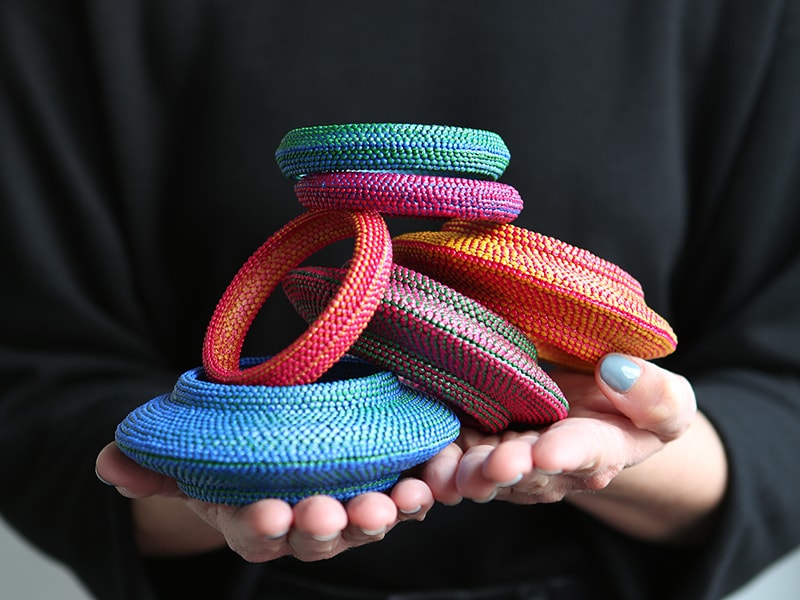 Gallery: Gallery Lulo
Contact: Anne Kathrine Schjerbeck
Artist: Carina Shoshtary
Retail price: US$540
"The technique and the material makes a beautiful piece that also belongs in the context of our present and future," says Carina Shoshtary, who consciously chooses a sustainable material such as PLA and a 3D pen. "The series of bracelets is titled Mock Weave because it looks at first glance as if they were woven. I create the pattern by placing dot [after] dot by hand with the 3D pen, so the time to build the shape might be similar to the time [needed] to weave a basket. I use a two-colored PLA (bio plastic based on corn starch), which I draw by hand with a 3D pen. These optics could not be reached by 3D printing, as the printer's lines can't change angles and directions while building up the piece, but I can draw freely in all directions with the pen."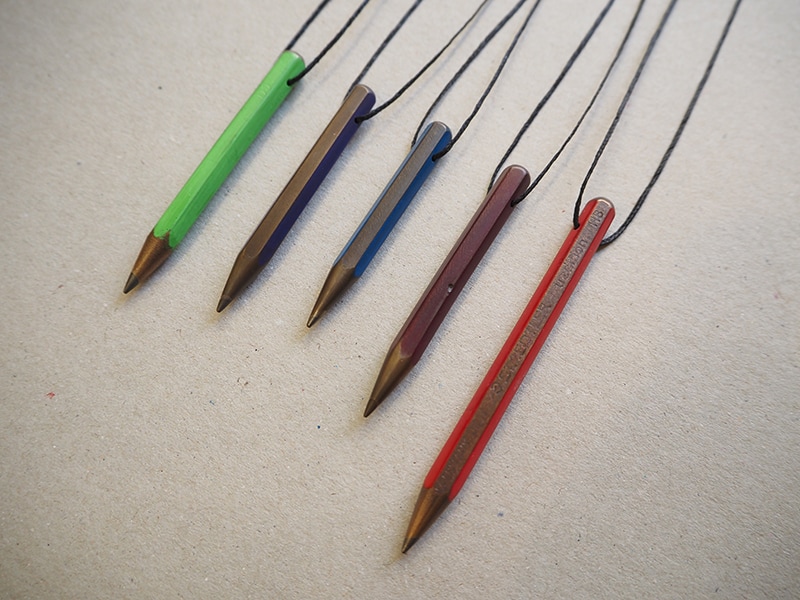 Gallery: Zu design
Contact: Jane Bowden
Artist: Sue Lorraine
Retail price: Each AUS$590
"My practice revolves around my relationship with objects and their potential and power to hold and to assign meaning and memory," says Sue Lorraine. Her Drawn Out series is a study of stationary items that both hold and evoke memory. You can't help but want to pick up these pencil pendants! They are tactile and surprisingly much heavier than the pencil they imitate. Cast in bronze with a heat-colored mild steel tip, and beautifully hand detailed with acrylic paint.
Gallery: Galeria Tereza Seabra
Contact: Tereza Seabra
Artist: Verena Sieber-Fuchs
Retail price: €2,400, plus shipping
In the words of Verena Sieber-Fuchs: "I make jewelry, not with gold but with jewelry. I like to disorient people, even if they think that I'm one sandwich short of a picnic, that I'm not quite all there. When I work, it's like a long meditation which calms me but annoys my husband."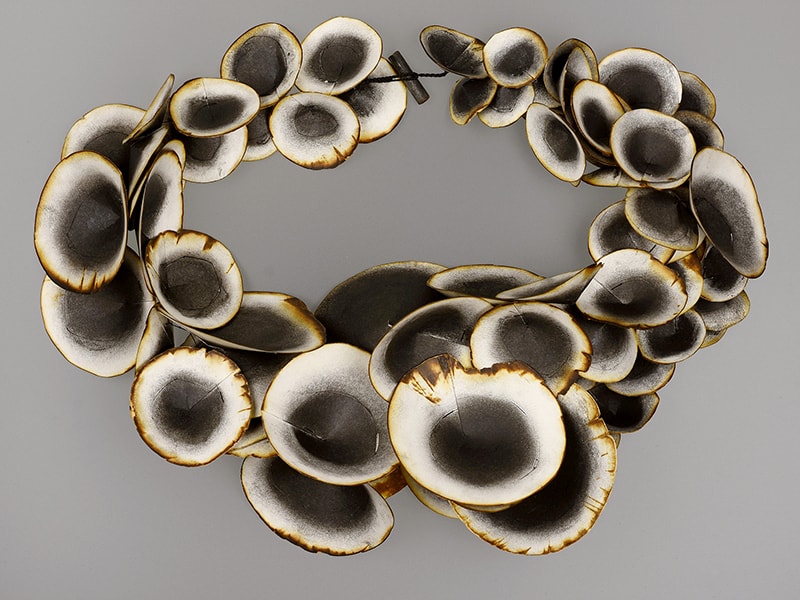 Gallery: Fingers Gallery
Contact: Lisa Higgins
Artist: Nina van Duijnhoven
Retail price: NZ$950
Nina van Duijnhoven is a contemporary jewelry artist born in The Netherlands and currently based in Wellington, New Zealand. "Mono no aware is a key term in Japanese culture and refers to the bittersweet realization of the ephemeral nature of all things. The impact of this philosophical perspective is to recognize the impermanence of everything that exists and to create a deeper appreciation and connection with it by recognizing its temporary nature. Everything is ultimately fleeting and eventually transformed with the passage of time."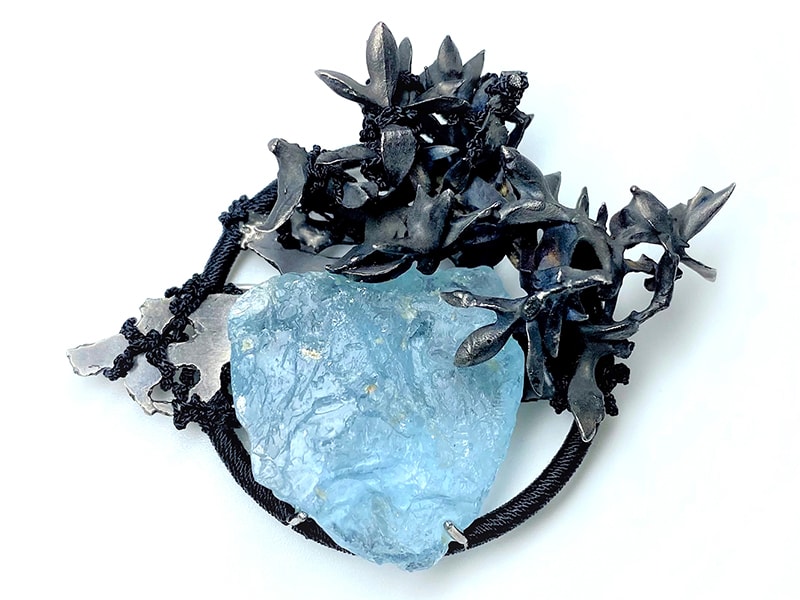 Gallery: Platina Stockholm AB
Contact: Sofia Björkman
Artist: Mari Ishikawa
Retail price: US$1,200
Mari Ishikawa interrupts for a brief moment the flow of transience. A precious object is created that has been wrenched from the cycle of life and death to stand for itself and for the moment. The artist was born in Kyoto, Japan. She lives and works in Munich, Germany. Since 2020 she has been a Visiting Professor at Kobe Design University, in Japan. Her work can be seen in exhibitions and collections around the world, and she has received several prizes—for example the Herbert Hofmann Prize, in Munich.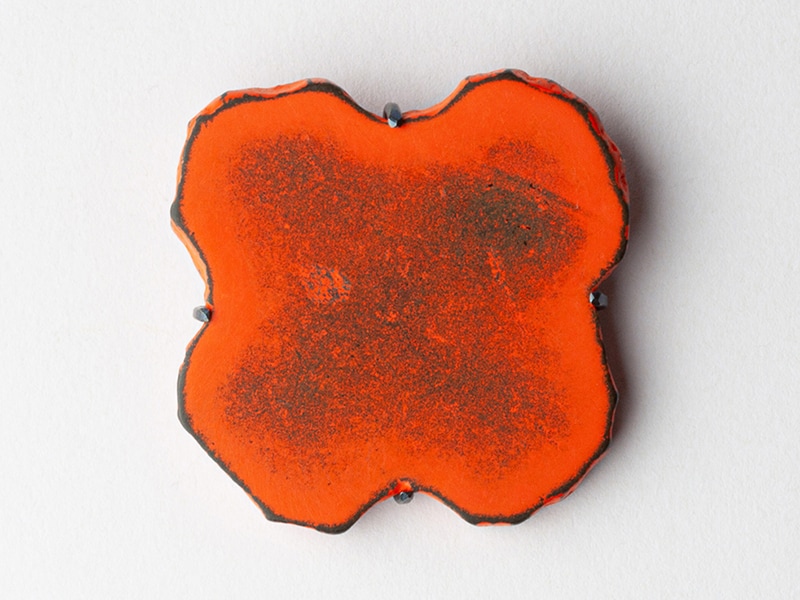 Gallery: Funaki
Contact: Katie Scott
Artist: Margaret West
Retail price: AUS$1,400
Margaret West (1936–2014) was a seminal figure in Australian jewelry, teaching and influencing a generation of makers. This captivating, bright orange work is a key piece from her famous series Notes (The Sky Is a Garden), made 1997–1999. The loose, petaled flower is the motif best known in West's work, as she balances the impermanence of flowers (she was a passionate gardener) with the hard immutability of stone.
Gallery: Four Gallery
Contact: Karin Roy Andersson
Artist: Janne Peltokangas
Retail price: €340
According to Janne Peltokangas, materials have life and soul. The spiritual is constantly present, both in his work and in life in general, and it has a connection to sustainability and the cycle of nature. Peltokangas is a Sami artist living in northern Finland. His works consist of layers and layers of leftover scrap steel from modern society. The steel has been smithed and reshaped, and his work expresses the simultaneously raw and sensitive expression of the landscapes in which he has grown up.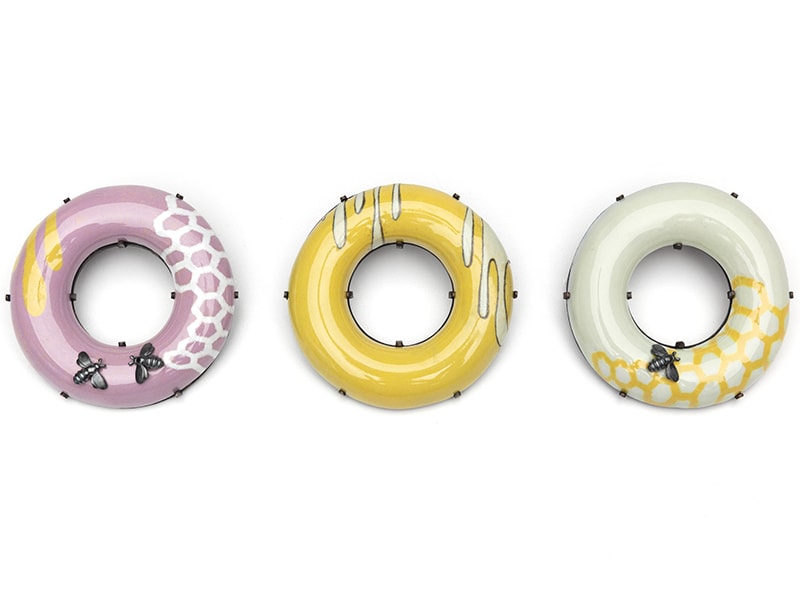 Gallery: Baltimore Jewelry Center
Contact: Allison Gulick
Artist: Sunyoung Cheong
Retail price: Each US$860
Born in Seoul, South Korea, and based in Topeka, KS, US, Sunyoung Cheong is a designer, maker, curator, and educator who integrates technology with traditional metalsmithing to create her work. She combines precious metals with mixed media such as 3D-printed resin, fabric, wood, paper, and vitreous enamel using CAD/CAM, enameling, and the lost-wax casting process. View this work by Cheong, as well as the work of Jessica Calderwood, Zachery Lechtenberg, Sharon Massey, Marissa Saneholtz, and Jina Seo in the Colorful Minds exhibition at the Baltimore Jewelry Center, on view April 7 through May 19, 2023.