On Offer – Art Jewelry Forum
There are so many reasons to purchase art jewelry…
Celebrate that hard-earned promotion
Honor a once-in-a-lifetime occasion
Pay tribute to a major accomplishment
Commemorate the beginning of a new relationship or the end of one
Pounce on the perfect piece to round out an aspect of your collection
Or invest in a treat for yourself—just because
Art Jewelry Forum's international gallery supporters celebrate and exhibit art jewelry. Our monthly On Offer series allows this extensive network of international galleries to showcase extraordinary pieces personally selected to tempt and inspire you. Take a look. You're bound to find a fantastic piece you simply can't live without! (Please contact the gallery directly for inquiries.)
June 2023, Part 1
Gallery: Viceversa
Contact: ilona Schwippel
Artist: Valentine Dubois
Retail price: 780 CHF
Valentine Dubois is a Swiss designer-maker who creates geometrical sculptures to wear. By playing with squares and avoiding right angles, she talks about emotions and points out a human scale. The ring can be adapted to different sizes.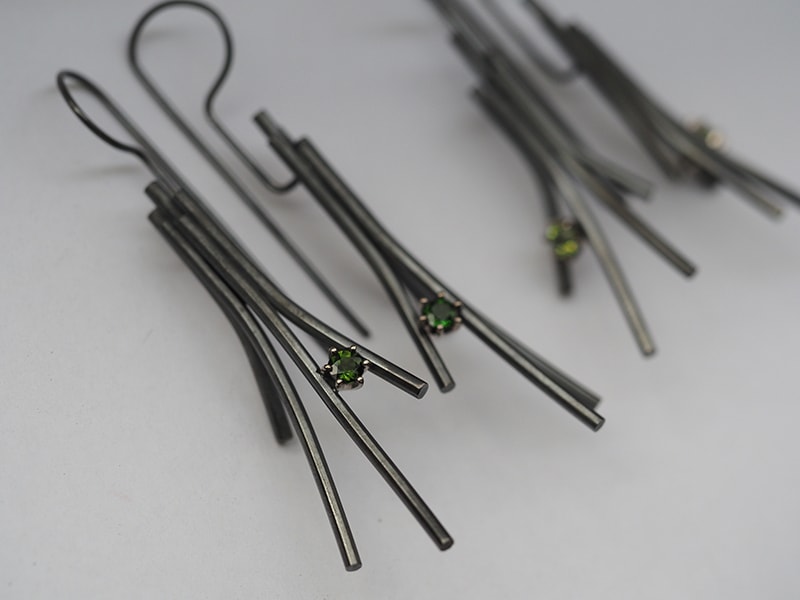 Gallery: Zu design
Contact: Jane Bowden
Artist: Simon Williams
Retail price: (Front) AUS$1,780, (back) AUS$1,480
The Pillars earrings were inspired by a journey Simon Williams made to Iceland. The basalt columns found in nature inform the shapes of this series. They're highlighted with stones set in 18-karat white gold to reflect the rich green moss-covered landscape. Simon is a tenant at Zu design. His creative practice continues to expand, often depicting his love of rock formations, inspiring sculptural and wearable pieces.
Gallery: Galeria Reverso
Contact: Paula Crespo
Artist: Aaron Decker
Retail price: €1,520
To mark Aaron Decker's first international solo exhibition, Reverso Gallery is excited to present several pendants, brooches, and necklaces from the artist's ongoing body of work, MorningStar. In this piece, titled MorningStar #5, Decker's clever fitting of spikes onto a midnight blue enamel surface is revealed on the reverse of the pendant, where small silver stars riddle the "sky." About this new body of work, Decker states that several pieces can be "mistaken for toys. Their horns and protruding spikes cast shadows across the flat enameled planes that hint at the work's dark undercurrent." The artist plays with malevolent symbols and cartoonish depictions of evil at the scale of toys and sandwiches flat enameled planes between them, providing an altered evil aesthetic that raises the question of whether evil's valence is inherent or assigned.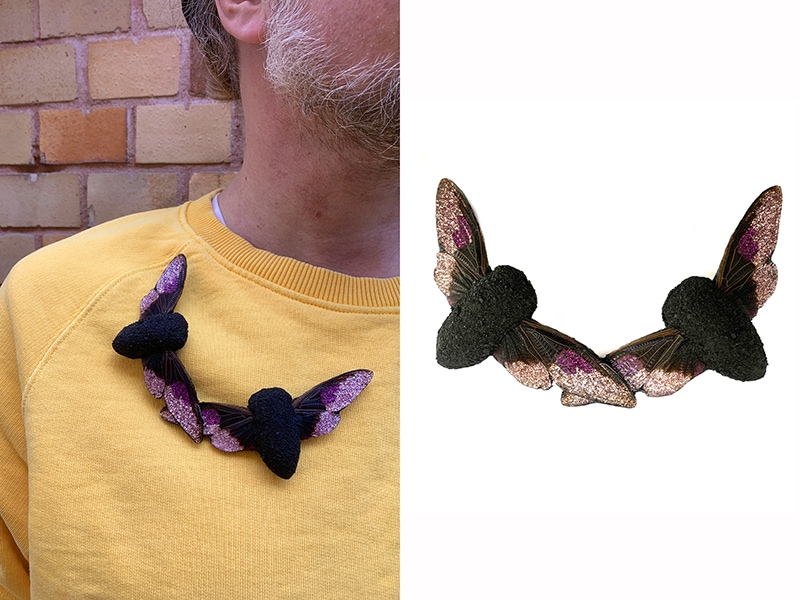 Gallery: Four Gallery
Contact: Karin Roy Andersson
Artist: Märta Mattsson
Retail price: 15,000 SEK
The Swedish artist Märta Mattsson's exceptional skills at finding balance on the edge between the beautiful and the disgusting has made her work well known internationally. "Sometimes I see beauty in things that other people find strange or are even repulsed by," she states. "My jewelry deals with the tension that lies between attraction and repulsion."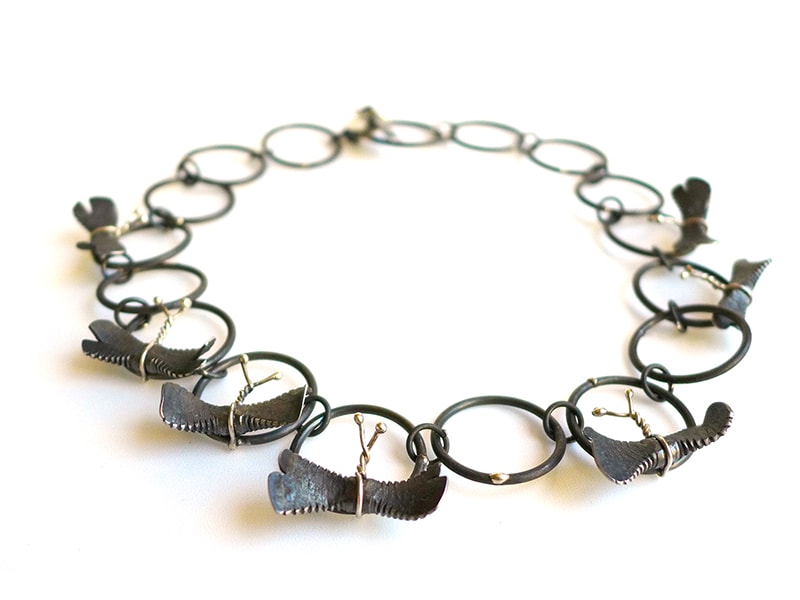 Gallery: Galerie Noel Guyomarc'h
Contact: Noel Guyomarc'h
Artist: Marianne Anselin
Retail price: CAN$2,100
Nature and the studio are Marianne Anselin's workplaces—places of transformations filled with various materials. She tries to link the natural world with the world we make: to reconsider the notion of the precious. The value of an object is not necessarily commercial. It may come from a story told and a story to be written. Preciosity is subjective and impalpable.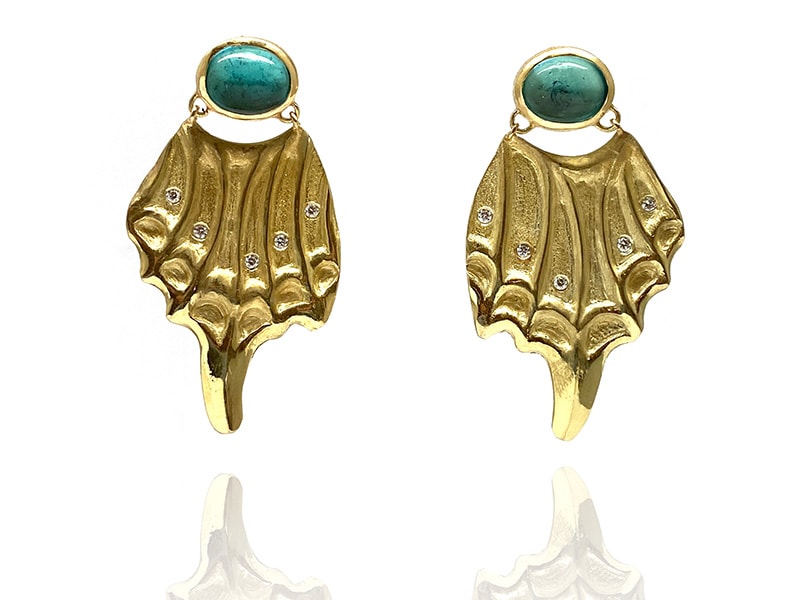 Gallery: Pistachios Contemporary Art Jewelry
Contact: Pistachios Team
Artist: Seth Michael Carlson
Retail price: US$4,565
These truly remarkable, one-of-a-kind earrings elegantly combine 18-karat yellow gold with blue topaz and white diamonds. With a bit of movement, these stunning handmade earrings are sure to garner compliments.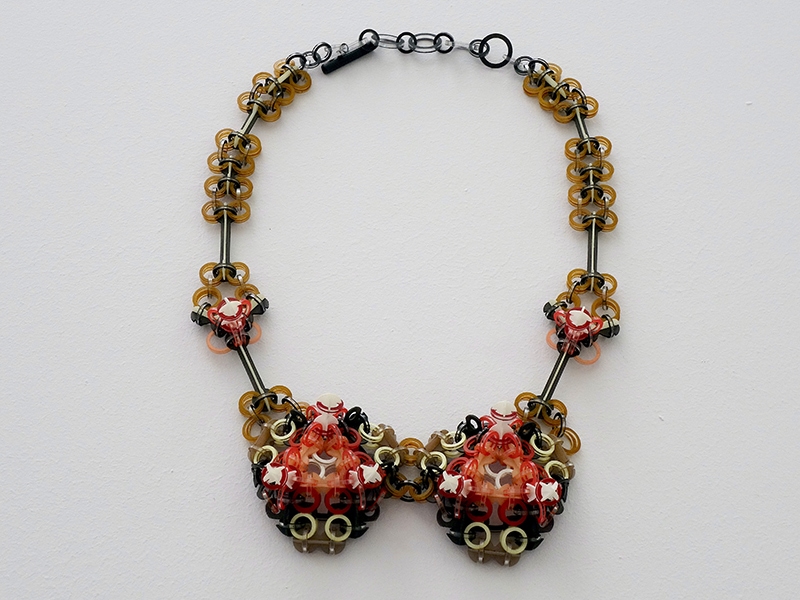 Gallery: Galeria Tereza Seabra
Contact: Tereza Seabra
Artist: Svenja John
Retail price: €4,389, plus shipping
Svenja John has been making jewelry since 1994, working in Berlin. The whole time, she has been using Macrofol®, a polycarbonate processed to create foil. Since the very beginning, her jewelry has been pieced together. Using ingenious techniques, she invents form modules which she then joins up and suspends one within the other, forms nestling within forms, stacked one on top of the other. She thus creates semi-opaque clusters and structures that remind one of scientific models, of crystalline and organic structures. The model of an atom, perhaps? An attempt at representing heavenly bodies in orbit? Stylized blossoms or allusions to polished precious stones?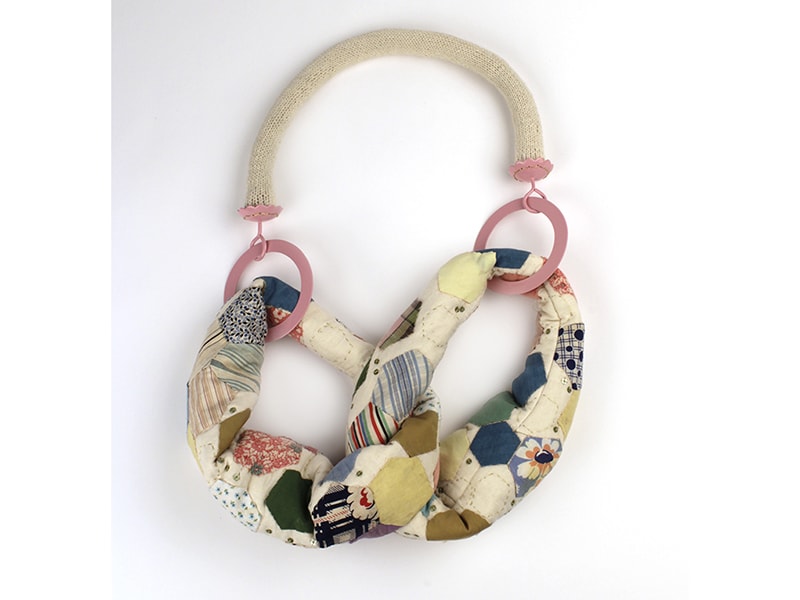 Gallery: Baltimore Jewelry Center
Contact: Allison Gulick
Artist: Angela Caldwell
Retail price: US$1,800
Angela Caldwell is an assistant visiting professor of metalsmithing and jewelry design at Indiana University. Her work focuses on memory and examines women's role in society through traditional craft-based techniques. She was a nominee for the prestigious Windgate Fellowship. Caldwell's work has been shown nationally in many juried exhibitions, most notably Baltimore Jewelry Center, Anne Marie Gallery and Sculpture Garden: in association with The Smithsonian, Galerie Marzee, CraftBoston, and Arrowmont's Geoffrey A. Wolpert Gallery, and in print in Metalsmith magazine.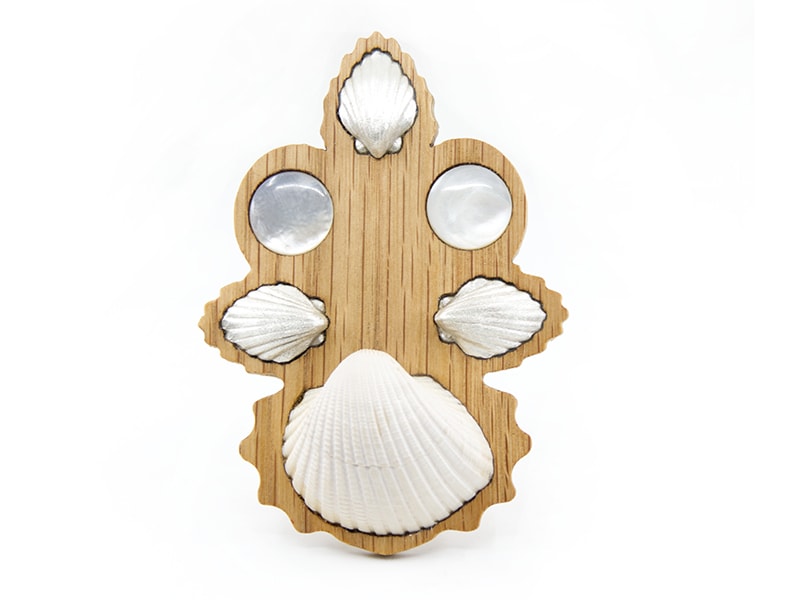 Gallery: Platina
Contact: Sofia Björkman
Artist: Annika Pettersson
Retail price: US$900
The pearl, it comes from the ocean, it is born in the water. A pearl makes one think of a seashell, the notion of water and the ocean inherent in the pearl as an object. Most gems are found in the dirt, in the earth, but the pearl is developed and created underwater. The brooches from the Remember the Ocean series can be seen as keepsakes or snapshots of the sea, aspiring to catch or capture the recollection of the sandy shoreline and the sparkling sea. The seashells originate from the beach and the oak wood is driftwood trees from the shore.