On Offer – Art Jewelry Forum
September 2023, Part 1
There are so many reasons to purchase art jewelry…
Celebrate that hard-earned promotion
Honor a once-in-a-lifetime occasion
Pay tribute to a major accomplishment
Commemorate the beginning of a new relationship or the end of one
Pounce on the perfect piece to round out an aspect of your collection
Or invest in a treat for yourself—just because
Art Jewelry Forum's international gallery supporters celebrate and exhibit art jewelry. Our monthly On Offer series allows this extensive network of international galleries to showcase extraordinary pieces personally selected to tempt and inspire you. Take a look. You're bound to find a fantastic piece you simply can't live without! (Please contact the gallery directly for inquiries.)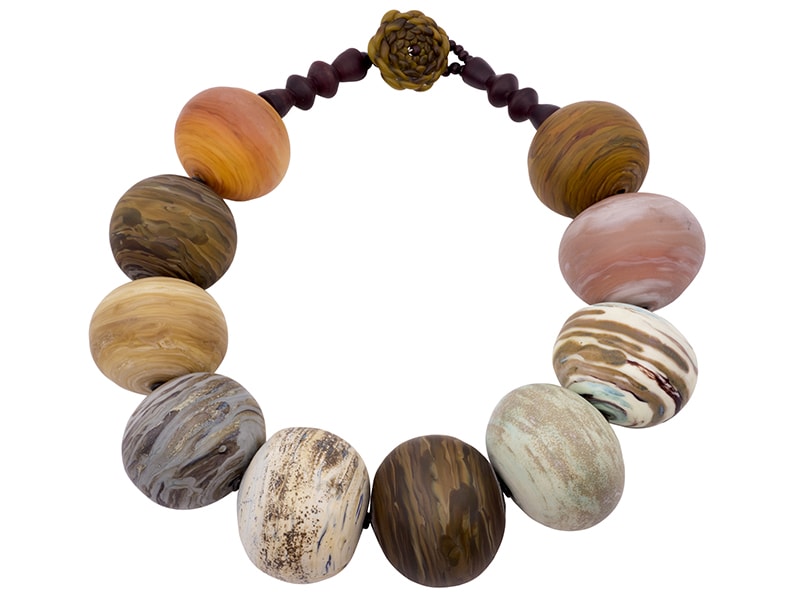 Gallery: Mahnaz Collection, New York City
Contact: Noelle Wiegand (click name for email)
Artist: Amy Lemaire
Retail price: US$2,250
Brooklyn-based artist and educator Amy Lemaire explores currency systems, material language, and historical production. She specializes in flameworking, which is traditionally used for handmade glass beads. Lemaire reinterprets the traditions of this craft in a contemporary context. She values objects with social significance, particularly glass beads and their cultural symbolism of worth. In 2022, she was the keynote speaker at the International Society of Glass Beadmakers conference. Her glass jewelry has been acquired by NYC's Museum of Arts and Design's permanent collection, highlighting her achievements in the art world.
Gallery: Galerie Noel Guyomarc'h, bijoux et objets contemporains, Montreal
Contact: Noel Guyomarc'h (click gallerist's name for email)
Artist: Aurélie Guillaume
Retail price: CAN$7,200
With this captivating new brooch, called Stella, Aurélie Guillaume invites us to an evening under the stars. A sky sparkling with a thousand tiny stars charms and seduces us into forgetting our everyday lives.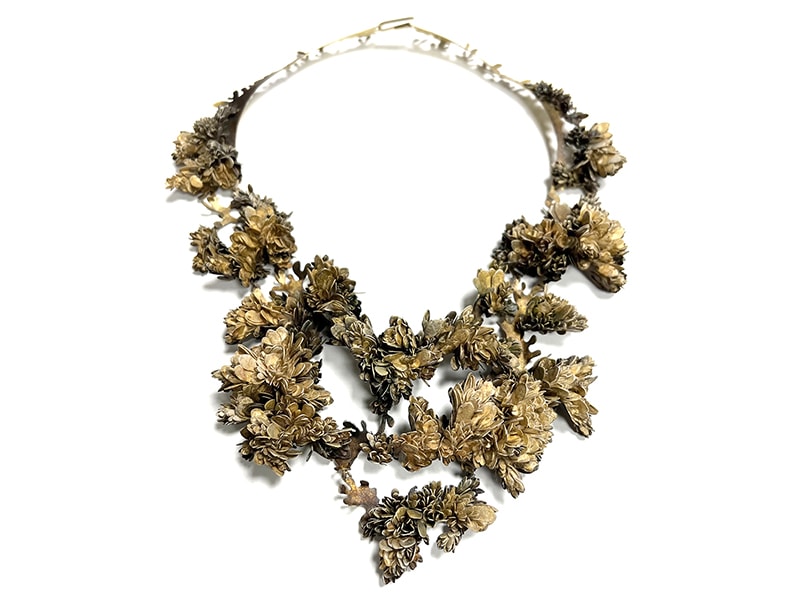 Gallery: Platina, Stockholm, Sweden
Contact: Sofia Björkman (click gallerist's name for email)
Artist: Hanna Liljenberg
Retail price: US$3,800
With a background as a painter, Hanna Liljenberg uses paper or blank metal sheet as a starting point for her jewelry. This foldable material insists on attention. Even other flat materials can be the starting point. This necklace is made from a tile stove door that she cut, folded, and added paper to. Inspired by brittle lichens and seaside barnacles, her jewelry becomes a man-made growth that dresses the body. These ornaments, with their fragile sharpness, bring a need to adapt to what you are wearing, and in that way enhance the importance of attendance in the present.
Gallery: Four Gallery, Gothenburg, Sweden
Contact: Karin Roy Andersson (click gallerist's name for email)
Artist: Helena Sandström
Retail price: €750
Helena Sandström likes to work with classic jewelry materials such as gold, silver, and pearls. She works with her hands and moves freely between more traditional jewelry and larger sculptural works. The expression is fine-tuned and poetic, often with a shimmer that whispers about other stories that might hide in the shadows.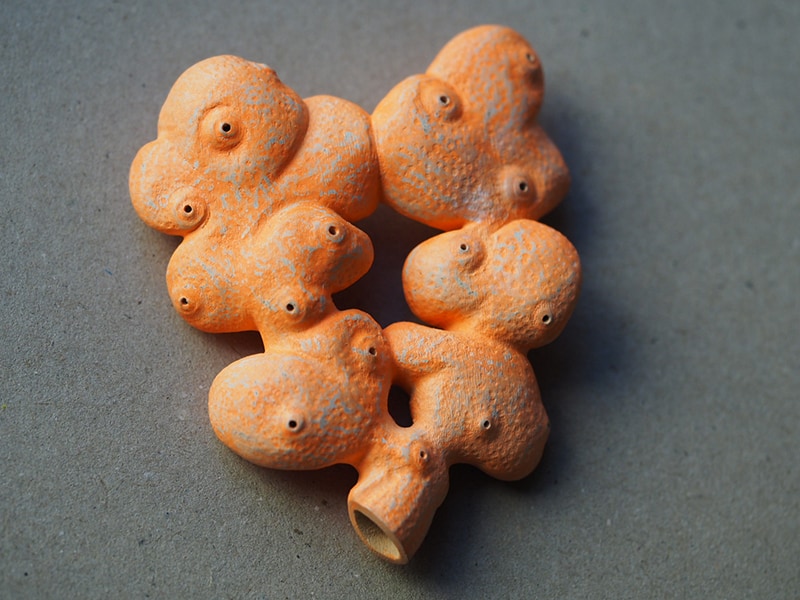 Gallery: Zu design, Adelaide, Australia
Contact: Jane Bowden (click gallerist's name for email)
Artist: Catherine Truman
Retail price: AUS$3,100
Fluro Orange Sponge was carved by Catherine Truman in 2010 as part of a larger series of carved brooches that explored the speculative evolution of hybridized marine life shaped by human industry. The wood originated from linden trees that were felled during the 1987 storms that swept through London. This collectable brooch showcases processes that Truman has become renowned for, making it a sought-after addition to anyone's collection. It currently features in Considered, Zu design's invited South Australian artists exhibition.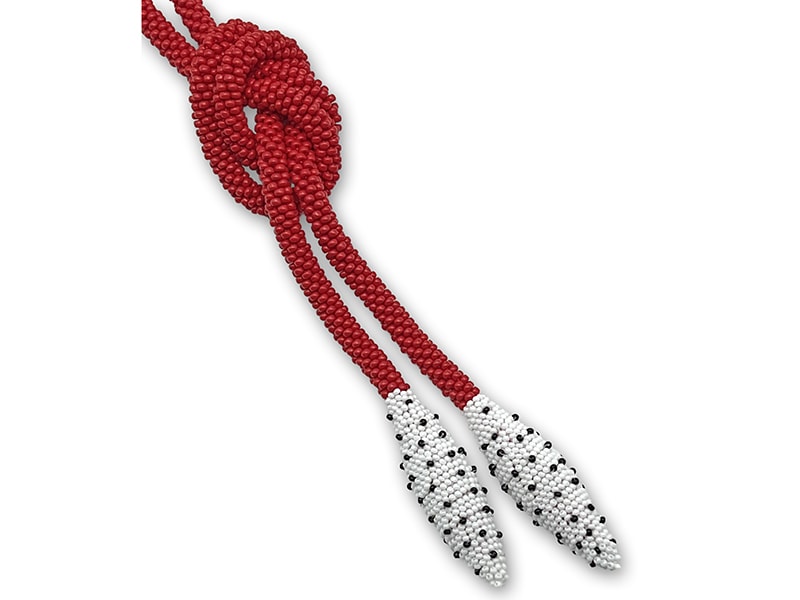 Gallery: Museum of Craft and Design, Museum Store, San Francisco
Contact: Ken Irish (click name for email)
Artist: Olga Mihaylova
Retail price: US$500
Olga Mihaylova creates her jewelry by crocheting, stitching, and weaving together thousands of tiny glass beads. Originally from Bulgaria, a land with a rich craft heritage, Mihaylova has lived in the United States for more than 20 years.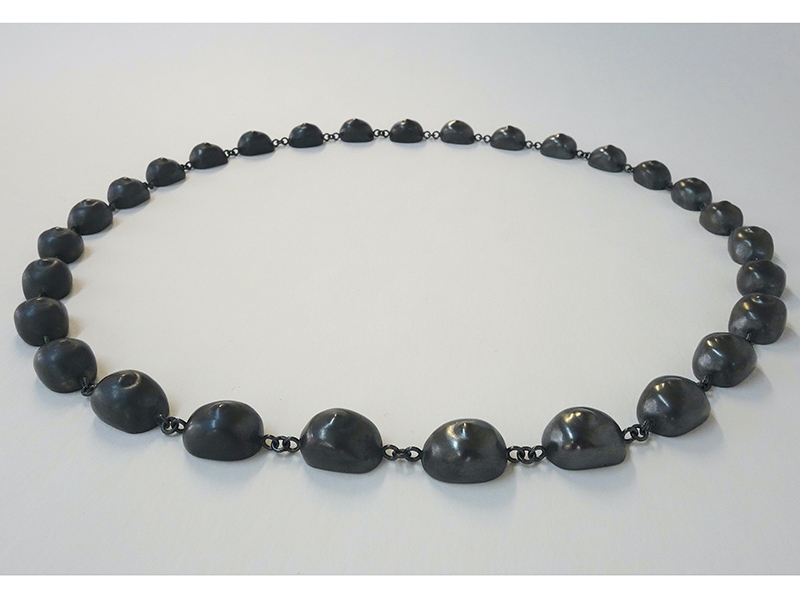 Gallery: Galeria Tereza Seabra, Lisbon, Portugal
Contact: Tereza Seabra (click gallerist's name for email)
Artist: Marta Costa Reis
Retail price: €1,800, plus shipping
"There are images that survive over time and whose significance doesn't survive with them," states Marta Costa Reis. "The historical and archeological records show us objects and symbols whose meanings have faded away. There is something inherently mysterious in that lost past, in our perceptions of what we no longer understand. The symbols of our own time will also be part of that group of mysterious images in a future we don't have access to. We can't know how the simple or complex things of our daily lives will be looked upon, the same way our gaze into the past is full of uncertainty. The feeling that there is something behind the veils of reality, which we can perhaps grasp, is part of that fascination, even if it is all a figment of our imagination. In this series of works, I chose objects and shapes that interest me and played with them, making them familiar and finally usable. Some will be recognizable, some not so much. They are a moment in time, in a history we will never fully know. These pieces are question marks."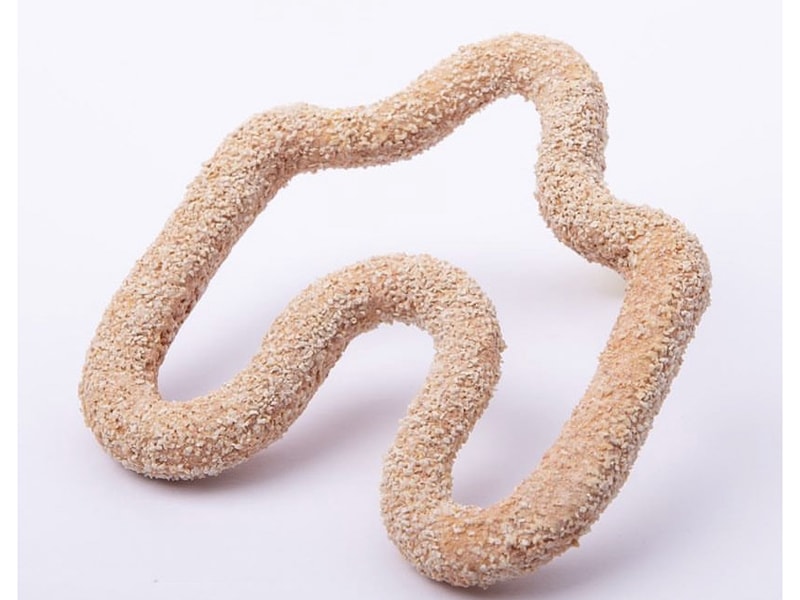 Gallery: Baltimore Jewelry Center, Baltimore, MD, US
Contact: Allison Gulick (click name for email)
Artist: Naama Levit
Retail price: US$900
Naama Levit was born in Jerusalem, Israel, and currently resides in Brooklyn, NY. She is a maker who creates jewelry, objects, installations, and performances. Her practice is an invitation to explore the intimate relationship we have with objects, materials, landscape, and memory. Recently in residence at the Baltimore Jewelry Center, Levit said this about her desert brooch: "This brooch is made of stones from my own landscape. Crushing and sifting repeatedly achieved a compilation of 'land samples' in the form of sand in different grits and tones. I use the sand as raw material to make new formations."
Gallery: In the Gallery at Brooklyn Metal Works, Brooklyn, NY
Contact: Brian Weissman (click gallerist's name for email)
Artist: Patricia Domingues
Retail price: US$1,700
"Through my artistic practice," states Patricia Domingues, "I have been exploring fracturing movements in both artificial and natural materials. What specifically intrigues me is the tension between intentional acts, such as cutting into the material, and uncontrolled accidents, such as fractures. Through the will to control, the fractures develop and are liberated as the material inevitably cracks in release. The lines, fractures, and cuts visible in my work are always the result of repetitive gestures performed on the material and its responsive language."
Gallery: ATTA Gallery, Bangkok
Contact: Atty Tantivit (click gallerist's name for email)
Artist: Melanie Georgacopoulos
Retail price: £16,000 GBP
Melanie Georgacopoulos's entire practice has been dedicated to modernizing pearl and, more recently, mother-of-pearl jewelry. Though geometric in form, her pieces often allude to the pearl's natural origin, the oyster. Her Nacre necklace sees pearls gradually sinking into water-like segments of mother-of-pearl, the fluidity of which are mirrored in the movement of the necklace. She views pearls as she would any other material, and her fearless approach often yields surprising results that are often as much miniature sculptures as they are wearable items of jewelry.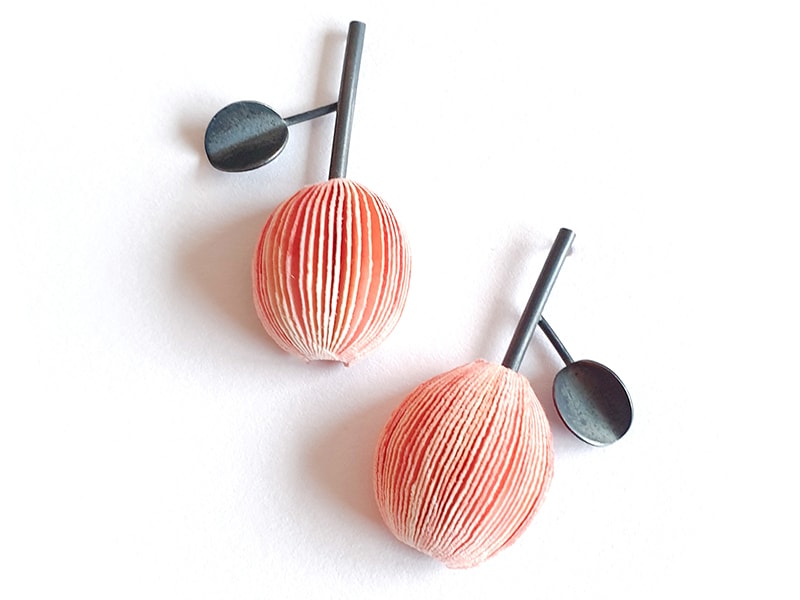 Gallery: Pistachios Contemporary Art Jewelry, Chicago
Contact: The Pistachios Team (click for email)
Artist: Naoko Yoshizawa
Retail price: US$225
Naoko Yoshizawa's floral earrings are made with traditional Japanese paper. Each sheet of paper is individually hand-dyed, and then layered to create a remarkable three-dimensional quality. These earrings strike a perfect balance between the delicate paper and the bold look of the oxidized sterling silver.
Gallery: Gallery Loupe, Montclair, NJ, US
Contact: Patti Bleicher (click gallerist's name for email)
Artist: Vered Kaminski
Retail price: US$450
Israeli artist Vered Kaminski delights in detail and often follows a mathematical approach to the process of jewelry-making. She employs the meditative aspects of repetition to create delicately intricate structures that feature meandering wire lines and/or the myriad forms found in nature, utilizing diverse materials—both precious and plain. The pieces often have architectural associations, such as fencing, or ornamental connections, for example Islamic tracery.
Gallery: Gallery Viceversa, Lausanne, Switzerland
Contact: ilona Schwippel (click gallerist's name for email)
Artist: Fabrice Schaefer
Retail price: 1'900 CHF
Fabrice Schaefer's creations seduce with their simplicity, their clear language, a kind of obviousness, albeit somewhat unexpected, as if from elsewhere. For the Swiss designer, clarity of line is simply the expression of his research and his desire to explore the characteristics of a material. A solitary, obstinate alchemist, he lets a breath, a gesture, settle.
© 2023 Art Jewelry Forum. All rights reserved. Content may not be reproduced in whole or in part without permission. For reprint permission, contact info (at) artjewelryforum (dot) org