On Offer – Art Jewelry Forum
December 2022, Part 2
There are so many reasons to purchase art jewelry… but perhaps the best one is THE HOLIDAYS ARE HERE! You've been good this year, right? (And even if you haven't, who cares?) Treat yourself!
Art Jewelry Forum's international gallery supporters celebrate and exhibit art jewelry. Our monthly On Offer series allows this extensive network of international galleries to showcase extraordinary pieces personally selected to tempt and inspire you. Take a look. You're bound to find a fantastic piece you simply have to add to your collection! (Please contact the gallery directly for inquiries.)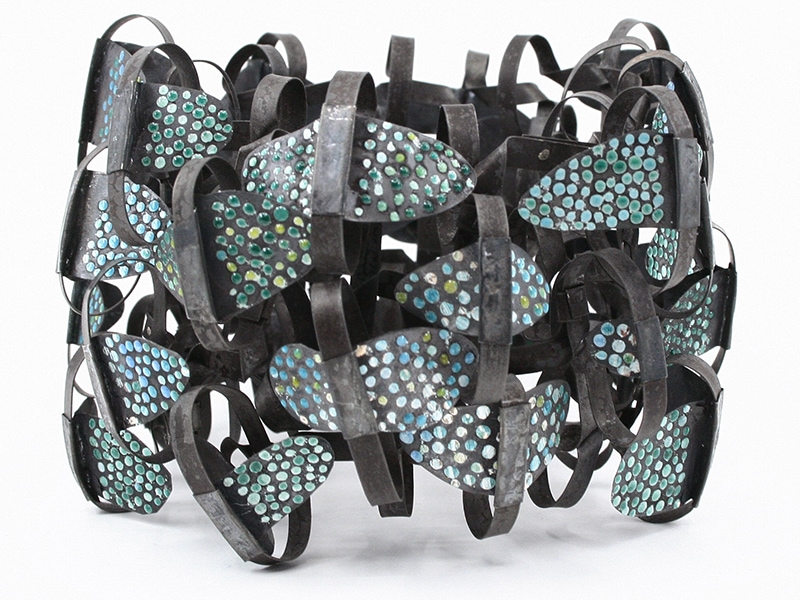 Gallery: Gallery Viceversa
Contact: ilona Schwippel
Artist: Sonia Morel
Retail price: 2,940 CHF
Sonia Morel's bracelet is made of countless titanium elements, folded, assembled, intertwined. These small, repetitive, almost meditative gestures are often of particular importance in the Swiss maker's work. Small drops of transparent enamel are applied to the titanium.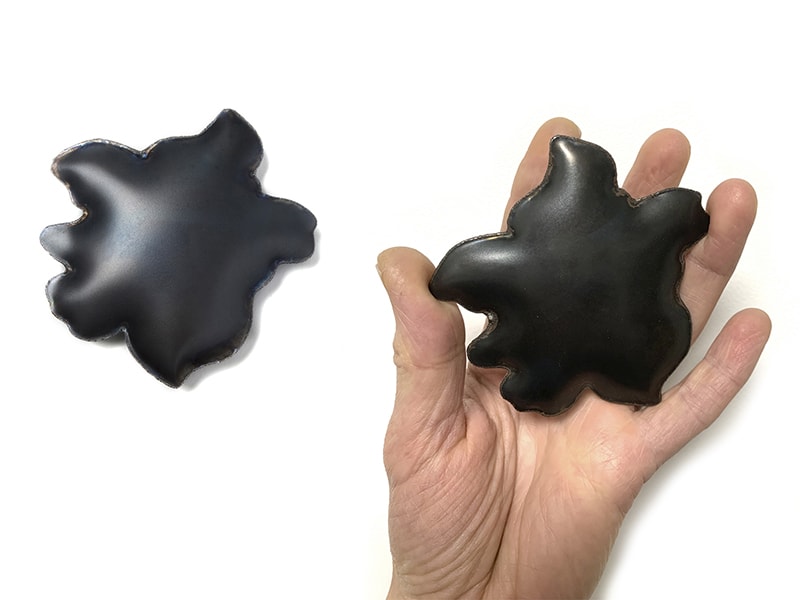 Gallery: Four Gallery
Contact: Karin Roy Andersson
Artist: Shachar Cohen
Retail price: US$650
Imagine standing by a lake on a warm summer night. The surface is like a dark mirror and the water is velvety. Would you jump in? Would you like to know what is down there or would you let your imagination make up its own view? The pieces by Shachar Cohen are time capsules that transport both old traditions and modern art expressions. Symbols, relics, or silhouettes with an unknown meaning are encased in a protecting cover.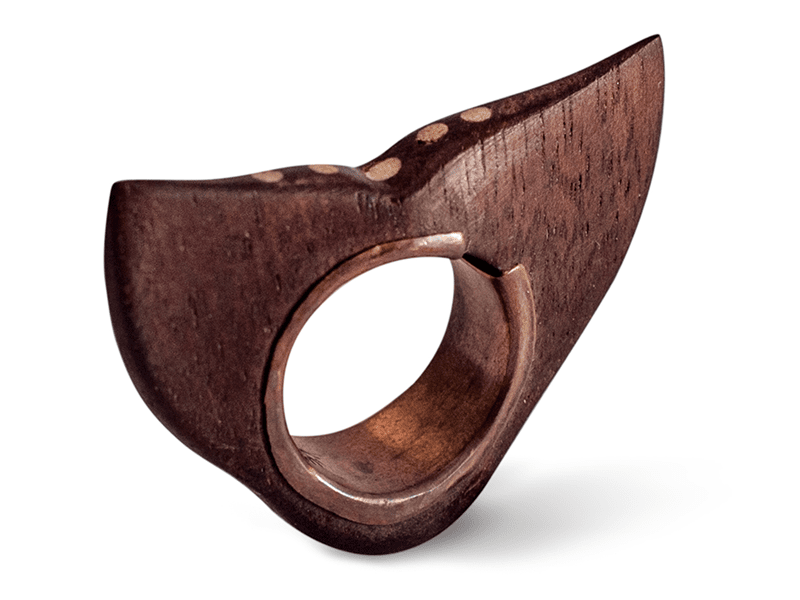 Gallery: Thereza Pedrosa Gallery
Contact: Thereza Pedrosa
Artist: Nicolas Estrada
Retail price: €490
This ring is part of a very special collection called 99 Rings, designed and realized by Nicolas Estrada during the first lockdown. For each of the 99 days of lockdown that occurred in Spain, the artist designed a ring, using recycled materials and improvised tools that he was able to reinvent in his home to overcome loneliness, fear, and anger—to continue expressing himself, despite everything.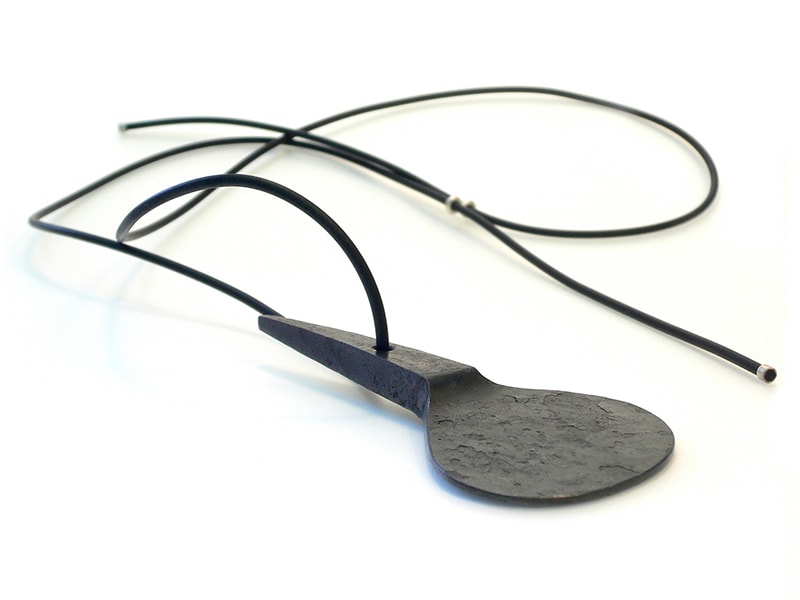 Gallery: Galerie Noel Guyomarc'h
Contact: Noel Guyomarc'h
Artist: Marianne Anselin
Retail price: CAN$430
Revisiting the notion of preciousness, Marianne Anselin forges with precision strong pieces that evoke nature and the cultural references that nourish her projects.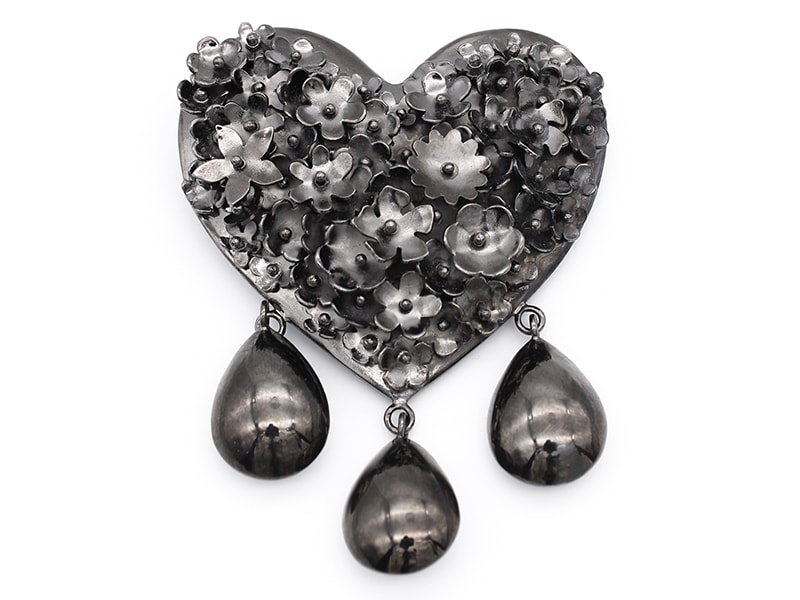 Gallery: Baltimore Jewelry Center
Contact: Allison Gulick
Artist: Liz Clark
Retail price: US$440
Liz Clark received her BFA in crafts/material studies from Virginia Commonwealth University in 2006. She lives in Providence, RI, US, and maintains a metal studio where she creates art and jewelry. Clark exhibits her work through various galleries across the country. She also works part-time at Metalwerx, a school for jewelry and metal arts in Waltham, MA, US, as the administrative and events manager. Clark's Hearts and Tears Brooch was featured in The One and the Many: A Metal Shop Exhibition of Art and Production Jewelry, held at the Baltimore Jewelry Center in September 2022.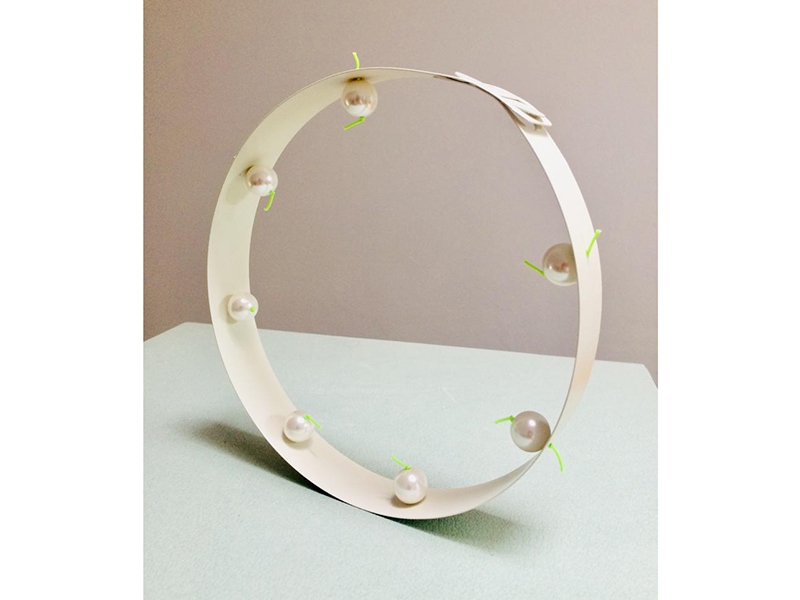 Gallery: Galeria Reverso
Contact: Paula Crespo
Artist: Typhaine Le Monnier
Retail price: €500
This is a new work by Typhaine Le Monnier, made for Reverso's new exhibition, Perfume. "There is an irremediable antagonism between The Pearl and the Perfume," says the maker. "The Pearl is a living organism that is damaged upon contact with the chemical elements contained in The Perfume. This necklace is part of a series of necklaces that propose to create an alternative to the use of both. The metallic strip draws a line that limits the contact of the pearl with the perfume."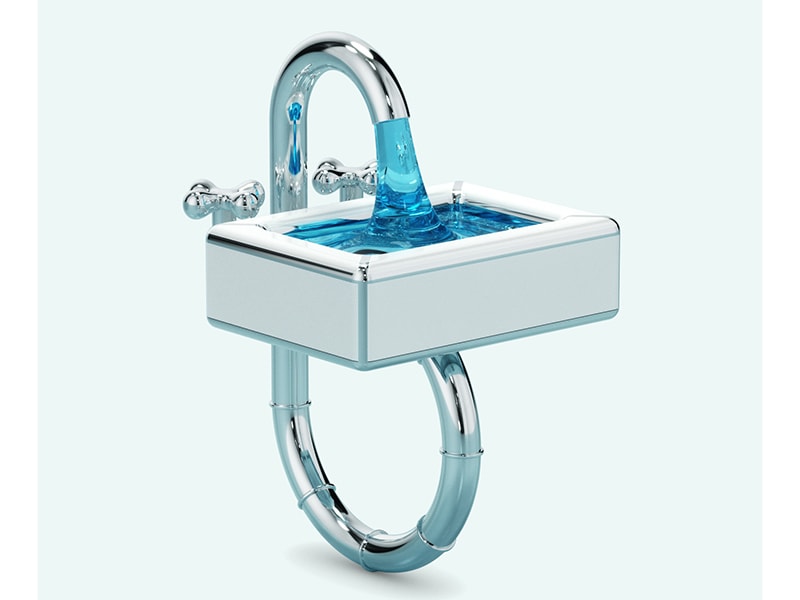 Gallery: Sculpture To Wear
Contact: Lisa M. Berman
Artist: Yuliya Veligurskaya
Retail price: US$475
Emerging onto the global scene, Yuliya Veligurskaya, founder of Studio Cult in NYC, has a unique perspective about design: her point of view of utilitarian objects are transformed into wearable works of art, often with a nod to whimsy. This Endless Drip water faucet ring is no exception. "I have admired her collections for a year," says Berman, "and it took a trip out of the country to Milan Jewelry Week in Italy to finally meet in person. Yuliya was seated near me at the awards, where she earned the Best Future Designer award. With each purchase of this ring by December 31, 2022, Sculpture To Wear will donate a portion of the proceeds to the nonprofit "Wells Bring Hope" (founded by Barbara Goldberg), which builds water wells in Africa, making it easier for girls to attend school versus going to the well.
Gallery: Galeria Tereza Seabra
Contact: Tereza Seabra
Artist: Inês Esteves
Retail price: €160, plus shipping
Inês Esteves is a young Portuguese jeweler whose main technique is crochet. She uses the technique of the Portalegre tapestries for mixing colors and creating very fine color shades, only possible by intertwining the finest sewing threads. The imagery reminds us of our grandmothers in the cold evenings of the Christmas period, sitting in their rocking chairs crocheting comfortable socks for the family.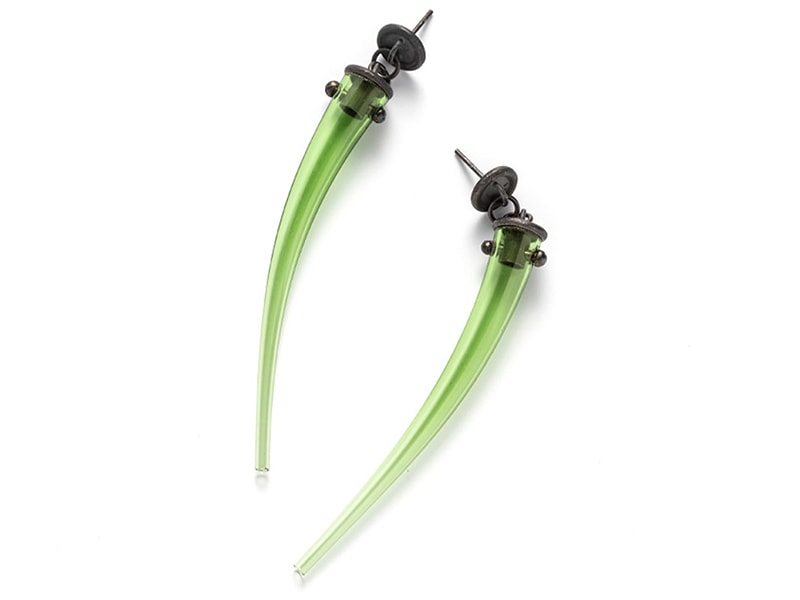 Gallery: Gallery Loupe
Contact: Gallery Loupe
Artist: Evert Nijland
Retail price: US$495
Gallery Loupe is honored to present Dutch artist Evert Nijland's extraordinary new series, Wings. The culmination of several years of arduous research and experimentation, the magnificent jewelry in Wings truly soars. The project was partially funded by the CODA Museum in Apeldoorn, The Netherlands. The institution acquired two works for its collection, along with developmental models displaying the incremental stages of each pieces' technological evolution, which will serve as educational tools for visitors to the CODA-TechLAB. Everything Nijland puts his mind and hand to is exceptional, but he has outdone himself with Wings, which represents jewelry artistry at its highest level of achievement materially, technically, and thematically. Informed by the past, the works reside in the present, but anticipate the future.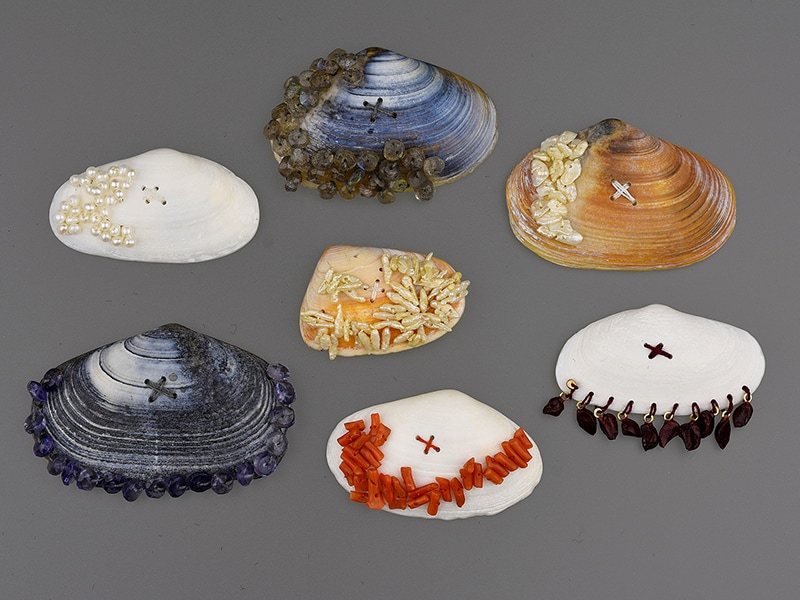 Gallery: Fingers Gallery
Contact: Lisa Higgins
Artist: Pauline Bern
Retail price: NZ$250–NZ$320
"A shift in scale from the recent Carapace pieces has produced Animal, Vegetable, Mineral…? The title references the childhood guessing game, and these encrusted shell brooches would have ended in dispute: the magic of a small creature creating a protective mineral armature to confuse categories. A pearl with mineral luster produced by an animal concealed in a shell." Pauline Bern began her career as a jeweler in the United States in the 1970s, and since returning to New Zealand in the 1980s has become a significant and influential member of the country's contemporary jewelry scene. Locally sourced materials are frequently incorporated in Bern's jewelry, either from the nearby beach or her garden, setting off an enquiry into the beauty of the banal.
Gallery: Zu design
Contact: Jane Bowden
Artist: Katrina Tyler
Retail price: Each AUS$550
Katrina Tyler's work explores real and imagined sites of intersection and co-habitation between natural and urban habitats and offers a moment for reflection and contemplation about our place within the urban ecology. It's hard to show in a photograph how subtle her color palette is, so beautifully chosen. These brooches are very wearable.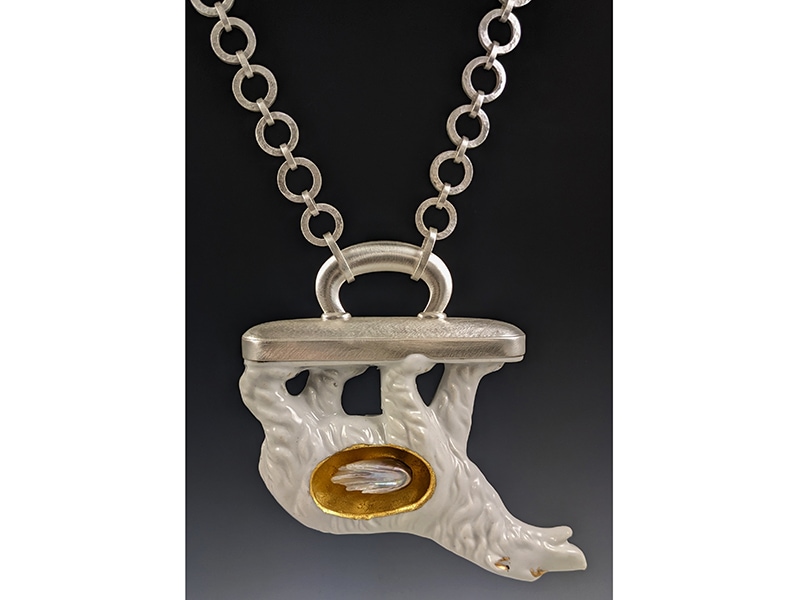 Gallery: Yun Gee Park Gallery
Contact: Scott Duerstock
Artist: Cindy Sumner
Retail price: US$3,400
Expanding on her prior series, Dissections, where she explored the use of "precious" ceramic tchotchkes slabbed into cross section that became the framework for pieces yielding unpredictable organic forms suggestive of both bone and cell, Cindy Sumner continues her interest and exploration into the use of found ceramic figurines. For her earlier work she revealed the original form of the porcelain figurine through a sliver of a hand or a face. In this newer work she considers more of the original form and character of the figurine, using it as a showcase for a precious gem.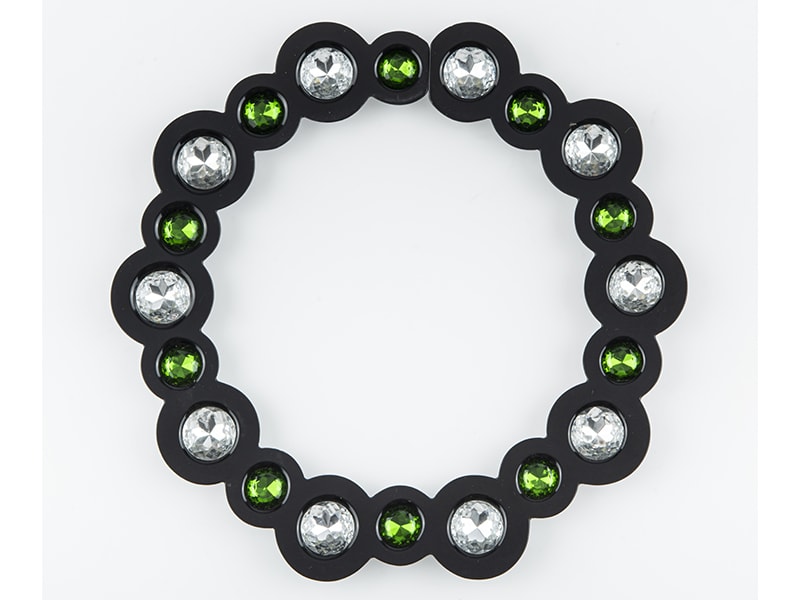 Gallery: Quittenbaum Gallery
Contact: Nadine Becker
Artist: Herman Hermsen
Retail price: €400
Herman Hermsen's designs break the mold of the traditional norms of jewelry as a status symbol. Playfully, the oversized halo made of PVC with colored glass stones is removed from the head and placed on the shoulders—a corona for the secularized Madonna.