On Offer – Art Jewelry Forum
January 2023, Part 2
There are so many reasons to purchase art jewelry…
Celebrate that hard-earned promotion
Honor a once-in-a-lifetime occasion
Pay tribute to a major accomplishment
Commemorate the beginning of a new relationship or the end of one
Pounce on the perfect piece to round out an aspect of your collection
Or invest in a treat for yourself—just because
Art Jewelry Forum's international gallery supporters celebrate and exhibit art jewelry. Our monthly On Offer series allows this extensive network of international galleries to showcase extraordinary pieces personally selected to tempt and inspire you. Take a look. You're bound to find a fantastic piece you simply can't live without!  (Please contact the gallery directly for inquiries.)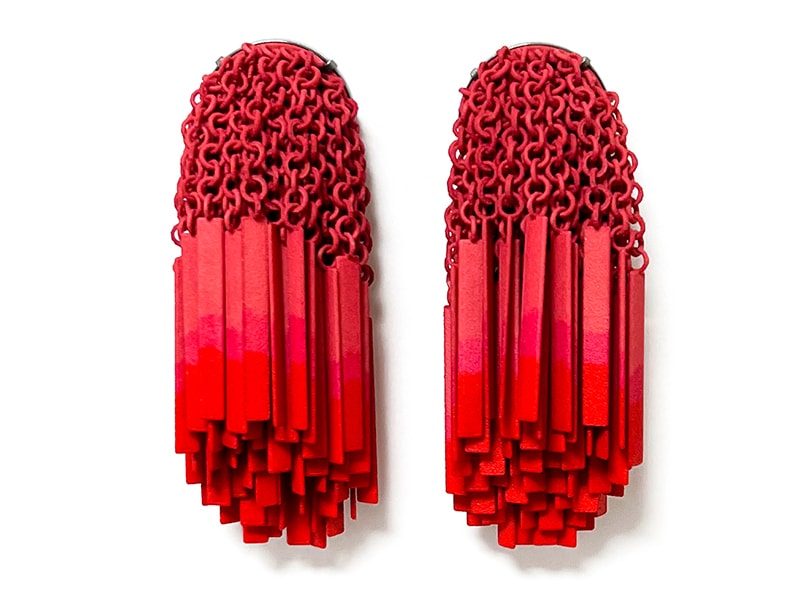 Gallery: Galerie Noel Guyomarc'h
Contact: Noel Guyomarc'h
Artist: Ryungjae Jung
Retail price: US$400
Thousands of chains are printed digitally to create these earrings. Their fluidity, movement, and lightness make them very pleasant to wear.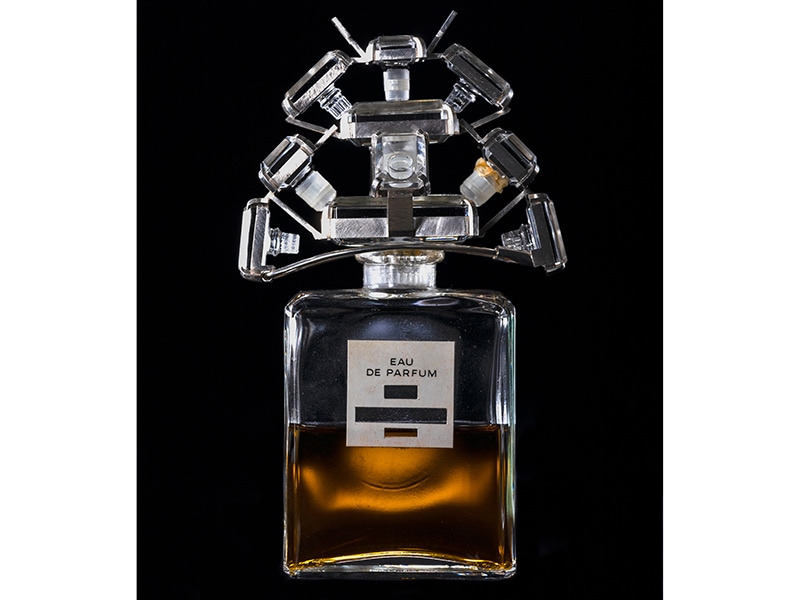 Gallery: Galeria Reverso
Contact: Paula Crespo
Artist: Takashi Kojima
Retail price: €7,000
A luxurious and mysterious object that hides nothing less than two jewels: a pendant (with two separated chains) and a huge brooch. This dazzling architecture was conceived by Takashi Kojima to show his beautiful works on a bottle of the iconic Chanel No5, as in all the works of this Perfume series. It uses glass caps as true precious stones set in sober silver carvings.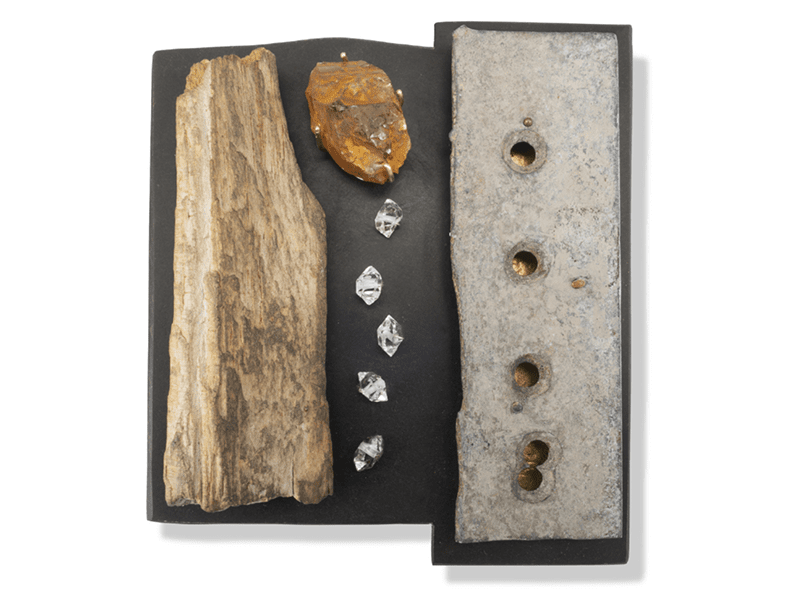 Gallery: Thereza Pedrosa Gallery
Contact: Thereza Pedrosa
Artist: Judy McCaig
Retail price: €1,220
In Judy McCaig's Night's Black Star brooch, as in all her work, there is a very close relationship between the design of the piece and the emotions and ideas she wants to encapsulate in it. Each of her works is a setting, a story that stimulates you to reflect, feel, and remember.
Gallery: Galeria Tereza Seabra
Contact: Tereza Seabra
Artist: Verena Sieber-Fuchs
Retail price: €400, plus shipping
In the words of Verena Sieber-Fuchs: "I make jewelry, not with gold but with jewelry. I like to disorient people, even if they think that I'm one sandwich short of a picnic, that I'm not quite all there. When I work, it's like a long meditation which calms me but annoys my husband."
Gallery: Fingers Gallery
Contact: Lisa Higgins
Artist: Kath Inglis
Retail price: NZ$265­–$365
Kath Inglis has developed an innovative contemporary jewelry practice by working with her signature material, polyvinyl chloride (PVC). The material is sourced as a clear flexible sheet and is manipulated by a process of coloring, cutting, carving, and—more recently—heat fusing. Small shards of material are removed from the surface through intricate hand-cut incisions, creating new surface textures for light and shadow to play. The hard cut edges and sharp glittering prisms of color generated allude to qualities associated with glass. To touch this work dispels the illusion, however, as the material is flexible, supple, and light as air. Inglis has exhibited extensively over the years. She currently lives and works in Adelaide, Australia.
Gallery: Baltimore Jewelry Center
Contact: Allison Gulick
Artist: Zhipeng Wang
Retail price: US$400
The Identity Ring series by Zhipeng Wang is compelling work featured in the Signs, Signals, + Symbols exhibition. Each ring is made from compressed coffee and tea, symbolizing Wang's own experience as a Chinese person living in Europe. "Nowadays, with the great fusion of world cultures, drinking coffee is not only a habit unique to the West, but tea drinking has gradually become a part of people's daily life in Europe," says Wang. "I try to fuse tea and coffee, combined with the traditional European signet ring to reinterpret and to create a contemporary identity ring of an ordinary Chinese person living in Europe."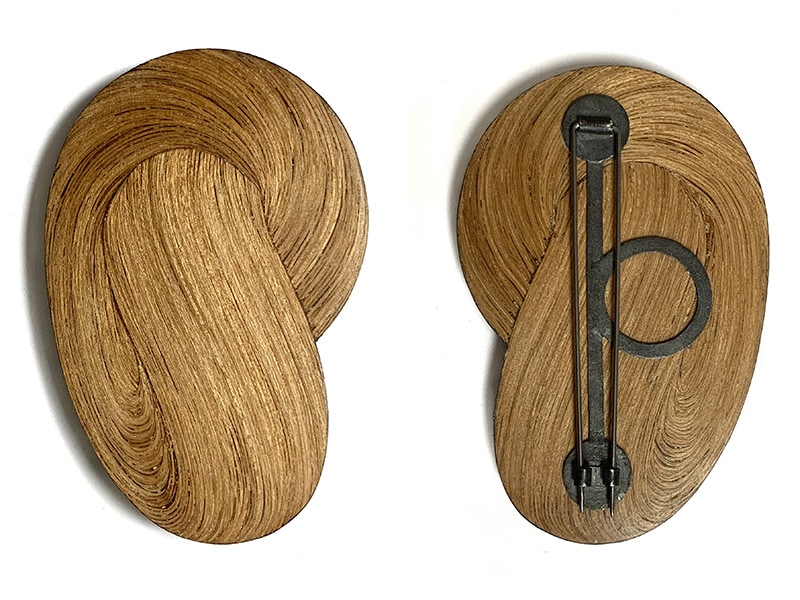 Gallery: Four Gallery
Contact: Karin Roy Andersson
Artist: Åsa Christensson
Retail price: US$1,150
Mathematics, physics and chemistry are always present in the studio of a jeweler—calculations, processes, and reactions. But science can also be a source of inspiration on another level. The work of Åsa Christensson is colored by the esthetics of science—a world where old discoveries are challenged by new ideas, where the present rapidly transforms into history, and where the future moves closer every nanosecond.
Gallery: Galerie Marzee
Contact: Marie-José van den Hout
Artist: Annelies Planteijdt
Retail price: €8,100
Annelies Planteijdt's jewelry investigates the ideas and esthetics of floor plans and maps. Composed of gold and other precious metals, some colored with pigment, others hung with pearls or glass beads, her necklaces reflect her thinking. Designed to be experienced both on and off the body, they represent two fundamental elements that inform the Dutch artist's practice: time and space. Unworn, they are geometric, structured, two-dimensional—jewelry for the mind—but on the body the map disappears and they become more three-dimensional, arranging themselves naturally on the wearer, the structure becoming all but invisible.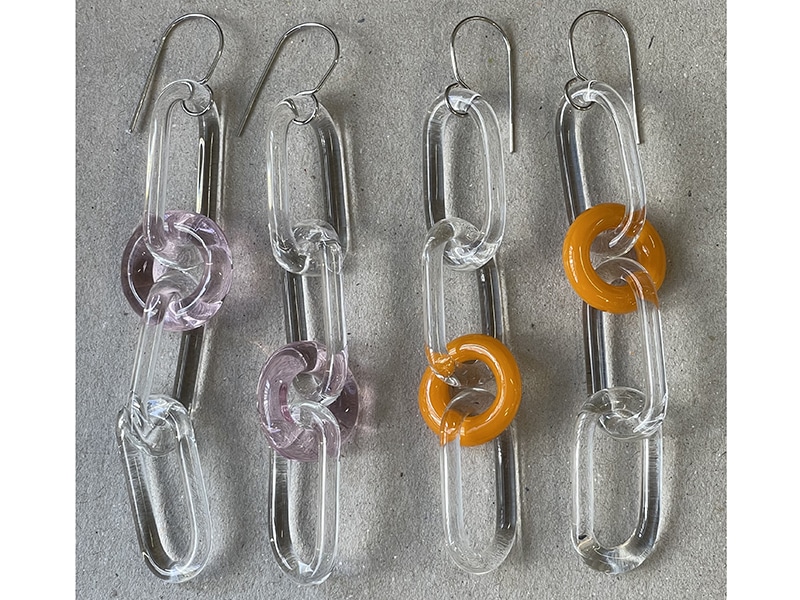 Gallery: Zu design
Contact: Jane Bowden
Artist: Danielle Rickaby
Retail price: AUS$180 for the pair
Danielle Rickaby made these earrings for Zu design's exhibition TAG ME – Christmas. Inspired by her link neckpieces, which were recently featured in a different installment of On Offer, there are six pairs of earrings in varying colors. They're asymmetrical and playful—it's hard to choose which color to wear.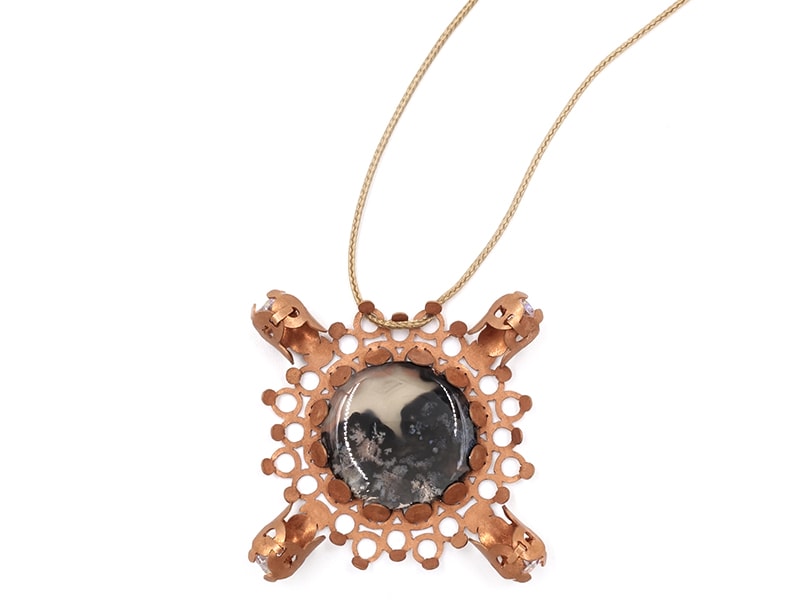 Gallery: ATTA Gallery
Contact: Atty Tantivit
Artist: Adam Grinovich
Retail price: US$500
A one-of-a-kind piece from the newest series by Adam Grinovich (b. 1981). This piece is in the 12th anniversary exhibition currently on show at ATTA Gallery. "The piece is cut from a single sheet of metal and is constructed using several hand tools that could be carried easily in a backpack," says the artist. "There are no material combination, soldering/ welding, or complex construction or collage techniques used. The large cabochon, complete with cracks and imperfections, was sourced from a local stone carver in Marfa, TX [US], and is agate that has natural inclusions of iron and black oil, found in the regional deserts and cut by hand."