On Offer – Art Jewelry Forum
February 2023, Part 1
There are so many reasons to purchase art jewelry…
Celebrate that hard-earned promotion
Honor a once-in-a-lifetime occasion
Pay tribute to a major accomplishment
Commemorate the beginning of a new relationship or the end of one
Pounce on the perfect piece to round out an aspect of your collection
Or invest in a treat for yourself—just because
Art Jewelry Forum's international gallery supporters celebrate and exhibit art jewelry. Our monthly On Offer series allows this extensive network of international galleries to showcase extraordinary pieces personally selected to tempt and inspire you. Take a look. You're bound to find a fantastic piece you simply can't live without! (Please contact the gallery directly for inquiries.)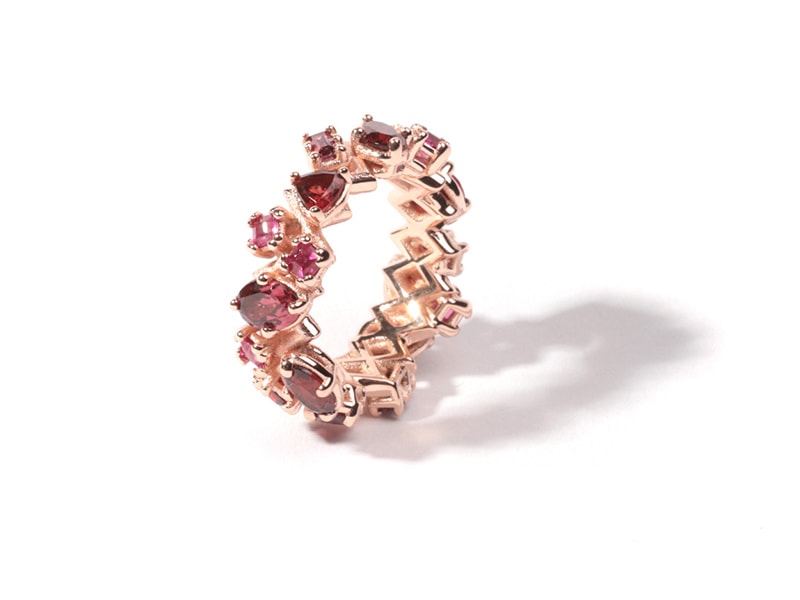 Gallery: Ornamentum
Contact: Stefan Friedemann
Artist: Aaron Decker
Retail price: US$5,800
Iterations of The Queen's Ring, by Aaron Decker, were first presented with Ornamentum at the Salon Art & Design Fair as part of Decker's exhibition All the Queen's Men. The rings offer a contemporary twist on the age-old theme of jewel-encrusted jewelry. A zig-zag pattern forms the base of each ring, while the various stone shapes and colors dictate the arrangement in an energetic, playful composition. This example, in red gold with various pink and red gemstones, makes the perfect Valentine's ring for queens of any gender.
Gallery: Four Gallery
Contact: Karin Roy Andersson
Artist: Joo Hyung Park
Retail price: US$1,050
The interplay between the hand and the material and the sensory impressions from the emerging object are an important part of Joo Hyung Park's works. The jewelry and objects get their final shape depending on how the materials are formed by, and in the hands of, the artist. As a logical consequence, the result is often body-related objects such as corpus, cutlery, and jewelry.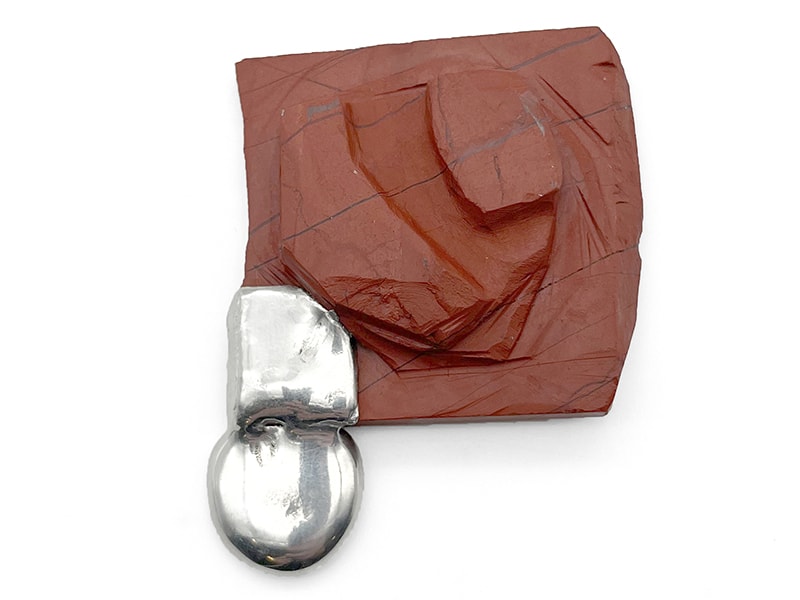 Gallery: Baltimore Jewelry Center
Contact: Allison Gulick
Artist: Brice Garrett
Retail price: US$600
Brice Garrett started the brooch Untitled (Idar-Oberstein 3) at a residency with the Jakob Bengel Foundation in Idar-Oberstein, Germany, and completed it during his micro-residency at the Baltimore Jewelry Center. The work continues his investigation into utilizing and tweaking mold-making and casting processes. In this series he combines lapidary processes to shape, carve out, and create mold-like voids before casting pewter to fill the forms and accentuate the molten qualities of the material. Garrett is an artist based in Brooklyn, NY. Traditionally trained as a metalsmith, his work ranges across disciplines and media, culminating in wearables, sculptures, installations, and participatory projects. Garrett received his MFA from Konstfack University College of Arts, Crafts and Design, in Stockholm, Sweden, and a BA from San Diego State University.
Gallery: Galeria Reverso
Contact: Paula Crespo
Artist: Carla Castiajo
Retail price: €810
Carla Castiajo thinks about perfume using, once again, her material of choice—human hair. In this piece, an explosion of red associates fire and blood as well as joy, erotism, and revolution.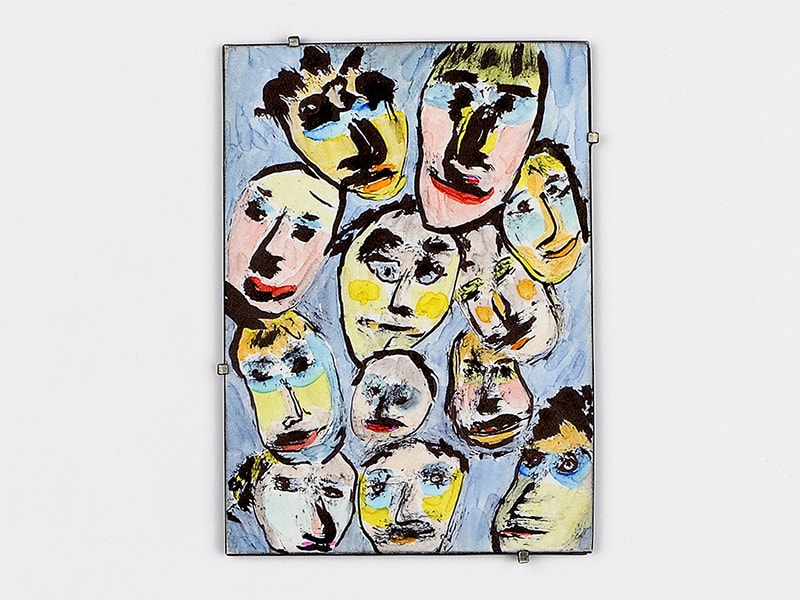 Gallery: Platina Stockholm AB
Contact: Sofia Björkman
Artist: Doris Betz
Retail price: US$1,150
Doris Betz's artistic practice is characterized by fluid movement resulting from her craftsmanship and courage to experiment. The dictum is the line which she experiences freedom in. She paints directly on white plates of polystyrene and transforms the drawings into wearable paintings by adding a silver backing. The results are beautiful, flexible, and easy-to-wear jewelry. Betz is an artist from Germany. She got her diploma in 1996 from the Akademie der Bildenden Künste, in Munich.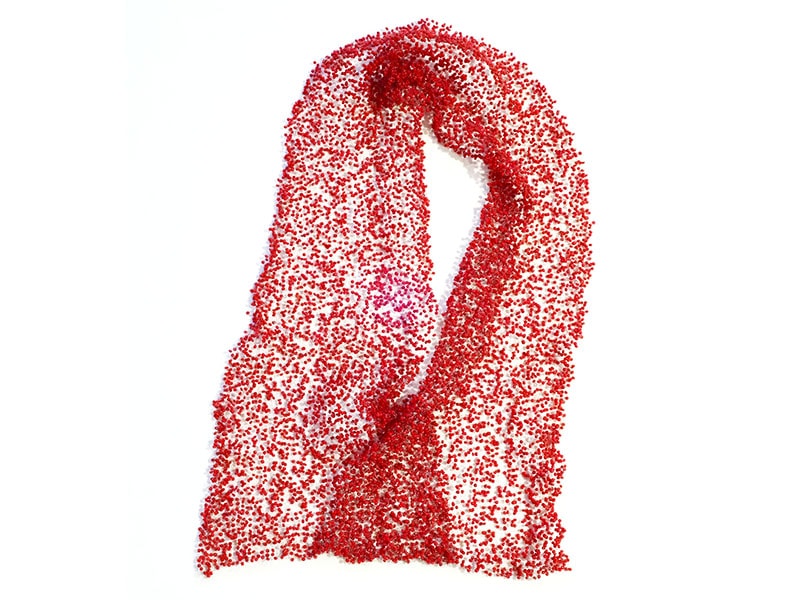 Gallery: Galeria Tereza Seabra
Contact: Tereza Seabra
Artist: Verena Sieber-Fuchs
Retail price: €2,200, plus shipping
Verena Sieber-Fuchs makes objects that can usually be worn as jewelry. She uses the technique of crochet. While crocheting with thin steel wire, she inserts other materials, such as aluminum foil, stamps, beads, or onion peels… By using large quantities of them, a structure is created with the fullness, richness, and flexibility of a fur. Her collars therefore fall smoothly on the body. The objects are usually purely beautiful and decorative, but she also regularly refers to social themes. For example, her collar of medicine packaging is a statement about the overuse of pills in our society.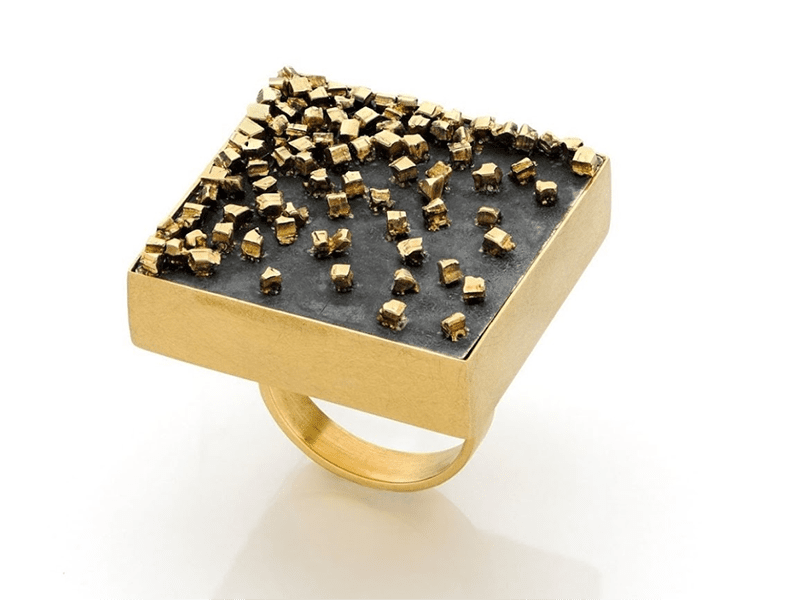 Gallery: Thereza Pedrosa Gallery
Contact: Thereza Pedrosa
Artist: Gigi Mariani
Retail price: €4,520
In his art jewelry, Gigi Mariani has found a way to combine his two passions—painting and jewelry. Mariani's work combines technical perfection, due to his goldsmithing education, with an extraordinary expressive power due to years dedicated to painting. Each of his works encapsulates his most intimate emotions and his most restless reflections on the world, in works that are equally poetic and powerful.
Gallery: Gallery Loupe
Contact: Patti Bleicher
Artist: Lynn Batchelder
Retail price: US$1,200
Lynn Batchelder is an interdisciplinary artist who navigates the space between two and three dimensions. The surface coloring for this pendant is created by anodizing aluminum so that it can receive a dye. Markers are used to draw on and dye the metal, then the colorant is embedded so that the final surface is durable.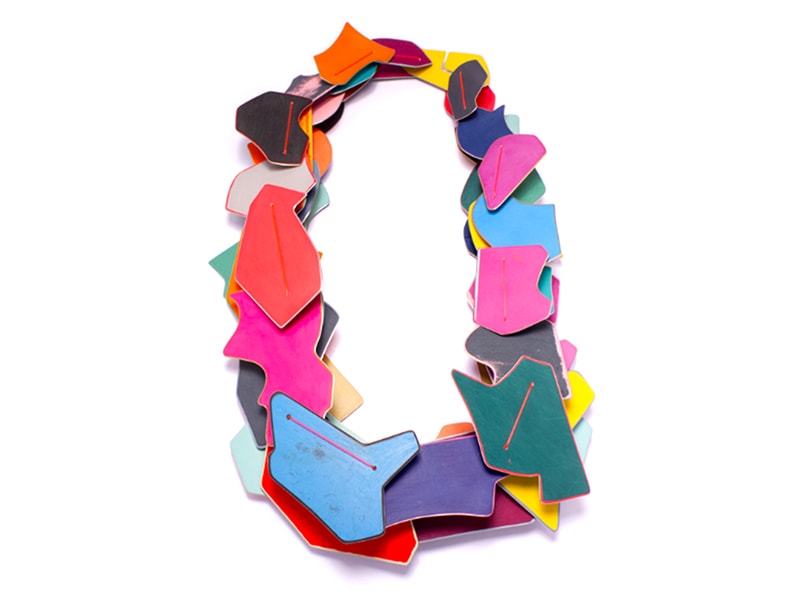 Gallery: Galerie Noel Guyomarc'h
Contact: Noel Guyomarc'h
Artist: Mirjam Hiller
Retail price: CAN$5,250
Sound of Colors is the new collection by Mirjam Hiller. She organizes the arrangement, composed of scraps or selected shapes cut out of painted stainless steel, according to the colors and shapes they evoke, proposing each time a new emotion.
Gallery: Funaki
Contact: Katie Scott
Artist: Otto Künzli
Retail price: AUS$10,400
This is one of the most recent iterations in Otto Künzli's ongoing exploration of the eye—its nature, cultural history, and place in the art canon. Auge, as well as being a figure in Greek mythology (whose name means "dawn," or "sunbeam"), describes an elliptical shape produced by the squeezing of the constituents of certain metamorphic rocks into an eye-like form. In this particularly fine example, the eye form is onyx, a perfect, dark ellipse set into a linoleum backing and topped with a wild eyebrow of gold. "In my opinion," says gallerist Katie Scott, "one of the finest works by this master goldsmith/artist to have graced the market in some time."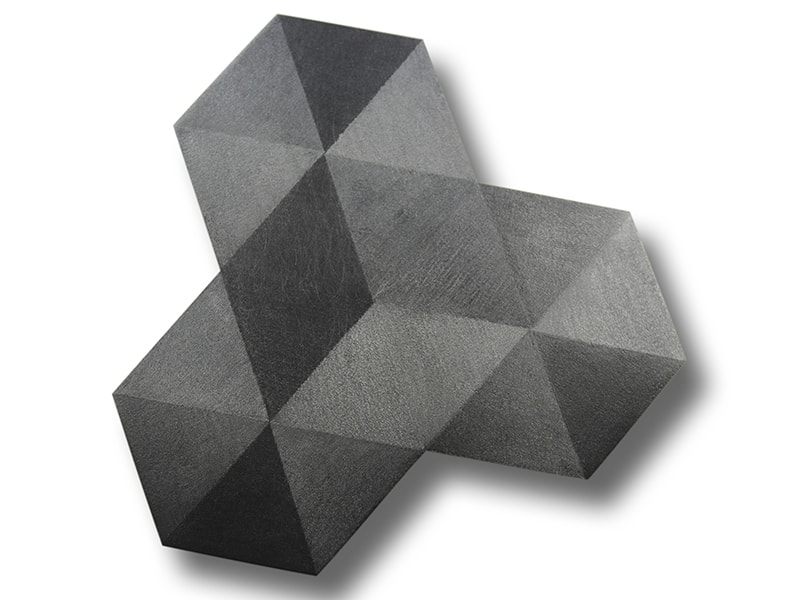 Gallery: Viceversa
Contact: ilona Schwippel
Artist: Claude Chavent
Retail price: 1,500 CHF
French sculptor Claude Chavent (1947–2023) excelled at the art of giving the impression of volume to a flat object. Like this brooch in burnished steel worked on the surface, which creates the optical illusion of relief. "As a jewelry designer and sculptor, a theme, almost an obsession, drives me to play with volume, weight, movement, balance," said Chavent. "To do so, I use perspective and trompe-l'oeil. A barely inflated drawing, a volume just suggested by a slight folding, or a surface work which incites the light to reflect in several directions to create the illusion of depth to a steel plate cut yet flat. The trompe-l'oeil not to deceive but to make doubt…" Chavent left us at the beginning of January, leaving a great work in our hands and before our eyes—to feel his quest for lightness, timelessness, and light.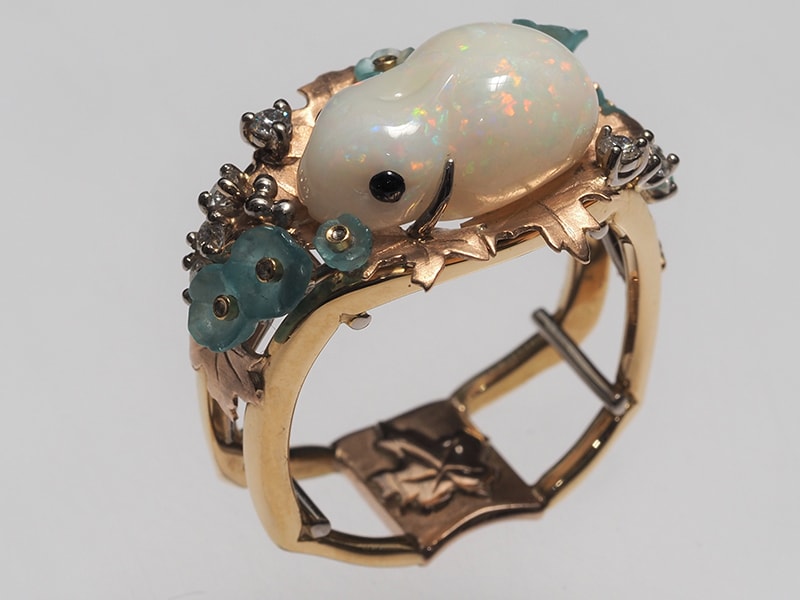 Gallery: Zu design
Contact: Jane Bowden
Artist: Susannah Gai
Retail price: AUS$21,000
"Susannah Gai joined us at Zu design in 2022 as an access tenant working from our studio," says gallerist Jane Bowden. "We have really enjoyed seeing the wide variety of skills that she combines to create her very intricate pieces." Her love of carving stone informs her work. Shire Glade is a great example of Susannah's stone carving, with both the opal rabbit and the tourmaline flowers being hand created. The detail in this piece is quite amazing.