On Offer – Art Jewelry Forum
December 2022, Part 1
There are so many reasons to purchase art jewelry… but perhaps the best one is that THE HOLIDAYS ARE HERE! Treat yourself! You've been good this year, right? (And even if you haven't, who cares?!)
Art Jewelry Forum's international gallery supporters celebrate and exhibit art jewelry. Our monthly On Offer series allows this extensive network of international galleries to showcase extraordinary pieces personally selected to tempt and inspire you. Take a look. You're bound to find a fantastic piece you simply have to add to your collection! (Please contact the gallery directly for inquiries.)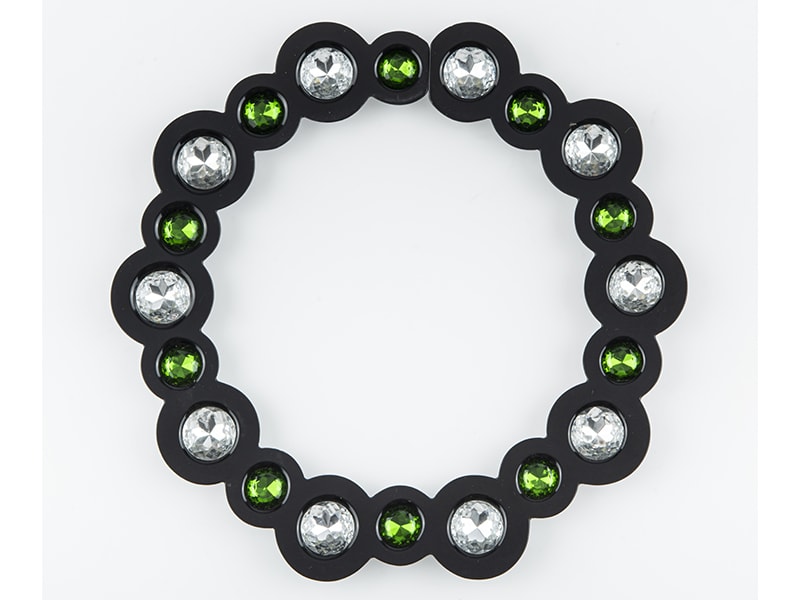 Gallery: Quittenbaum Gallery
Contact: Nadine Becker
Artist: Herman Hermsen
Retail price: €400
Herman Hermsen's designs break the mold of the traditional norms of jewelry as a status symbol. Playfully, the oversized halo made of PVC with colored glass stones is removed from the head and placed on the shoulders—a corona for the secularized Madonna.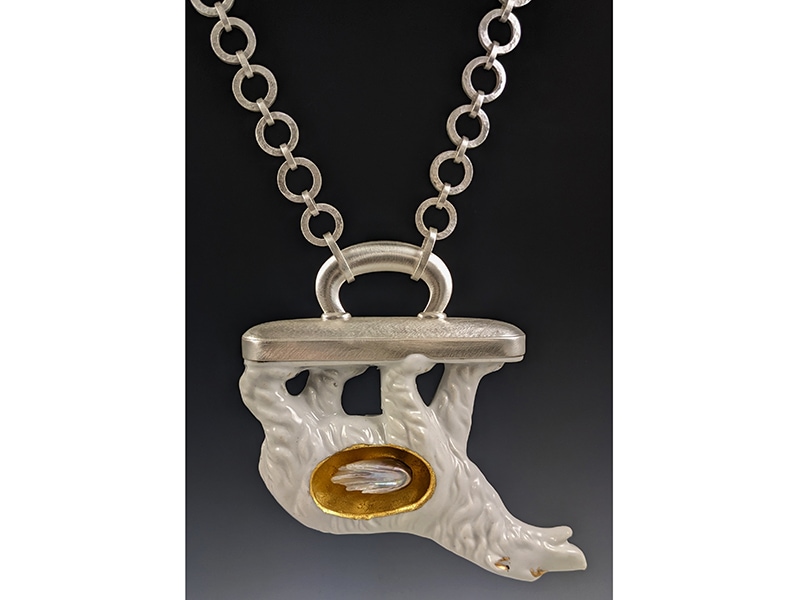 Gallery: Yun Gee Park Gallery
Contact: Scott Duerstock
Artist: Cindy Sumner
Retail price: US$3,400
Expanding on her prior series, Dissections, where she explored the use of "precious" ceramic tchotchkes slabbed into cross section that became the framework for pieces yielding unpredictable organic forms suggestive of both bone and cell, Cindy Sumner continues her interest and exploration into the use of found ceramic figurines. For her earlier work she revealed the original form of the porcelain figurine through a sliver of a hand or a face. In this newer work she considers more of the original form and character of the figurine, using it as a showcase for a precious gem.
Gallery: Zu design
Contact: Jane Bowden
Artist: Katrina Tyler
Retail price: Each, AUS$950
Katrina Tyler's work explores real and imagined sites of intersection and co-habitation between natural and urban habitats and offers a moment for reflection and contemplation about our place within the urban ecology. The use of color in these pieces is both beautiful and considered. I love that these pieces are like small structures when they aren't worn. Can you stop at one?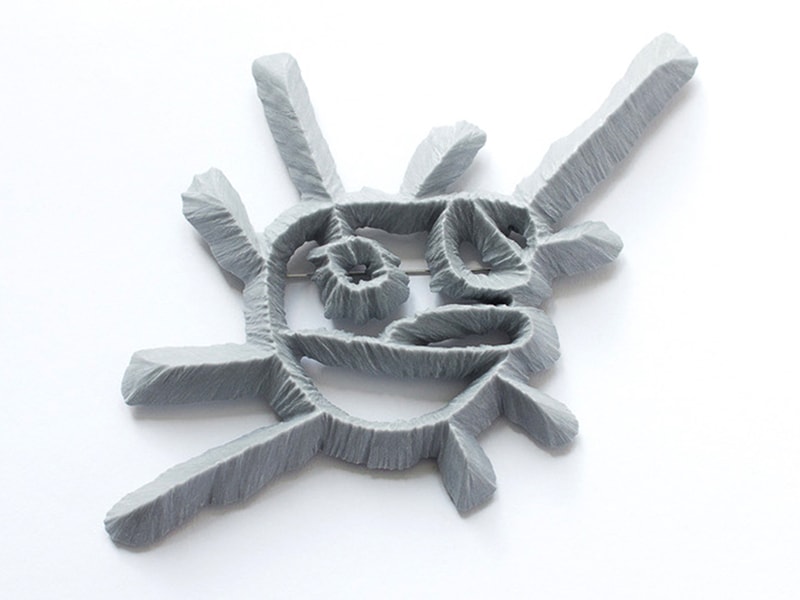 Gallery: Galerie Noel Guyomarc'h
Contact: Noel Guyomarc'h
Artist: Alexander Blank
Retail price: CAN$1,150
Surprised by drawings of the sun he created when he was a child, Alexander Blank was inspired by them to create Forecast, a series of brooches sculpted in Corian, a very hard resin-based material. We find in this project his intentions of reinterpreting iconic symbols: cartoons, emoji, etc.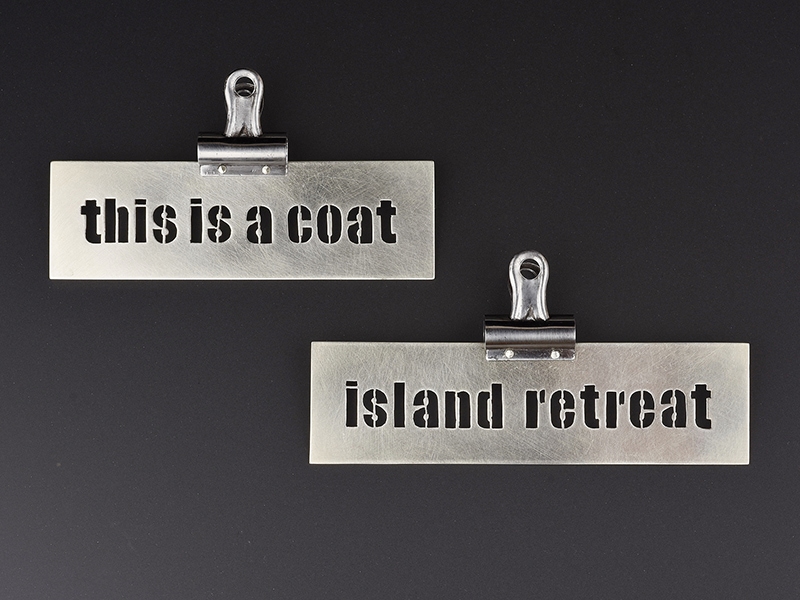 Gallery: Fingers Gallery
Contact: Lisa Higgins
Artist:  Fran Allison
Retail price: Each NZ$880
"These are the first two works from a grouping titled This Was Then/This Is Now—unpacking ideas of the shifting nature of language and the vagaries of disinformation. Language is all the time undoing itself, and contemporary jewelry is often caught in self-reflection. Reading these objects, it becomes apparent they are uncertain as to whether they are stencils, brooches, a coat, absent, or an island. Transformational, open to interpretation, more whimsical than political, they are a reflection of a time and a place." Born in New Zealand, Fran studied jewelry, silversmithing and design at Middlesex University and the Royal College of Art in London before returning to New Zealand in 1994. She currently lives and works in Auckland, New Zealand.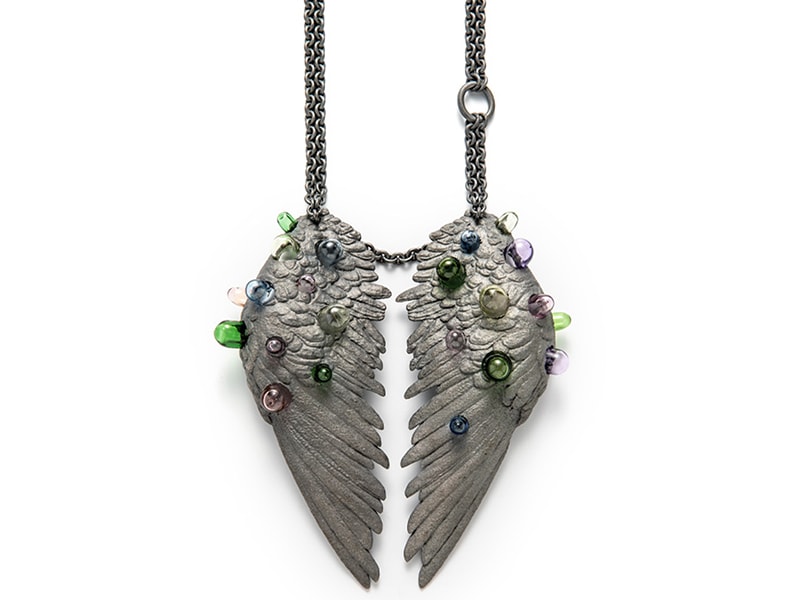 Gallery: Gallery Loupe
Contact: Patti Bleicher
Artist: Evert Nijland
Retail price: US$6,900
Gallery Loupe is honored to present Dutch artist Evert Nijland's extraordinary new series, Wings. The culmination of several years of arduous research and experimentation, the magnificent jewelry in Wings truly soars. The project was partially funded by the CODA Museum in Apeldoorn, The Netherlands. The institution acquired two works for its collection, along with developmental models displaying the incremental stages of each pieces' technological evolution, which will serve as educational tools for visitors to the CODA-TechLAB. Everything Nijland puts his mind and hand to is exceptional, but he has outdone himself with Wings, which represents jewelry artistry at its highest level of achievement materially, technically, and thematically. Informed by the past, the works reside in the present, but anticipate the future.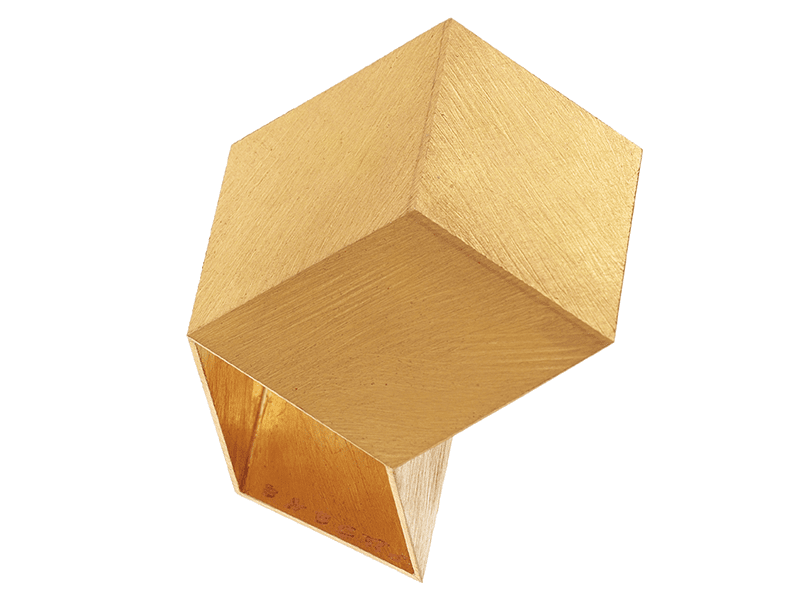 Gallery: Thereza Pedrosa Gallery
Contact: Thereza Pedrosa
Artist: Giampaolo Babetto
Retail price: €14,640
An extraordinary historical work by Giampaolo Babetto, realized more than 30 years ago, which holds all the visual power and aesthetic pureness of this master of contemporary jewelry.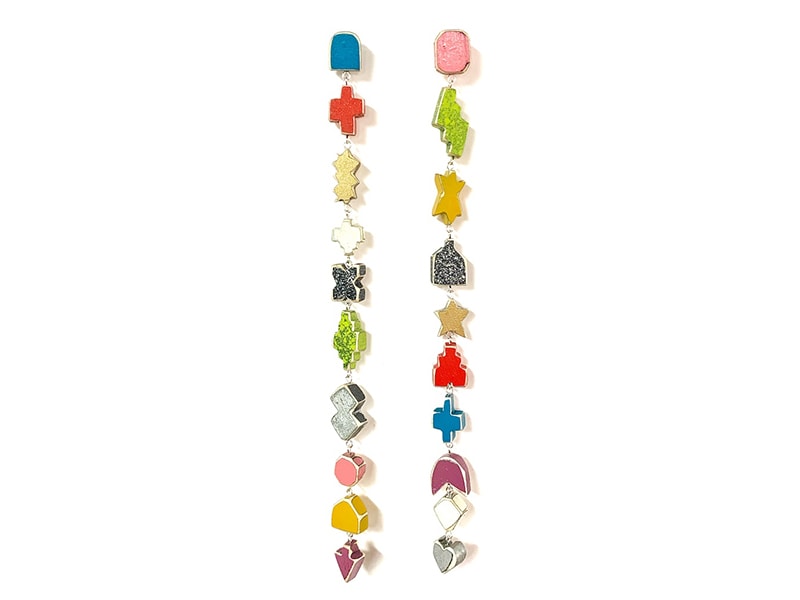 Gallery: Baltimore Jewelry Center
Contact: Allison Gulick
Artist: Morgan Hill
Retail price: US$155
Morgan Hill is a sculptor and jewelry designer whose work draws on a wide range of aesthetic and conceptual influences. Her longing to break the silence surrounding culturally censured topics has driven her to create work on themes of death, abuse, depression, and suicide, as well as their counterparts of rebirth, healing, and empowerment. Hill earned a BFA in woodworking and furniture design from the University of Arkansas Little Rock. In 2018, she was an ITE Windgate Fellow at the Center for Art in Wood. In September 2022, Hill won the Chrysalis Award from the James Renwick Alliance for Craft.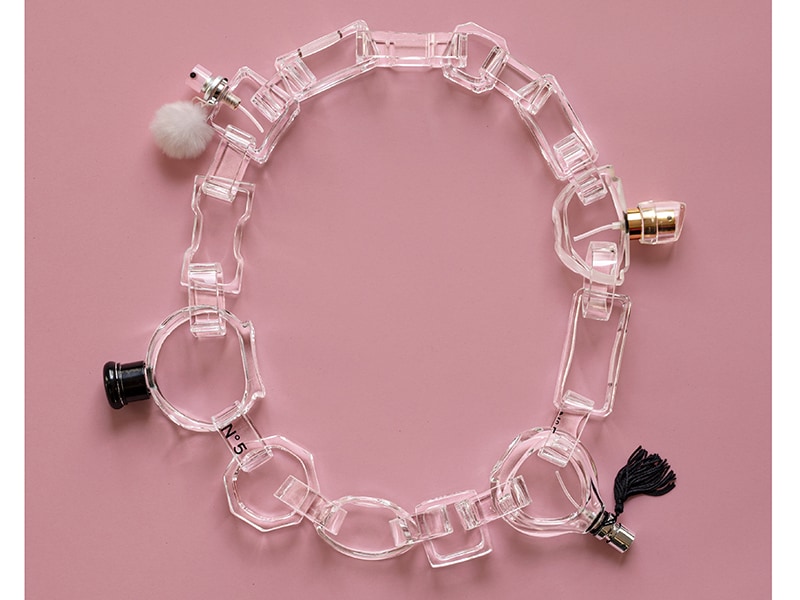 Gallery: Galeria Reverso
Contact: Paula Crespo
Artist: Veronika Fabian
Retail price: €2,830
This is a new work by Veronika Fabian, made for Reverso's new exhibition, Perfume.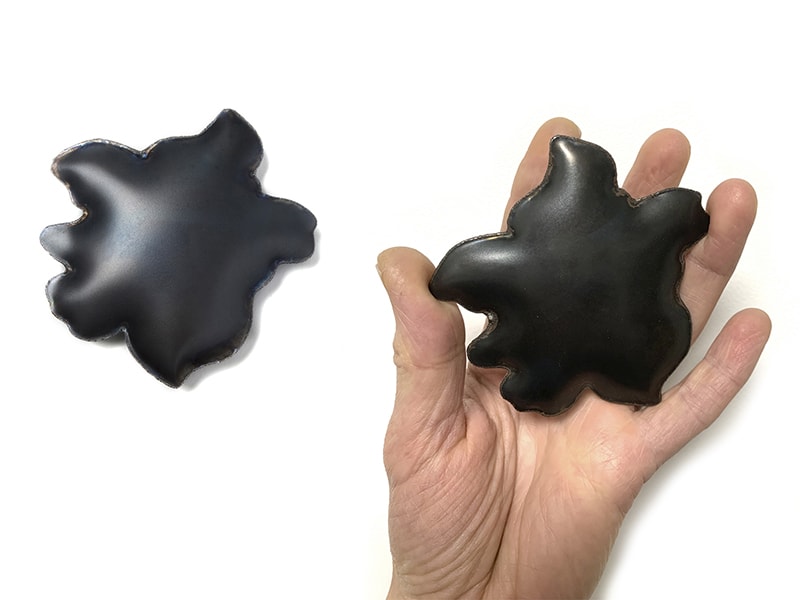 Gallery: Four Gallery
Contact: Karin Roy Andersson
Artist: Shachar Cohen
Retail price: US$650
Imagine standing by a lake on a warm summer night. The surface is like a dark mirror and the water is velvety. Would you jump in? Would you like to know what is down there or would you let your imagination make up its own view? The pieces by Shachar Cohen are time capsules that transport both old traditions and modern art expressions. Symbols, relics, or silhouettes with an unknown meaning are encased in a protecting cover.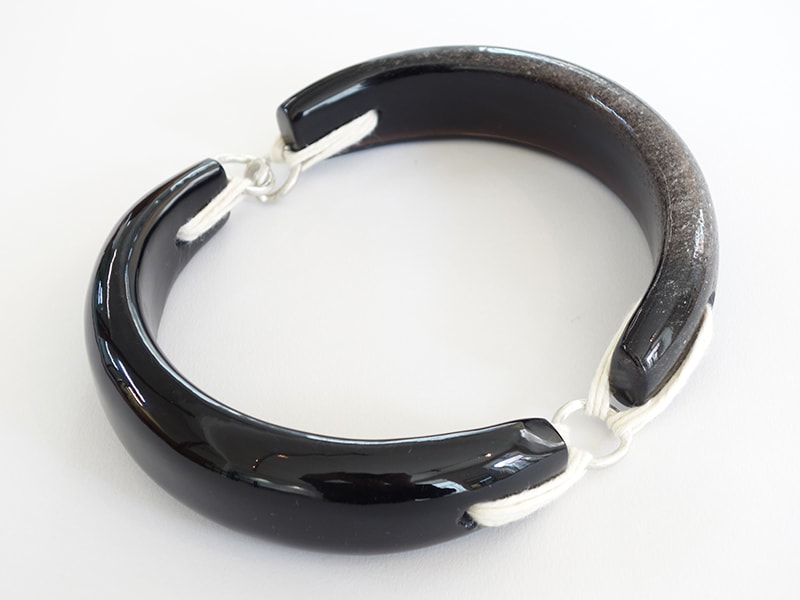 Gallery: Galeria Tereza Seabra
Contact: Tereza Seabra
Artist: Tamia Dellinger
Retail price: €3,000, plus shipping
In her most recent work, Tamia Dellinger presents us with a collection of jewels carved out of obsidian that contrasts between sophisticated forms and archeological findings. Dellinger was one of the winners of the Marzee graduation show prize, and these are the first pieces she made after obtaining her master's degree in Idar-Oberstein.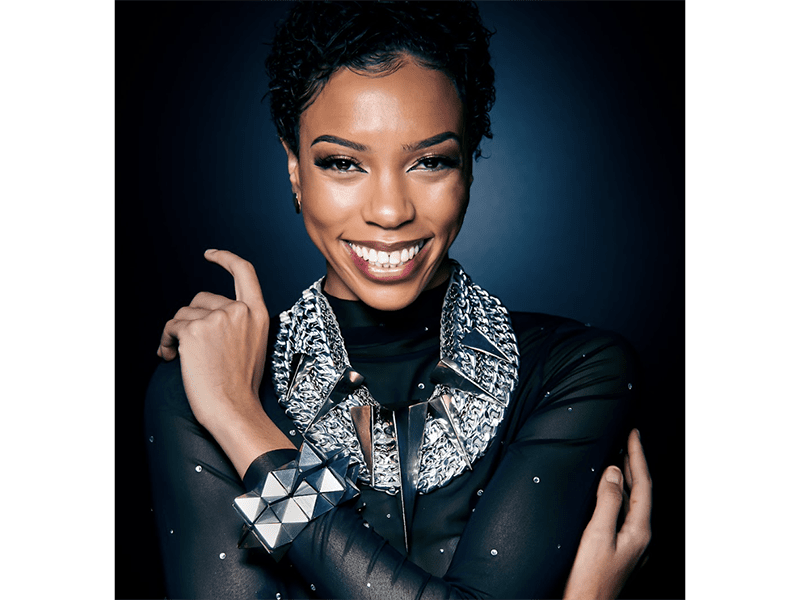 Gallery: Sculpture To Wear
Contact: Lisa M. Berman
Artist: Alexis Bittar
Retail price: US$2,800
This collectors piece by established artist Alexis Bittar is synonymous with fashion-trend-driven design jewelry. The artist is known for his large-scale acrylic pieces with an illuminating and translucent quality. (The influence by plastics pioneer Cara Croninger to his collections is apparent). Similar to the three-time City Award Winner Robert Lee Morris, many of these designers started by making one-of-a-kind studio jewelry, as is the case with this work. The detachable large sterling silver Spiked brooch is a statement in itself. The necklace was featured on a runway fashion show during NYC Fashion week (date unknown). The suede was hand-stitched to the back as the metal chain was snagging clothing, converting it to truly wearable art now. Sculpture To Wear first featured Bittar's work in 2001.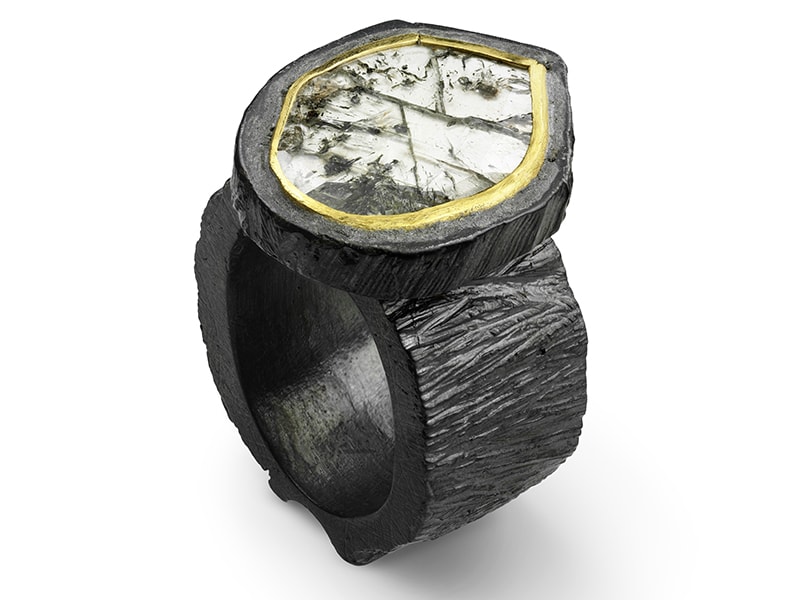 Gallery: Gallery Viceversa
Contact: ilona Schwippel
Artist: Esther Brinkmann
Retail price: 5,200 CHF
Precious moment—the Swiss maker Esther Brinkmann pays particular attention to the moment of discovery of the jewel in its box, the way of seizing it, of appropriating it to wear it and give it life. This ring is made in cast iron with an Indian Polki diamond set in pure gold.