Remembering Karl Bollmann – Art Jewelry Forum
Karl Bollmann and his wife, Heidi, are among the important international collectors of contemporary jewelry. This endeavor began ca. 1970 with a husband's gift of diamonds which spurred an interest in jewelry that gradually grew and formed a collection of over 1,000 works.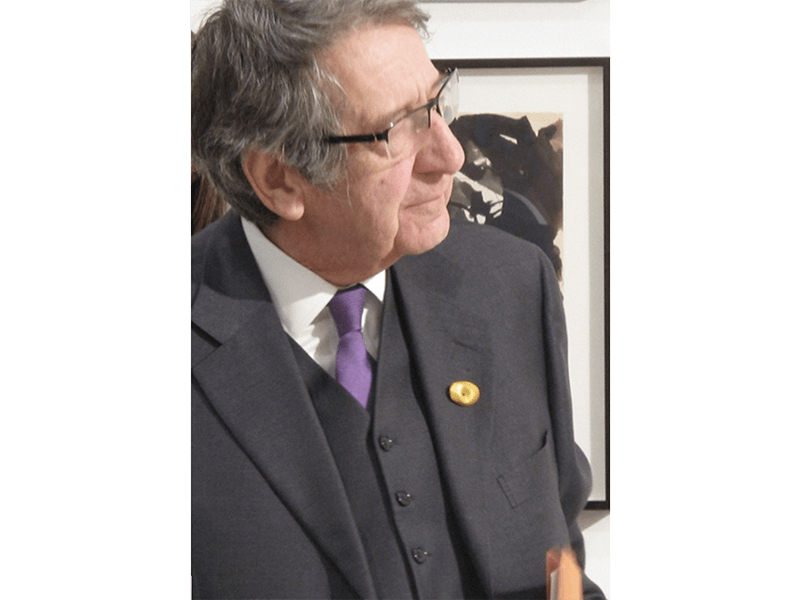 Karl was born in Vienna on August 8, 1943, and died there on December 7, 2022, after a two-year siege by amyotrophic lateral sclerosis (ALS). His intellect and interest in art and philosophy never wavered, and Heidi's commitment to the field continues.
I met the Bollmanns in Vienna in 1980 during a World Crafts Council meeting that brought together delegates and individuals interested in the contemporary craft movement from all over the world. At that time there was a deep concentration on jewelry in Vienna. Peter Skubic had curated an international jewelry exhibition entitled Schmuck International 1900–1980 at the Künstlerhaus in Vienna, Austria. And Galerie am Graben, founded and directed by Inge Asenbaum, was a dominant presence. It was there that Inge introduced me to the Bollmanns—it was there that I made my first visit to their collection. I remember a large china closet situated in the corner of their living room filled with the embryonic beginning of what would eventually become a massive international collection.
Their passion was renowned, and Karl's philosophical connection to the work was documented in the exhibition Schmuck 1970­–2015, Sammlung Bollmann, at MAK Vienna – Museum of Applied Arts, and the accompanying book.[i] The show was held simultaneously with the Fritz Maierhofer retrospective.
Karl had a passion for "discovering, collecting, and wearing." In the book, philosophical quotes from Kant and jewelry definitions coined by Karl punctuated the portraits of artists, friends, and colleagues. The exhibition represented 142 artists. If my memory holds, six individuals were shown in depth—Manfred Bischoff, Yasuki Hiramatsu, Helfried Kodré, Bruno Martinazzi, Manfred Nisslmüller, and Peter Skubic. Also exhibited at MAK at the same time was Project 2000, 61 works that Karl had commissioned for the "lady of the collector couple" in honor of the millennium.
The Bollmann Collection traveled to Goldschmiedehaus, Hanau, Germany, in 2017. It was then exhibited as Pensieri Preziosi Bollmann Collection, Contemporary Jewellery 1960–2018 at Oratorio di San Rocco, Padua, Italy.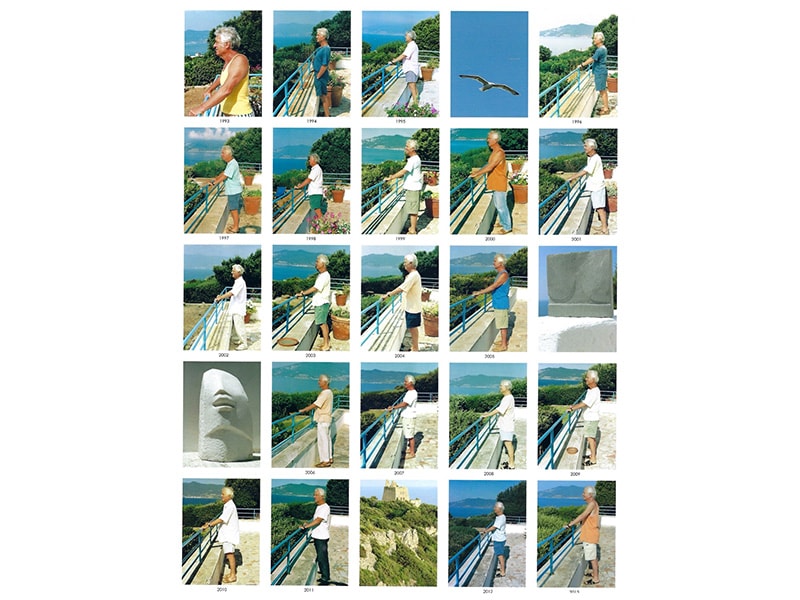 The Bollmanns developed deep and ongoing relationships with the artists. Karl and Heidi were a dominant presence annually in Munich during Schmuck, holding court with artists, curators, students—anyone who wanted to engage with Karl as he led them into a philosophical Kant-based jewelry wonderland. Karl documented annual visits to Bruno Martinazzi and Manfred Bischoff in photographs he took. One sequence in particular features portraits of Bruno against the sky in Ansedonia, Italy, in the same place every year. I have chosen to include a copy which Karl posted to me in 2013—hopefully the continuation is in the Bollmann archives.
Heidi wrote in an email dated January 3, 2023, that "Karl was honoured by the Austrian Government with the decoration in gold for his patronage for the arts." For us, Karl Bollmann will forever be a symbol of the importance of the collector who holds the reins to the history of our field.
[i] Published by MAK – Osterreichisches Museum fur Angewandte Kunst, Gegenwartskunst, Vienna, Austria and Arnoldsche Art Publishers, Stuttgart, Germany, 2015.