Thomas Sabo unveils 'Colours of Peace' and 'Together' collections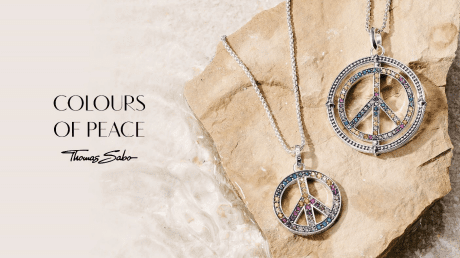 German jeweller Thomas Sabo has announced the launch of its new "Colours of Peace" and "Together" collections.
The "Colours of Peace" collection is based on precision-cut stones in hand-set pavé settings and life-affirming colours, such as pink, green, orange, blue and gold.
The universal peace sign stands for peace, love and solidarity and shines as a meaningful necklace pendant or bracelet.
The sign in the large pendant can be rotated 360 degrees, so that the simpler side without stones can also be put on display.
The "Together" collection celebrates diversity with the rainbow colours of the LGBTQ community.
The intertwined, inseparable rings in the designs "symbolise the band that connects everyone".
The facet-cut stones in rainbow colours have been set by hand in a colour-graduated look, "symbolising peace as well as tolerance and acceptance of different lifestyles and ways of being".
The collections are available from the Thomas Sabo website and in its stores.