Tiff Massey, Kim Jenkins, LaMar Gayles, Jr., Crafting the Future, and Karen Smith
February is Black History Month in the United States. To honor this, all month AJF has been spotlighting articles and videos we've previously published about Black makers and/or by Black writers.
Karen Smith
We interviewed the founder of We Wield the Hammer, a program that teaches the fundamentals of metalsmithing using copper, brass, and sterling silver to young girls and women of African descent who might not otherwise consider a career in this field. WWTH offers an opportunity for artistic equity, economic empowerment, and access to a vocation that is, worldwide, traditionally unavailable to women. The program is free to students. Smith lives in Oakland, CA, but envisions taking the program to other cities and countries.
WWTH came out of two apprenticeships that Smith created for herself in Senegal in 2018 and 2019. The interview starts by talking about WWTH, then circles back to Smith's time in Senegal. Read more.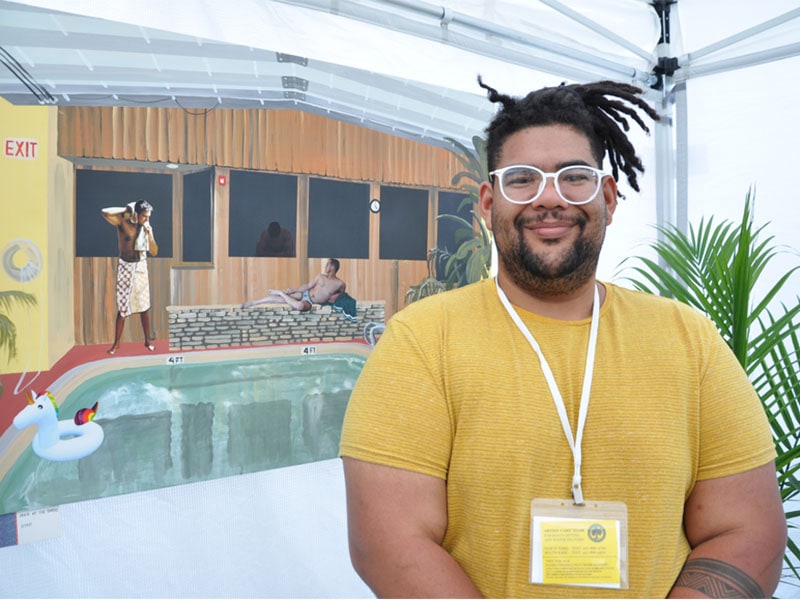 Crafting the Future
This organization sharpens the power that community fosters through relationships, shared inner and outward growth, communication, and communing. Exploring a future in action and practice, CTF morphs into the needs required by a given moment and individual. Its versatility is one of the best qualities of CTF, and also what allows the organization to touch so many lives and artistic practices. Chava Krivchenia interviewed CTF's director, Corey Pemberton, shown at left, and its deputy director, Annie Evelyn, discussing the origins and future of Crafting the Future and its importance to the craft community at large.
Artists Devyn Vasquez and Tanya Crane belong to the Crafting the Future community. Their work emanates the time and connection spent between artist and material. This relationship between time and material is one that is fostered and strengthened by the support of communities and the work of Crafting the Future. The article also spotlights work by Vasquez and Crane. Read more.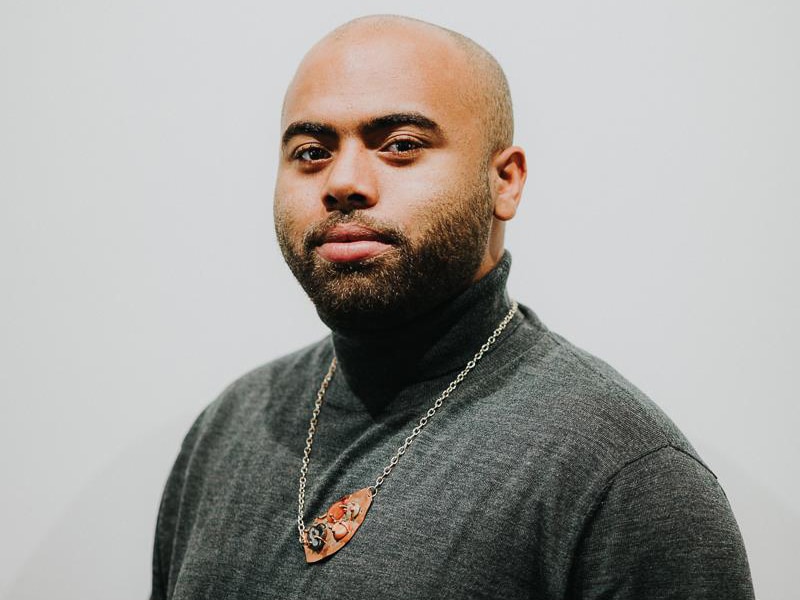 LaMar Gayles, Jr.
Gayles served as juror for the 2023 Susan Beech Mid-Career Grant. He may currently be best known for curating the exhibition Divine Legacies in Black Jewelry, which focused on exploring and presenting histories and legacies in Black jewelry while working to introduce viewers to different names and personalities connected to the field. In a self-interview, he illuminates some of the contexts in which the exhibition was honed. Read more.
Kim Jenkins
Jenkins reviewed Fashion Jewelry: The Collection of Barbara Berger, which the Museum of Arts and Design showed in 2013. Berger amassed 4,500 objects of adornment over five decades, and the exhibition showcases 450 of them. Berger's ties to her father's diamond fortune and her second husband's work in diamond mining are played down by positioning the collector as a meritocratic visionary and by highlighting her audacious and visionary approach to curating her personal wardrobe. Read more.
Jenkins is an independent researcher living and working in New York. At the time of writing for AJF, she was teaching fashion history and theory at Pratt Institute and Parsons The New School for Design. She's now the  director and principal researcher of The Fashion and Race Database, a one-of-a kind learning platform about fashion and race which she founded. She earned an MA in Fashion Studies from Parsons The New School for Design in 2013.
Tiff Massey
In 2019, Massey was awarded the Susan Beech Mid-Career Artist Grant. Known for cutting-edge interactive art, Massey won for Everyday Arsenal, an immersive technological and hip-hop environment that uses adornment to shift the focus from object to participant while documenting the moment. Massey received a cash grant of $20,000 to produce the project. Read more.
Massey is an interdisciplinary artist from Detroit, MI. She holds an MFA in metalsmithing from Cranbrook Academy of Art. Massey creates work inspired by African standards of economic vitality, including both large-scale and wearable sculptures, music, and performance. Her work has been widely exhibited in both national and international museums and galleries. In 2018 she performed as part of the Detroit-Berlin: One Circle festival at HAU Hebbel am Ufer, in Berlin.
The site-specific installation Everyday Arsenal, which the Metal Museum exhibited July 24–September 26, 2021, drew on contemporary observances of class and race through the lens of an African diaspora.