Working a Line through Material and Time
McIntosh is a jeweler and object maker based in Ōtepoti/Dunedin, Aotearoa/New Zealand
His master's research addressed issues of cultural appropriation associated with the history and contemporary use of natural materials in Aotearoa/New Zealand
He has exhibited extensively in New Zealand and internationally and was the inaugural recipient of the Blumhardt Foundation's Dame Doreen's Gift[1] in 2016
Craig McIntosh: Memory, Boundary and Place
August 30–September 30, 2023
Gallery Funaki, Melbourne, Australia
The central themes of Craig McIntosh's exhibition at Funaki are clearly expressed in the project's title: Memory, Boundary and Place. This elegant offering includes three distinct series of artworks, along with two collaborative series with fellow jeweler Debbie Adamson (under the name A+M): the Compass Rings and Jump Ring pendants.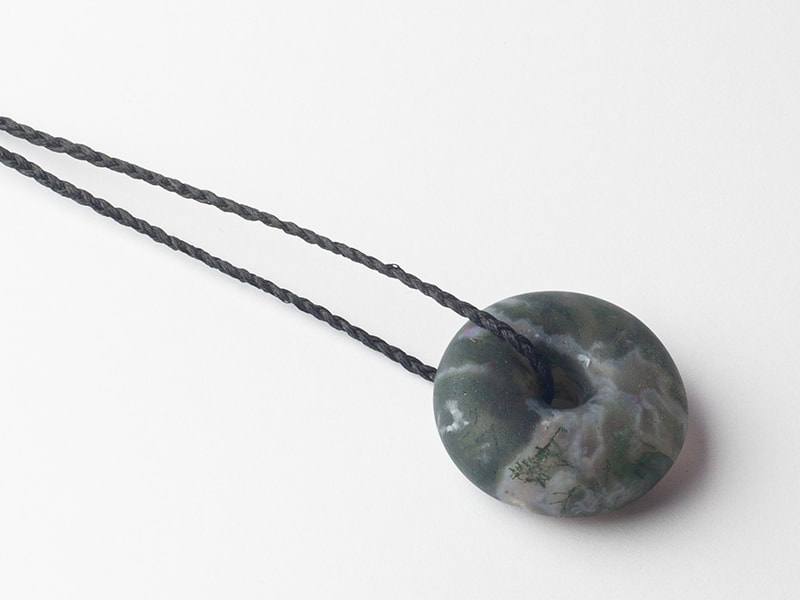 The exhibition is accompanied by a thoughtfully written text by Adamson that gives unique insight into McIntosh's practice and process. (It is available on the Funaki website.[2])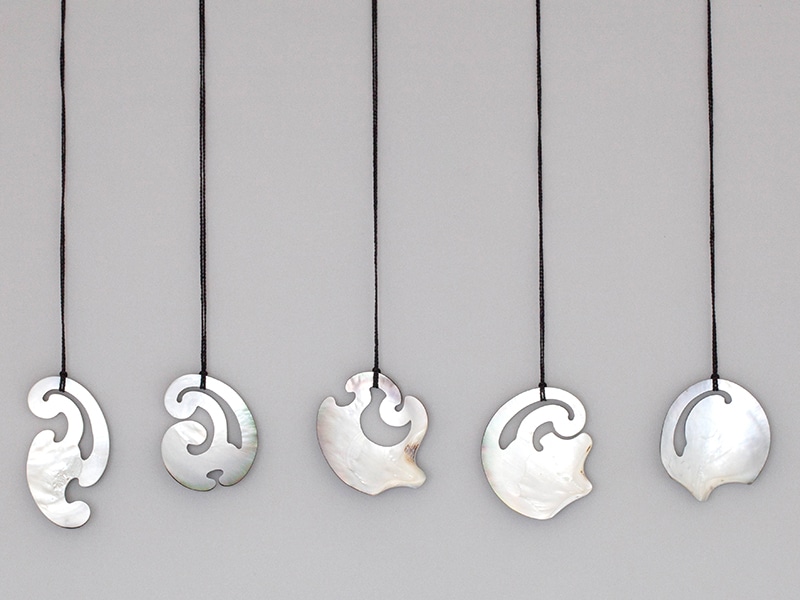 Working primarily in carving, McIntosh cuts and reveals forms from within natural materials like stone, graphite, and shell. Displayed on two walls in the corner section of Funaki's exhibition space are his French Curve and Tweeter pendant series.
The eight large abstract French Curve pendants carved from mother-of-pearl with carbon fiber backing hang from hand-woven threads on a gray felt panel. Each glimmering pearl shell expresses some variation of the French curve form, referencing the manual drafting tool or template used in various creative drawing or design applications.
Next to these, five Tweeter pendants carved from Pakohe (metamorphic argillite) hang on woven cord, also on a gray felt panel. Most lovers of sound will recognize the ringed circular shapes carved into the argillite as the diaphragm of a loudspeaker. Rather than vibrating, however, these are incomplete fragments of the funnel form rendered across shard-like layers of sedimentary rock. Photographs of these series are deceptive. Both Tweeter and French Curve are large artworks, perhaps more appropriately sized for the wall than the human form.
Adamson's text reveals McIntosh's "interest in audio." But even just looking at these shapes carved into a material layered through the millennia makes me think of specific types of listening. I am reminded of the deep listening by American composer and sound art pioneer Pauline Oliveros (1932–2016), described as "the art of listening and responding to environmental conditions,"[3] and of the spiritual practice of Dadirri.[4] As explained by Aboriginal artist and educator Miriam Rose Ungunmerr Baumann (Ngangiwumirr language group), the 2021 Senior Australian of the year, Dadirri is "inner, deep listening and quiet, still awareness."[5] Although these are distinctly different philosophies, both approaches share a sense of respectful and attentive listening to people, and to place.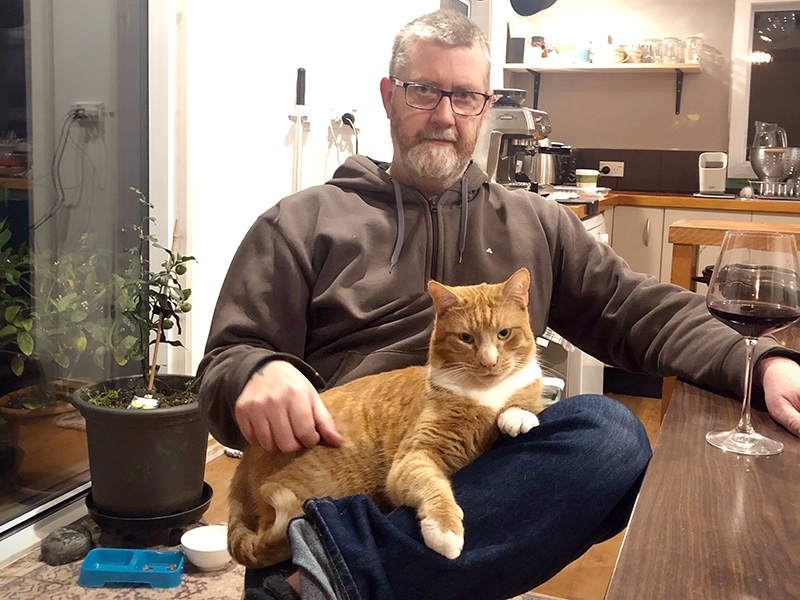 McIntosh's work and practice is broadly concerned with questions about how we listen to, are aware of, and respond to the environment; particularly how Pākehā, or non-Indigenous people, can critically approach and respond to natural materials. His 2017–2018 solo exhibition, Ground Work,[6] at Objectspace (Tāmaki Makaurau/Auckland), and his master's research both address issues of cultural appropriation associated with the history and contemporary use of natural materials in Aotearoa/New Zealand. This deep and complex terrain shows McIntosh committed to finding "ethical approaches to working in local stone"[7] and other natural materials.
On a slender gray table in the center of the gallery lie a series of five Decorative Plates. Each is carved from slate and covered in graphite. Each one is slightly different in shape and design, but they also connect strongly to the concentric circles in the Tweeter pendants. The shimmering gray surfaces of these beautiful works, one like a flower, another like the scalloped edges of a piecrust, gleam in the light. I pick one up and see it has left fragmented circular marks on the table beneath. Adamson's text tells us these pieces are made from memory. The artist remembers his family's collection of fine tableware and through them responds to the dementia diagnosis of an immediate family member. The more these items are handled, the more the graphite wears away. In the process, it leaves its traces on those it touches. In these beautiful artworks, the artist's technical skill has harmoniously fused with his intention and choice of material.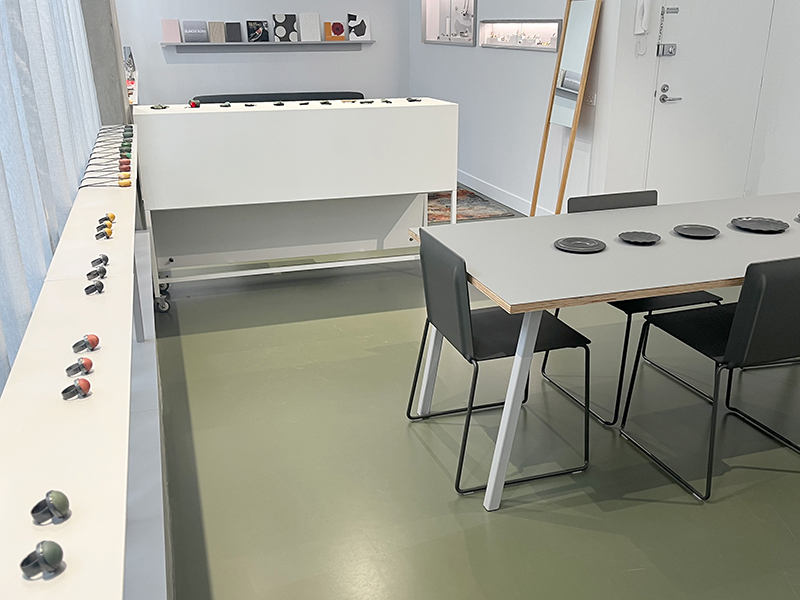 On a slim shelf along one of the gallery's long windows rest the A+M collaborative works. The Compass Rings are rounded orbs of pakohe, Australian mookaite (in red and yellow), and gabbro set in blackened sterling silver. Next to these, the plump, donut-like Jump Ring pendants, with their satisfying proportions, showcase the materials used in them: more pakohe, Australian mookaite, and gabbro, along with chrysoprase, Canadian jade, and Brazilian moss agate.
Funaki director Katie Scott has included several of McIntosh's previous artworks nearby for visitors to also view and try on, though they are not formally part of the exhibition.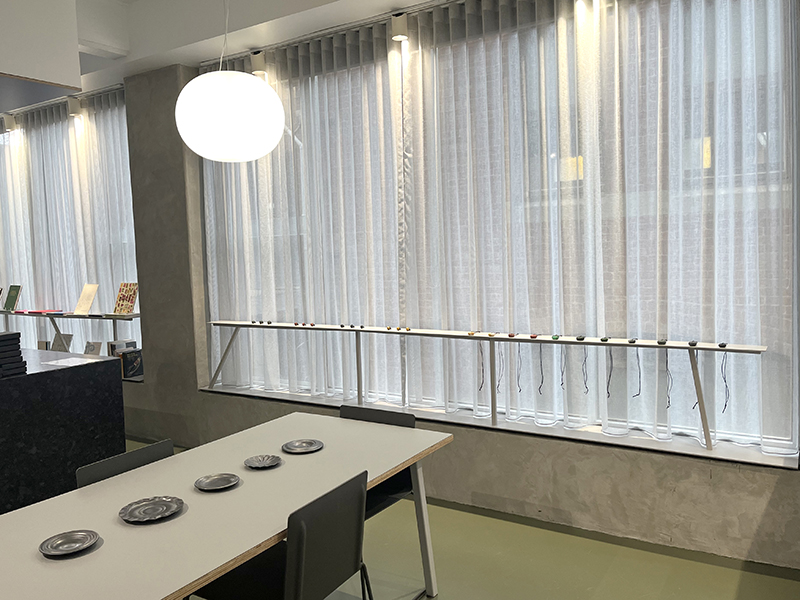 The streamlined interior, polished concrete, and metal shelving of the gallery are the ideal setting for this highly resolved and polished exhibition. The new Gallery Funaki, designed by Workshop Architects and located in a custom-built gallery/apartment in Flinders Lane, Naarm/Melbourne, is an exclusive experience that combines exhibition, project, and salon space.[8] Craig McIntosh's Memory, Boundary and Place continues in the main gallery along with Fabrice Schaefer's sinuous titanium and diamond jewelry in the project space until September 30, 2023.
© 2023 Art Jewelry Forum. All rights reserved. Content may not be reproduced in whole or in part without permission. For reprint permission, contact info (at) artjewelryforum (dot) org
[1] Find information on this grant here.
[3] Watch a talk by Oliveros here.
[4] From the Ngan'gikurunggurr and Ngen'giwumirri languages of the Aboriginal peoples of the Daly River region (Northern Territory, Australia).
[5] Inner Deep Listening and Quiet Still Awareness, A Reflection by Miriam-Rose Ungunmerr, 1988: https://www.miriamrosefoundation.org.au/dadirri/
[6] Find more information on the exhibition here.
[7] Elle Loui August, Ground Work, catalogue Objectspace, 2018.
[8] Vicki Mason has interviewed Scott for AJF. That article will publish later this year and give readers more insight into the new gallery and its programing.